We have two very special guests today, all the way from Singapore.  They're stopping by to share with you a little of the book arts – specifically how to easily create what we're calling an "experience journal" with your child.  

I love the idea of using them to capture some of the journeys you make together, both big and small.

P.S. QUESTION OF THE DAY

Are you good at capturing some of the everyday moments with you kids?  What are your favorite ways for doing so?

When I remember, I try to use the voice memo on my phone every once in a while to capture some of my kids' monologues.  Those precious little voices, and mispronounced words, are treasured keepsakes. Also, we're trying this 30-seconds-a-day memory box idea this year.
MAKE A TRAVEL JOURNAL
Text by Pooja Makhijani
Photographs by Claire Dalgliesh
I've kept journals of my travels for as long as I can remember. I have shelves full of folded pamphlets, spiral-bound notebooks, and hand-stitched volumes. My treasure trove includes notes from an elementary school field trip to my town's fire station, a family road trip to Tennessee's Smoky Mountains, and a wedding anniversary trip to Paris.
I've also made books for as long as I can remember. Book binding now has turned from an avocation to a vocation. Here in Singapore, I teach the book arts at schools, colleges, and community centers all over the city state. I take pride in teaching people – especially those who may not have the access or the means to procure expensive tools and materials – how to bind their own books.
I've taught all sorts of binding structures and, today, I'll show you how to make a journal, perfect for documenting an everyday excursions or an around-the-world odyssey.
The three-hole pamphlet stitch is one of the the simplest bookbinding techniques and easy for little hands to master, with a grown-up's supervision, of course.
MATERIALS
5 standard sheets of paper for pages
1 sheet of decorative paper for cover
18″ French linen thread* or six-ply embroidery thread
TOOLS
1 ruler
1 pencil
1 2 3/8″ x 19 gauge (blunt tip) bookbinding needle* or an embroidery needle
1 bonefolder
1 awl (optional)
* It is nearly impossible to find these materials in Singapore, so I order my supplies online, and often in bulk, from Talas.
Fold each of the five "pages" in half and stack them together.
Fold the "cover" in half.
Using your ruler and pencil, mark three sewing stations. Station 1 is exactly in the center of the spine. Stations 2 and 3 are equidistant from the center. (I marked them 2″ from Station 1.)
Using your needle, or an awl if you have one, poke holes through all six sheets of paper.
Starting from the outside, put the needle through Station 1. Pull it almost all the way through and leave a short tail. (Don't make any knots just yet!)
Put the needle through Station 2 and pull until the stitch is snug.
Put the needle through Station 3 and pull until the stitch is snug.
Put the needle back through Station 1 and again pull until the stitch is snug.
Tie a square knot (right over left, left over right).
You can do whatever you want with the ends of the string–make a bow as I did, cut them short, or attach doodads if you wish! If you don't like the ends on the outside of your book, just start stitching from the inside.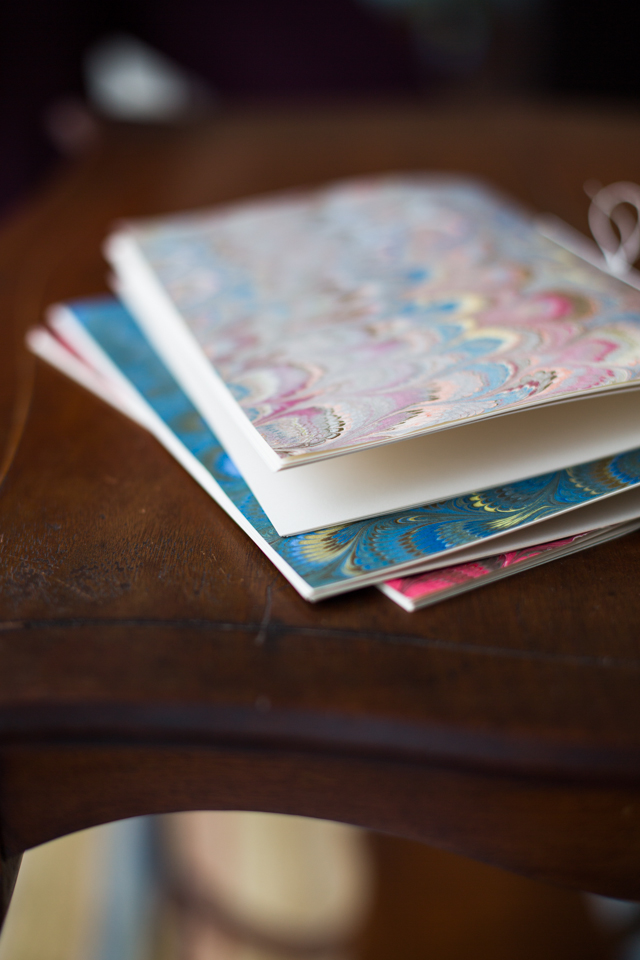 Now, customize your journal. Include a packing list or a reading list. Add a travel quote. Have younger children paste in postcards or found objects, such as leaves, or draw a picture of their travel companions. For older children, include writing prompts such as:
What new words did you learn today?
What foods did you taste today?
What was the most exciting thing you did today? What was the most disappointing this you did today?
About Pooja: Pooja Makhijani is a writer, editor, teacher, and New Yorker living in Singapore. She blogs about family, travel, and design at linsiwolsie. She is also mother to a fourteen-month-old child.
About Claire: Claire Dalgliesh is an Australian designer and blogger currently based in sunny Singapore. She fills her time exploring her new home country, crafting up a storm in her studio, and of course, sharing all that and more on her blog, Fellow Fellow.
Question of the Day
Are you good at capturing some of the everyday moments with you kids?  What are your favorite ways for doing so?
P.S. For even more great DIY journal ideas, be sure to check out DIY Notebook Ideas – Easy Simple Gifts! from our friends at Set for Four.
Get Your Free Printable
Subscribe to our newsletter today and get our free printable... No More, "Mom, I'm Bored!"