All this month we're talking about New Year's Resolutions and today I am SO VERY EXCITED to finally share with you one of the most amazing experiences of my life, which came about from a 12th-hour New Year's resolution- to travel more as a family.
This story is actually a little crazy, and more than a little out of character for my Type-A self. Here's how it all started…
It was early November last year when three important things happened.
First, I came across a very compelling article. The gist of which was that science has actually proven we get a lot more enjoyment out of spending money on experiences than things.
I fell down a rabbit hole of reading on this topic and here's the kicker – even if the experiences you buy aren't perfect, you still get tons of happiness out of anticipating them, experiencing them, and looking back on them fondly later. We're talking exponentially more happiness than spending your hard-earned dough on a new TV or some cute throw pillows and curtains.
The more I thought about it, the more this made total sense to me. Thinking back on my own childhood some of my best memories were from family vacations.
That's when the second thing happened, I remembered this post on how we only get 18 summers with our kids and I translated that to 18 vacations with our kids (because we're not great about vacationing as it is, there's no way we're embarking on more than one in a year) and for our oldest 1/3 of those are already gone!
Then the third thing happened. I swear, at almost the exact moment that I was processing all of this information, I noticed out of the corner of my eye 7-month-old Baby M push up onto all fours and start to pump back-and-forth for the first time.
Now, if baby M had been my first baby, I'm pretty sure my reaction to this would have been along the lines of, "Wow, look at my little guy go! He's going to be crawling in no time – isn't he just so advanced and brilliant?!".
But since baby M is not my first baby and is, in fact, my third. My thought process was more along the lines of, "Ohhhh Crap. That little bugger is going to be full-on crawling by 8 months! Seriously?!!! Once that happens, I'm not going to be able to sit down for more than 5 minutes for like 3 years!"
And that, my friends, is how this family of 5 who has only taken one real vacation ever (and even that was only a very short flight down to San Diego for a few days) ended up planning, booking, and embarking on the most fabulous Disney Hawaii vacation ever less than 3 weeks later.
In that moment, you see, I knew it was now or never. If I could find a way to get our family to our vacation destination within a few weeks, I still had a shot at relaxing on a lounger (drink in hand, of course) while M played under a sun umbrella and the kids played by the water… If I waited much longer than a few weeks, though, it would likely be a few years until I wouldn't have to chase him around the beach all day.
And why did I have my sights on Aulani?
I had seen the commercials for the Disney Hawaii resort playing on ABC for a few weeks and – apparently – somewhere along the line a seed had been planted.
I knew without a doubt that Aulani was the place for our impromptu vacation. That it had the potential to be what almost no other vacation could be – both unbelievably exciting for the kids (The beach! The Waterslides! And Mickey!!!) and actually relaxing for my husband and I (The beach – with drinks! No standing around in lines all day with tired kids! Free Child Care for the occasional romantic meal alone!!).
I became a woman on a mission. Determined to use every last one of our carefully stowed away miles, as well as the last-minuteness of it all, to our advantage. And what I found when I started looking into it was very encouraging.
We had almost exactly enough miles for our whole family to fly round trip to the island of Oahu – whoo hoo! Also, Aulani runs specials (quite often from what I can tell) – who knew?!
The one we took advantage of offered us a free night as well as round trip shuttle transportation to and from the resort plus a free rental car for one day. (Actually these were two different specials but the super nice and helpful customer service people I spoke with happily hooked us up with both.)
This was huge in the money saving department. Our plan was to take advantage of the generously sized kitchen in the room and eat in a lot. But in order to do that we'd need a car to go grocery shopping. With the deal, we didn't have to pay for the expensive cab ride to and from the resort, for parking every day, or for a rental car. Plus that free night wasn't bad either.
And speaking of that kitchen, that is one area where we got lucky. I'm going to be honest, a trip to Aulani is expensive… You don't get voted Travel + Leisure World's Best Top Family Hotel in the USA for being a budget hotel. But I felt pretty strongly that with the money we were saving on airfare and a car it was worth it. So I booked us a studio room and vowed to make it work for our family of 5.
Then, because I'm the kind of gal that likes to score a deal whenever I can (even my wedding dress was on deep discount), and because I knew I'd be posting about this once-in-a-lifetime trip anyway, I decided to try to contact Aulani and asked about a possible upgrade. As I said, we got lucky.
Since we were literally traveling less than three weeks after booking our stay, there was a 1-bedroom villa available (and unlikely to be booked) so the folks at Aulani very generously offered us a complimentary upgrade in exchange for sharing our experience here. (Obviously, this is a blogger perk but I've read elsewhere of folks getting upgraded with no mention of giving Disney anything in return, so it is possible it happens even if you don't have a big platform from which to share your amazing experience.)
I'm sure we would have made it work in the studio but I have to say, the 1 bedroom was unbelievable.
There are truly so many reasons why  Disney's Aulani Resort is pretty much the best place on earth for families with young kids.
Here are my top three…
#1 "Capital 'H' Hawaii, Lowercase 'd' Disney"
It's obvious from the moment you arrive, Aulani is in no way meant to be a Disneyland in Hawaii.
There are certainly enough Disney characters roaming the grounds to satisfy the kids but the resort is still undeniably luxurious. (We actually encountered several honeymooners there during our stay.)
Truly, there are times when you forget the resort has anything to do with Disney (like when you're sipping your Lava Flow that was served to you beachside while the kids play safely in the protected and big-wave-free beach cove with the complimentary boogie boards and sand toys provided to you).
And I didn't make it there, but I hear the spa is top-notch too.
The pictures really do say it best.
#2 Everything is So Very, Very Close
When the kids get a little older, we will be all about exploring and adventuring in new places while on vacation. But right now, with a baby that still naps 3 times a day, and a kindergartner and preschooler who can tire out pretty rapidly after too much fun, it's all about accommodations that are a stone's throw away from said fun.
I kid you not, aside from an occasional walk across the street for coffee or supplies at the ABC store, we did not leave the resort for an entire week. And we still didn't even do everything!
Let's face it, if anyone in the world knows what young kids want in a vacation, it's Disney.
And although their motto at Aulani is "capital 'H' Hawaii and little 'd' Disney", this is still a resort that caters to the young crowd in unbelievable ways.
Every day, multiple times a day, there are opportunities to go down the water slides, float the lazy river, get your picture taken with your favorite Disney character…
…play on the beach, attend a Mickey and Friends pool party, go to a Hula show, go snorkeling in a kid-friendly and wave-free man-made tank…
…listen to a fireside story, see an outdoor movie, etc., etc. – and you're still less than 5 minutes away from your room the entire time.
That means no worn out and exhausted kids because you can take a quick nap (or just a little break from the sun) whenever you want and then get back to the fun as many times as you need to.
It also means you can stay up late doing fun stuff without dreading the aftermath of exhausted kids crashing and falling apart.
This is all of us staying up past bedtime on our last night to take in the movie Tangled on the lawn with our room pillows and giant grass mats laid out for us by a very helpful and friendly resort staff member.
Shortly after hunkering down with our snacks, blankets, and lovies, baby M was ready for bed. So my husband took him to the room, put him down, and was able to watch the rest of the movie from our balcony.
By the time the show was over, the big kids were totally tuckered out but they were literally up in their bed with their teeth brushed and asleep in under 5 minutes.

#3 Rooms Built for Families
I already mentioned how great the layout of the 1 bedroom villa was for our family. Along with the space, in typical Disney fashion, there were a lot of little conveniences that I really appreciated too.
We took a red-eye flight so by the time we arrived it was past 1 a.m. in the morning. Let me tell you, it was such a relief to be checking into a room that already had everything we needed, including a pack-n-play, high chair, and even a step-stool for kids to use at the sink. (There were also outlet protective plugs and bed rails available upon request.)
The kitchen was fully stocked with dishes, pots & pans, a coffee machine and even a rice cooker. And the table with the banquet seating was so wonderful to have for meals as well as some downtime playing games and coloring.
Along with that full kitchen, of course, there was also the separate bedroom for baby M to nap in during the day and for the three of us to sleep away from the big kids at night.
Each evening the couch turned into the most comfortable pull-out bed you've ever laid on for the big kids and another murphy bed came down from the TV hutch (which we didn't even use).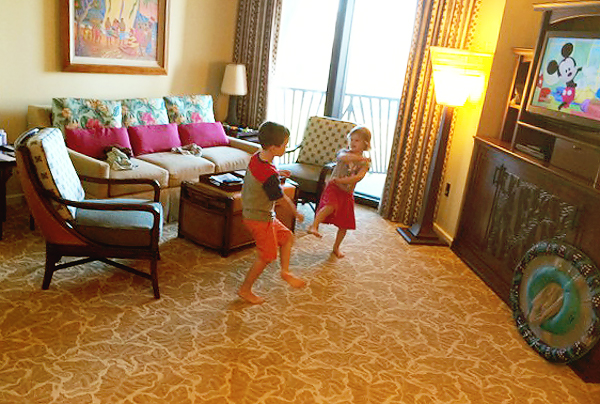 There were also two private balconies, so the hubs and I could sit out there at night watching the ocean and drinking Mai Tais while the baby slept in the pack-in-play in our bedroom and the big kids slept in the living room.
And did I mention the bathroom? It was HUGE and not one, but two rooms.
The first part was off the kitchen and had vanity, toilet and a walk-in shower that our entire family could fit in. 
Along with the oh-so-relaxing rain shower, there was also a really useful handheld shower head for rinsing sand out of every nook and cranny each night. And do you see the line stretching across for wet bathing suits to hang on? So smart.
The second part of the bathroom was through a doorway and had an extra large soaker tub, closet and another vanity.
It connected to our bedroom – which was great because if anyone used the toilet during the night it provided a buffer room and kept baby M from waking up.
The tub was awesome for bubble baths for the kids after a long day in the ocean. And did I mention… the room also had a washer and dryer.
This was such an amazing thing to have when dealing with wet and sandy clothes at the end of each day. It meant we were able to travel so much lighter because we really didn't have to pack many clothes at all.
Seriously, we rode in the airport shuttle with 3 and 4 person families who had almost twice as much luggage as we did – and we even brought the heavy-duty, off-road Jeep stroller.
Along with all those convenience was all the magic and fun that you would expect from Disney.
Mickey was hidden everywhere in the hotel – from the carpet and wallpaper to the artwork and a hidden image in the lampshade that only appeared when you turned it on. Somehow they did this while still managing a very high-end and relaxed resort feel so us parents felt pampered while the kids felt like they were at an amusement park.
Ok, this post is getting super long now so that's it for today but one more thing before I wrap up.
I haven't even covered some of the very best parts of Aulani including the lazy river, super-fun water slides and the man-made snorkeling lagoon. the
But, by far, one of the biggest perks of the place was the amazing free childcare at Auntie's Beach House (our kids seriously had to be convinced to leave each day – even to go to the water slides). This alone is a reason to book your trip now!
I hope you do and I hope you let me know how it goes!
Get Your Free Printable
Subscribe to our newsletter today and get our free printable... No More, "Mom, I'm Bored!"