A dress-up closet is such a great creativity tool for kids.  Unfortunately, not many of us have the space to create one in our homes.  

Today Julee is sharing her tips for maximizing your kids' closet space to create a hybrid dress-up/regular clothes closet and I'm totally smitten with the results.

We just removed the doors from S's closet and replaced them with curtains to free up some space in her room and give her better accessibility.  I think our next move will be to incorporate some of Julee's ideas as S is really starting to get into dress-up (currently wearing her Christmas dress just about every day of the week)…
Playing dress-up is one of my daughter's favorite activities. While I love the creativity and imagination it fosters, I don't always love the cache of wings, scarves, tutus and tiara such an activity brings.
Since Jenna's closet has more space in our new house, I decided to optimize the area to accommodate both dress-up play and storage needs.
I started by dividing her closet into zones: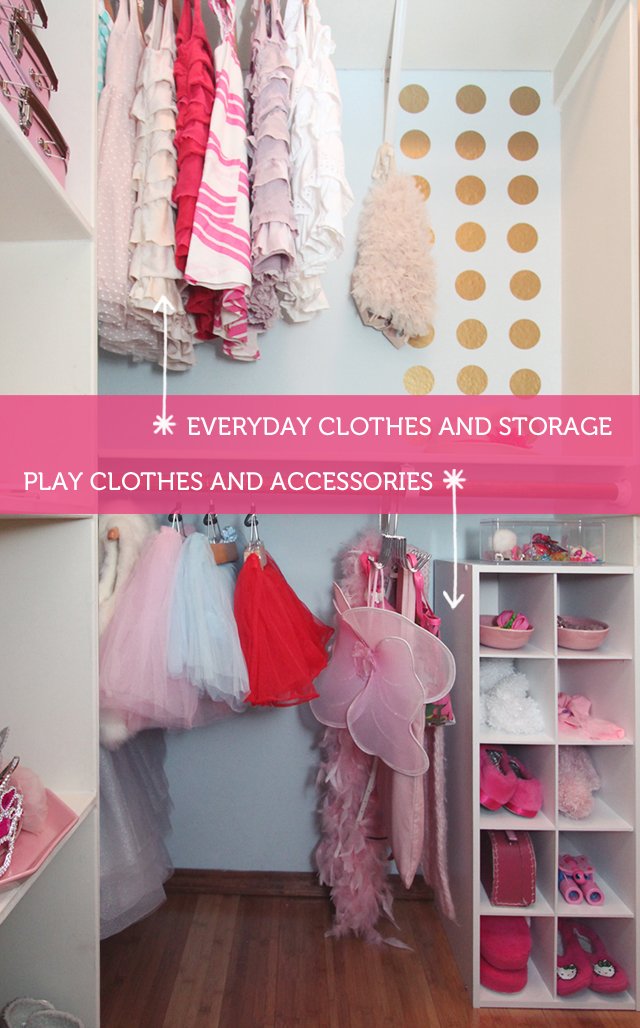 The highest level shelves are designated for storage; the mid-level hanging area is the spot for everyday clothes; and the easily accessed bottom hanging area and floor are for play clothes and accessories.
Once I had the spaces defined, I started thinking about how I could make her play clothes accessible while still remaining organized and relatively uncluttered. I also wanted to update the look of her closet and make it more girly and playful. The following pieces were super helpful in achieving these goals:

Now that her closet makeover is complete, I'm totally claiming success on this one. Not only does she play dress-up almost daily, she's even got her super-hero brother in on her games.
*Post contains affiliate links 
The following two tabs change content below.
Julee is a designer and mother of two young children. On her blog, Warm Hot Chocolate, she writes about her family, photography, home decor and life in Texas.