We've got a real treat for you guys today.  This ice cream sandwich dessert bar is so tempting I'm thinking of throwing an ugly sweater party just to have an excuse to set one up.  Be sure you read through to the end of the post for all of Natalie's amazing sandwich combination suggestions. Ginger Molasses Cookies with Eggnog Ice Cream rolled in crushed candy canes anyone?

Question of the Day

What's your favorite dessert for holiday parties?
The holiday season and cookies go hand in hand, am I right? So many family traditions include making, baking and sharing cookies together. I love a good cookie plate, cookie tin, cookie table, cookie swap… you say cookies and I'm there!
This year, I wanted to add a new little twist to our Christmas cookie tradition with an ice cream sandwich dessert bar. This is a fun and interactive way to share cookies with friends and family during the holidays (or get rid of your cookies so you don't eat them all yourself). Guests can choose their own cookies, ice cream and toppings to make a one-of-a-kind ice cream sandwich.
You can make this relatively simple or more involved, depending on your resources and how much time you have. Here are some tips for putting it together:
Cookies
You can use store-bought, homemade or even holiday cookies that you've been gifted. I chose to make my own this time. Give your guests a few cookie choices, but not too many to overwhelm them.
Try to pick cookies that are flat and not too soft or crumbly so their sandwiches stay in tact. I made Double Chocolate Chip Cookies (with sea salt flakes added on top), Chewy Oatmeal Raisin Cookies, Snickerdoodles, and Ginger Molasses Cookies. The Double Chocolate and the Snickerdoodles were the favorites with our group.
Ice Cream
Again, you can use store-bought or homemade here as well. There are some great holiday ice cream recipes out there but, for the sake of time, I bought my ice cream. I went for two distinct holiday flavors and two more friendly, classic picks that would work with any cookie.
My picks were Candy Cane, Whiskey Egg Nog, Milk Chocolate and Maple Cinnamon. Two flavors were made at my local market and two are from Jeni's (the best ice cream ever, and you can get it shipped anywhere! Plus they have a great holiday collection).
Keep your ice cream on ice if possible, and make sure it's the last thing you put out on the table to keep it from melting. If it starts to soften too quickly, just return it to the freezer for a bit to harden up.
Toppings and Tips
I added mini chocolate chips, shredded coconut, crushed candy canes and chopped nuts to the table in case anyone wanted to roll their sandwiches in toppings. This was a big hit with the kids.
If you've got lots of kids coming, I'd suggest keeping wipes or towels at the ready to clean up messes – things can get out of hand quickly with melting ice cream. I'd also keep a good supply of ice water, tea, coffee or other favorite drinks handy.
The favorite flavor combinations from our group were:
Double Chocolate Cookies with Chocolate Ice Cream
Snickerdoodles with Cinnamon Maple Ice Cream
Ginger Molasses Cookies with Eggnog Ice Cream
Some other fun flavors to include with your favorites might be coconut, cranberry, champagne, pumpkin/sweet potato, marshmallow, pecan pie, peanut brittle, coffee, pistachio or salted caramel. The options are endless with this dessert table and so is the fun!
Question of the Day
What's your favorite dessert for holiday parties?
P.S. If you're really looking to have the holidays in the bag this year, we've got two ways to help. First get the holiday shopping out of the way with all 10 of our 2013 Gift Guides here…
Second, check out our new eBook, Hands-On Holidays, packed with low-prep and low-stress ideas for make memories crafting, cooking, reading and adventuring with the kids!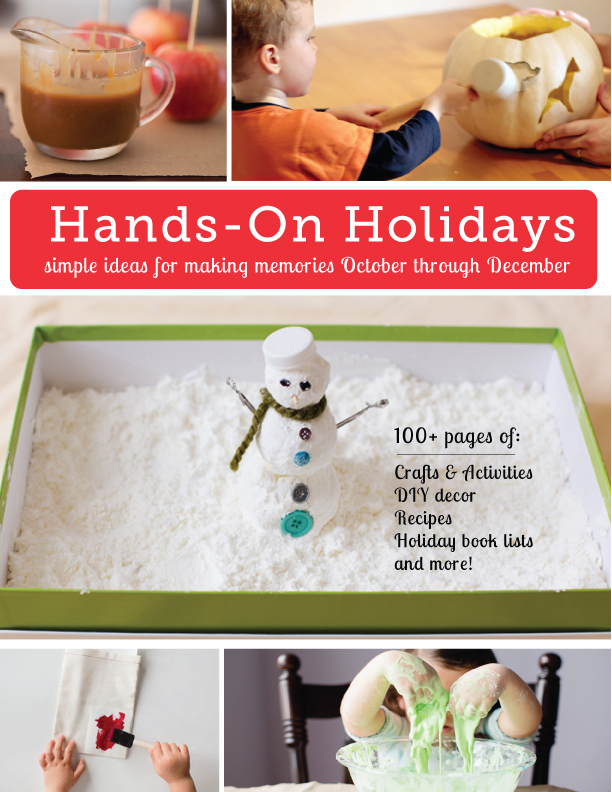 ✕
Get Your Free Printable
Subscribe to our newsletter today and get our free printable... No More, "Mom, I'm Bored!"
The following two tabs change content below.