Looking for a fun Valentine's Day activity for baby?  How about whipping up some healthy pancakes and letting your littles go wild decorating them with some equally nutritious toppers?  

We're once again teaming up with Ella's Kitchen to share with you some ideas on how to build good eaters through sensory play and today it's all about the love.

The idea is a simple one – let baby learn about and build an interest in food through all of his or her senses, including touch!  By encouraging your baby to explore new foods tactilely, you're helping to foster their interest in food in general and to grow adventurous and healthy eaters.

That's a goal both Ella's Kitchen and MPMK can get behind. Here's Kristin with the full recipe and instructions…
When introducing new foods to babies, it's important to go slow.  Just like adults, babies eat with all their senses.  Which means colorful packaging, yummy smells and smooth texture makes a new food experience that much better.  Ella's Kitchen has designed baby food in colorful squishy packs that makes eating fun even for your smallest diner!
For Valentine's Day, we started out with some heart shaped pancakes.  The recipe can be found below as well as in Ella's Kitchen: the Cook Book – the Red One!.

Holey Moley Pancakes
1 cup all purpose flour
1/2 teaspoon baking soda
1/2 teaspoon cream of tartar
1 egg
1 tablespoon sugar
2 tablespoons unsalted butter, melted, plus extra for frying
2/3 cup whole milk
fresh fruit, to serve (optional)
Mix the flour with the baking soda and cream of tartar.  In a separate bowl, cream the egg and sugar, then stir in the melted butter.  Then alternatively add small amounts of the flour mixture and the milk to the egg mixture until everything is combined into a thick batter.
Wipe the bottom of a large heavy skillet with a little butter and heat.  Spoon in individual tablespoons of the batter to form small pancakes.  Cook for about one minute until the bubbles have burst, then flip the pancakes over using a spatula and cook for another 30 seconds until golden brown on both sides.
Remove the pancakes from the skillet and keep them warm.  Repeat the process until all the batter is used.  Serve the pancakes warm with fresh fruit.  (if using)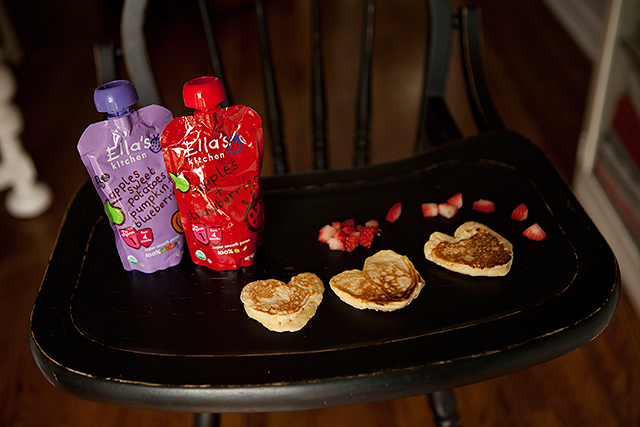 To introduce new foods like strawberries, pumpkin and blueberries we chose two of Ella's 1 Baby Food squeezers.  Even younger babies can handle the squishy packs and use them to 'decorate' the pancake.  We also added some diced strawberry and yogurt.
At first, she was curious about the bright colors and textures.  She squeezed the packaging and tried putting it in her mouth.  Her chubby little fingers explored the pancake texture and the smooth feel of the pureed fruits and vegetables.
Pretty soon, she was trying everything – first with her hands and then straight to her mouth.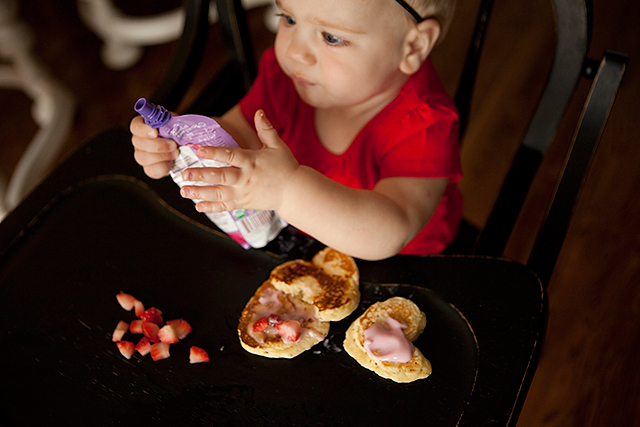 I love that this fun activity of decorating Valentine pancakes is introducing important concepts like eating a rainbow of fruits and vegetables every day.
Adventurous eaters aren't born, they become that way with practice.  Let's start them young with healthy eating habits. Using these squeezers from Ella's Kitchen is just one easy way to explore new foods in a fun, multi-sensory way. We'll be back in a few weeks to share even more ideas!
Thanks to Ella's Kitchen for sponsoring this post and helping modern parents everywhere to raise healthy eaters.
Get Your Free Printable
Subscribe to our newsletter today and get our free printable... No More, "Mom, I'm Bored!"
The following two tabs change content below.
Kristin is a former teacher turned children's photographer in southern California. Visit her website to read all about her adventures in photography, cooking, and her love of style.