Any recipe that starts with the words "double duty" has to be good, right?
We are all looking for a few recipes that cut down on our time in the kitchen. I'm excited to say I've developed a slow cooker recipe that provides you with not one, but two flavorful meals. Jackpot!
If you are already a fan of Thai food, you're going to love this double duty dinner. If you're a little timid when it comes to trying new things, I encourage you to give Thai food a try. These meals are flavorful, but not spicy (unless you want them to be). Great for the kids and any adults who aren't into super-spicy food, but want to try something different.

Here's how this double duty dinner works- on the first day, you'll cook your chicken in the crockpot, shred it, and make the filling for your lettuce cups. Then you'll whisk together the ingredients for the peanut sauce and serve your first meal (reserving ½ the filling and ½ the peanut sauce). For the next meal, you'll roll up the extra filling into corn tortillas, bake them and serve with the peanut sauce for dipping. Not much work for two great meals!
Crockpot Chicken Satay Lettuce Cups
by Oven Love
*If you are planning to make the Thai Chicken Taquitos, reserve ½ the chicken filling and ½ the peanut sauce. Also note that if you are serving more than 2-4 people with these meals, you'll probably want to double the recipes.*
Ingredients:
4 chicken breasts
1 can coconut milk
salt and pepper to taste
1/2 cup roasted peanuts, chopped; plus more for topping
1 clove garlic, minced or grated
1 tablespoon lime juice
1/4 cup cilantro, finely chopped
2 green onions, finely chopped
1 teaspoon fish sauce
1 teaspoon fresh grated ginger
Bibb or Butter lettuce leaves, cilantro, limes, bean sprouts, chopped red bell pepper and peanut sauce, for serving
Directions:
Place chicken breasts in the crockpot. Pour coconut milk on top and season with salt and pepper. Cook on high for 4 hours. Let the chicken cool and shred- it will be very soft.
In a large bowl, stir to combine roasted chopped peanuts, garlic, lime juice, cilantro, green onions, fish sauce and ginger. Fold in shredded chicken. Taste and add any salt and pepper if needed. Store in the refrigerator until ready to serve.
Serve the chicken filling with lettuce leaves, cilantro, limes, bean sprouts, chopped red pepper and the peanut sauce for drizzling.
Peanut Sauce
by Oven Love
makes about 1 cup
Ingredients:
½ cup creamy peanut butter
3 tablespoons soy sauce
3 tablespoons honey
2 tablespoons rice vinegar
1 teaspoon red curry paste
1 teaspoon lime juice
1 teaspoon sesame oil
1 teaspoon fish sauce
1 or more tablespoons water
roasted peanuts, for serving
Directions:
In a medium bowl, whisk peanut butter, soy sauce, honey, rice vinegar, red curry paste, lime juice, sesame oil and fish sauce. It may seem "curdled" at first, but continue to whisk and it will come together as a smooth sauce.
If you would like a thinner sauce, add 1 tablespoon of water at a time and whisk until you reach the desired consistency. Spoon into a bowl, top with peanuts and drizzle over the lettuce cups.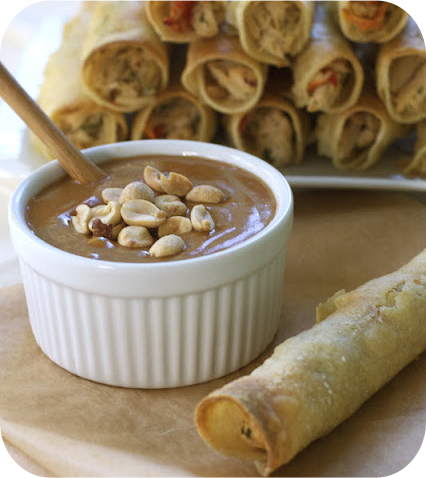 For the Thai Chicken Taquito recipe, head over to Oven Love.
How amazing do these two dinners look?  I was so excited when Natalie sent these over.  A super simple crockpot recipe that results in not one but two delicious dinners – the woman is my hero.
P.S. Looking to simplify in 2013?
Get Your Free Printable
Subscribe to our newsletter today and get our free printable... No More, "Mom, I'm Bored!"
The following two tabs change content below.