Julee is back today with a seasonal addition to The Forever Home Project.  I love her easy-to-do ideas and I'm seriously thinking about picking up one of those bay leaf garlands – so gorgeous (see the Etsy link in the post). Without further ado, here she is…
I'm so excited to spend the holiday season in our new home that I started decorating the day after Halloween. A little crazy, I know! My first project to tackle was the fireplace in our formal living room.
We decided to place our Christmas tree in this room, which means it will be the center of our family togetherness during the holidays. Yes, I'm totally picturing the kids wearing plaid pajamas, reading stories and sipping hot chocolate by the fire.
The scene is beautiful in my mind, but the reality of our fireplace is not. Our home was built in the early 1980s, and nowhere is the glam of the 80s more apparent than in the black marble tile and shiny brass trim of our fireplace. We're hoping to resurface the fireplace someday, but it's definitely not in the budget this year.
In contrast to many of the design decisions that I'm making in our 'Forever Home,' this decorating challenge seems like an interim solution – one that I hope will change drastically by next year. The challenge is made even more difficult by the fact that we're still purchasing furniture for the room, making it hard to want to spend money on seasonal decorations.
My approach: keep it simple, repurpose items I already own and mix in a little DIY.
Here's my starting point:
I started by defining the style of the holiday decor for the room. The traditional mantle, wood ceiling, and tall windows overlooking the trees outside give the room a rustic, almost ski-lodge feel. And since we're already going for an 'earthy modern' look for the room (see my last Forever Home post), I decided to decorate the mantle in an outdoorsy, nature-themed motif.
Next, I thought about how I could incorporate materials we already owned, including found objects from the yard. This led me to two very simple DIY projects:
Giving a holiday update to a set of large glass vases
Repurposing tree branches from a tree we had to cut down into a series of platforms and accents
For the hurricane-style candles, I started with a set of large glass vases that I purchased on clearance at Target over the summer and attached burlap and gold ribbon. I also added a small berry stem (cut from last year's fireplace garland) to give it a pop of color and then inserted a flameless timer candle.
I placed these along the mantle with a large bay leaf garland, one of my few new purchases for this space.
Next, I looked to our yard for inspiration. Pine cones, acorns, tree stumps and branches make great accent pieces during the holidays. I briefly considered collecting a large batch of twigs with my children and painting them to make vase filler or a garland (like this one), but decided I didn't have the time.
I did, however, have a few large tree branches that I kept after we had to cut down one of our trees this fall. I decided to cut these into a variety of small sizes to use as accents around the fireplace (shown in 1, 2 and 3 above).
To give the branches a bit more finish (and to tie in the gold brass trim a bit), I lightly brushed the ends of the tree pieces in gold paint. To complete the nature theme, I purchased a tree house and burlap-wrapped Christmas tree to place along the base of the fireplace.
Because we're still furnishing and decorating the room, I ended up leaving the space over the fireplace empty. I'm hoping to find a more permanent work of art to fill this space in the coming weeks and, if not, I may incorporate a holiday banner. I'm considering something like this (1) or this (2) shown above.
And, finally, here's a view of the whole room showing the little bit of progress we've made in the furniture department since my last post:
P.S. If you're really looking to have the holidays in the bag this year, we've got two ways to help. First get the holiday shopping out of the way with all 10 of our 2013 Gift Guides here…
Second, check out our new eBook, Hands-On Holidays, packed with low-prep and low-stress ideas for make memories crafting, cooking, reading and adventuring with the kids!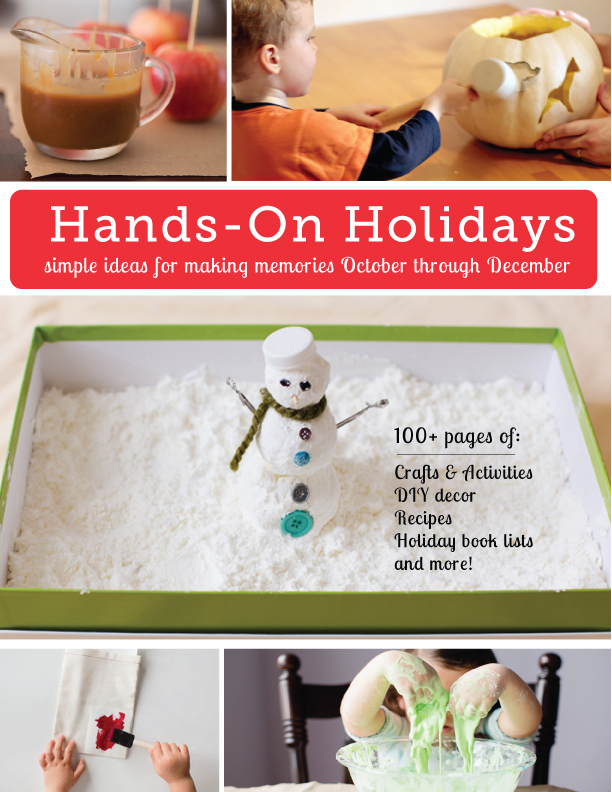 The following two tabs change content below.
Julee is a designer and mother of two young children. On her blog, Warm Hot Chocolate, she writes about her family, photography, home decor and life in Texas.