Even though school has already started for many of you, there are also still several weeks of warm weather left. Today I wanted to share with you some of our family's favorite toys this summer.
Quick note: If you're wondering if these reviews are part of a paid sponsorship, they are not. I did, however, receive free review product so that I could test each of these finds and report back to you guys.

Here's the deal, as a family blogger I get offered A LOT of products to review- especially toys because of our uber popular annual MPMK Toy Gift Guides. I say no to the majority of them- if I don't truly think it will bring value to my family, then I won't consider it.

Also, not everything I accept for review ends up here. I'm generally in the business of keeping things positive so, if we try out a product and don't love it, I just don't cover it on Modern Parents Messy Kids. And, of course, if I come across something I love that I bought on my own then I will often share that too (often in my instagram stories).
Make sense? Good! Here are my kids' favorite finds of the summer…
With my youngest now 5-years-old and my oldest nearly 11-years-old (plus a 9-year-old in-between, family game night is our go-to way to all spend time together. That being said, not all games are created equal. It's actually the diamond in the rough game that is easy enough for even my youngest to learn to play but also keeps my oldest laughing and engaged.
Once I saw the fun, furry cover of this card game, I had high hopes that Camping with Sasquatch might fit the bill… and it did!
Everyone in my family loves this game. It's easy to learn, quick to play, and lots of fun (spoiler: there's roaring involved). It's also nice and portable, meaning we've played it at home and, yes, even brought it along while camping.
PLAYMOBIL Sand
I can't tell you how many people have seen my kids playing with these and expressed surprise that Playmobil makes sand toys! They do… and they are so good!
We spend a lot of time playing at beaches (and sandboxes) during the summer and, until I discovered the Playmobil line, I was always frustrated by how hard it was to find good, sturdy trucks for my kids to play with in the sand. Everything I came across was always so small and flimsy.
Not only are these Playmobil Sand sets super sturdy, they're also functional in all sorts of cool ways. The Ice Cream Shop Sand Bucket, for example, can be used for dramatic play as the ice cream shop and then as a tool for making sand castles.
My kids especially geeked out over the tracks that came with the water tank truck for building bridges in their sand structures and, of course, they also love the pour feature on the tank for filling up their moats. If you're a regular reader, you may remember that I also raved about Playmobil's Sand Dump Truck and Sand Excavator last summer.
Bob Books have long been the gold standard when it comes to beginning readers. In fact, I have a friend who recently returned to teaching first grade and the very first thing she did was to put out a call to friends on facebook for Bob Books for her classroom.
What I especially love about this set is that, along with a set of 12 beginner level Bob Books, you also get a workbook that makes the learning tactile (this is so great for learning) with the Versatile board.
My son is starting kindergarten this fall and he has really enjoyed using this set to help him get ready. What I love the most is that I can read the books to him when I have the time and he can also work on the workbook on his own when I don't. Highly recommend this one!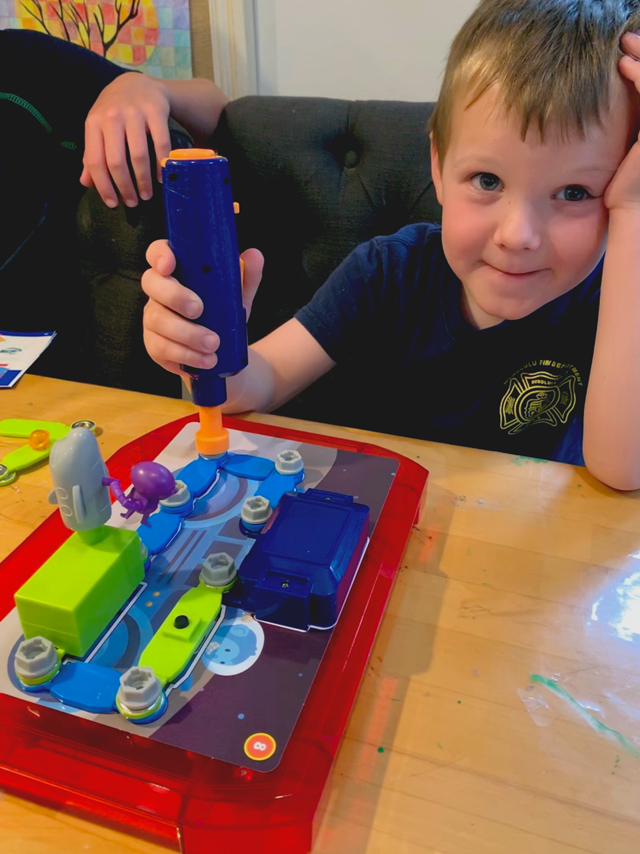 I was intrigued right away by this toy because it basically combines two of the all-time best selling toys from the Gift Guides; Design and Drill and Snap Circuits.
Like the Design and Drill toy, in this one kids get to use a motorized drill to put things together and, like Snap Circuits, the thing they put together are working electrical circuits. Plus, bonus, it's all done through challenges that are space themed- so cool!
Although this one won't appeal to as wide of an age range as Snap Circuits, I still really like it as a great hands-on STEM (Science, Technology, Engineering and Math) toy for the younger set.
Not a toy but sometimes critical for playing outside comfortably, the Bug Band line of insect repellent products are great for outdoor family adventures like camping. Not only are they DEET-free, they also come in all sorts of different applications from wipes and sprays to bracelets- making it easier for parents to find a solution that will work for their kiddos.
*Post contains affiliate links.
That's it for today, hope you found something to help keep your kids engaged and learning!
More from MPMK
Get Your Free Printable
Subscribe to our newsletter today and get our free printable... No More, "Mom, I'm Bored!"