Image Credit: ©www.suzette.nu | Fingerpainting – text added| CC by 2.0
These are awesome! I waited to make Christmas lists until they came out- and now I've shared with all my friends. The past two years I've used them and the gifts are ALWAYS a hit!

-MPMK Reader, Ellen
I am such a fan of your website and emails! Thanks for working so hard, especially at Christmas shopping time! Grandparents have scored major points after I forwarded them your lists.

-MPMK Reader, Lauren
Welcome to the famous MPMK Gift Guides and congrats on finding the most comprehensive and easy-to-use toy gift guide on the internet – already viewed over 7,000,000 times!
Shopped by tens of thousands of parents year after year! (If you're not familiar with our famous lists, learn all about them here).
New!

Sign up to be notified when we spot the best sales on these toys or when we decided to give some away!

Just click this blue button to get facebook messenger alerts.

Now, onto our very favorite, most engaging, toys for preschoolers…
$24.50 (3 – 8 years)
The entire line of single player puzzle games from SmartGames gets such stellar reviews that it was hard not to recommend all of them!
The bold colors of these two 3-D wooden castle puzzles especially caught my eye. I bought it for my daughter a couple of years ago and it was an absolute winner.
Assemble the wooden blocks and towers to match the challenges included in the booklet. With simple challenges for inexperienced builders to complex puzzles that will challenge skilled architects, these puzzles serve to develop logical thinking skills and spatial reasoning abilities.
$54.95 (ages 2-12)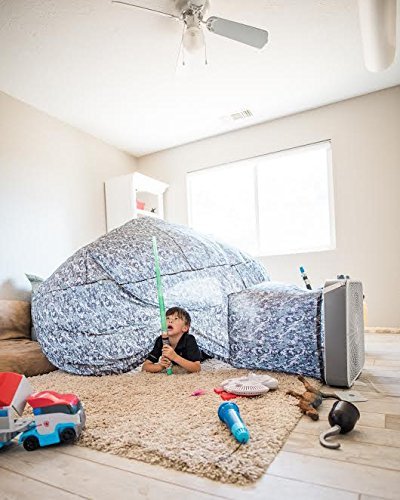 This is AMAZING for rainy day play.
Such an easy way for kids to set up a fort- set up (and clean up!) is so simple… like 30 seconds easy. Check out this video to see it in action.
My friend got one of these for her kids last year and she reports that they spend hours inside playing together and on their own. This one is going under our tree this year for sure!
$109.99 (18 months – 5 years)
A Strider Balance Bike has been featured in our gift guides since I started writing them 6 years ago, and it will continue to be for as long as I'm writing them. And this year we're teaming up with them as a sponsor to share my family's experience.
All of my kids have been zooming around on Strider Balance Bikes since they were 2-years-old. When I first discovered them, I told every parent I knew about them.
The design makes the whole process of learning to ride a bike so much more natural. Thanks to the genius idea of taking away the pedals and letting the kids pick up their feet and balance when they're ready.
This is my youngest first trying it out at 18 months with the help of his big brother…
So the idea here is that kids can push around using their feet on the ground and, pretty soon (really soon if they have older siblings they're trying to keep up with), they pick up there feet and start zooming along. They learn how to balance on a bike completely naturally and at their own pace.
I also really love how lightweight they are. My kids could easily pick theirs up and carry it around as soon as they started using it.
Check out this video of some of the cutest bikers ever and you'll be totally sold.
It's great that the design of the bike allows them to get started so young, but the biggest benefit, of course, comes when kids transition to a normal bike.
Balance is by far the hardest part of that process but, with the balance bike, kids already have that down. As a result, it took my kids just a few minutes to figure out how to ride a bike with pedals the first time they tried.
If you're looking for a first bike, I couldn't recommend this one more!
$39.95 (ages 2 – 6)

This was the total sleeper hit of Christmas for my preschool-aged son last year!
I'll be honest, when my son went crazy for this thing in the store, I thought it was kinda a plastic piece of junk but NO!
Endless dramatic play options keep him and his friends (and even older siblings) busy for so long. The scoop's magnetic & the cash register reads the recipe cards and gives step by step instructions.
There are even lots of voice prompts, including counting, and a coin slot… I'm telling you, this gets pulled out EVERY. SINGLE. PLAYDATE.
$119.99 (2 – 10 years)
I discovered Magna-tiles when my oldest son was 3-years-old via his preschool and they were the big present under the tree for the kids that Christmas. They're definitely more of an investment but have been COMPLETELY WORTH IT.
Teachers absolutely rave about these blocks and the play possibilities are endless. Because they join together using magnets, kids can create elaborate structures (often taller than they are) without becoming frustrated by crashes.
They're also great for use with other toys. They can be used along with blocks and LEGOs to make elaborate structures, with marbles and cars to make tunnels, bridges, and marble runs, or even with dolls to create dollhouses.
All of my kids, ages 2 to 8, still play with them multiple days a week. Currently, my 6-year-old loves making elaborate pet stores with ramps and rooms for each of her Disney Princess Palace Pets while my 2-year-old always asks for these first to take to build in his room during "Quiet Time"
We splurged for the 100 piece set and got hours of rainy day fun with these- the higher price was completely worth it.
Note: For an extra $10, these magnetic train bases take the play possibilities to a whole new level and make a great stocking stuffer.
$19.44 (18 months – 6 years)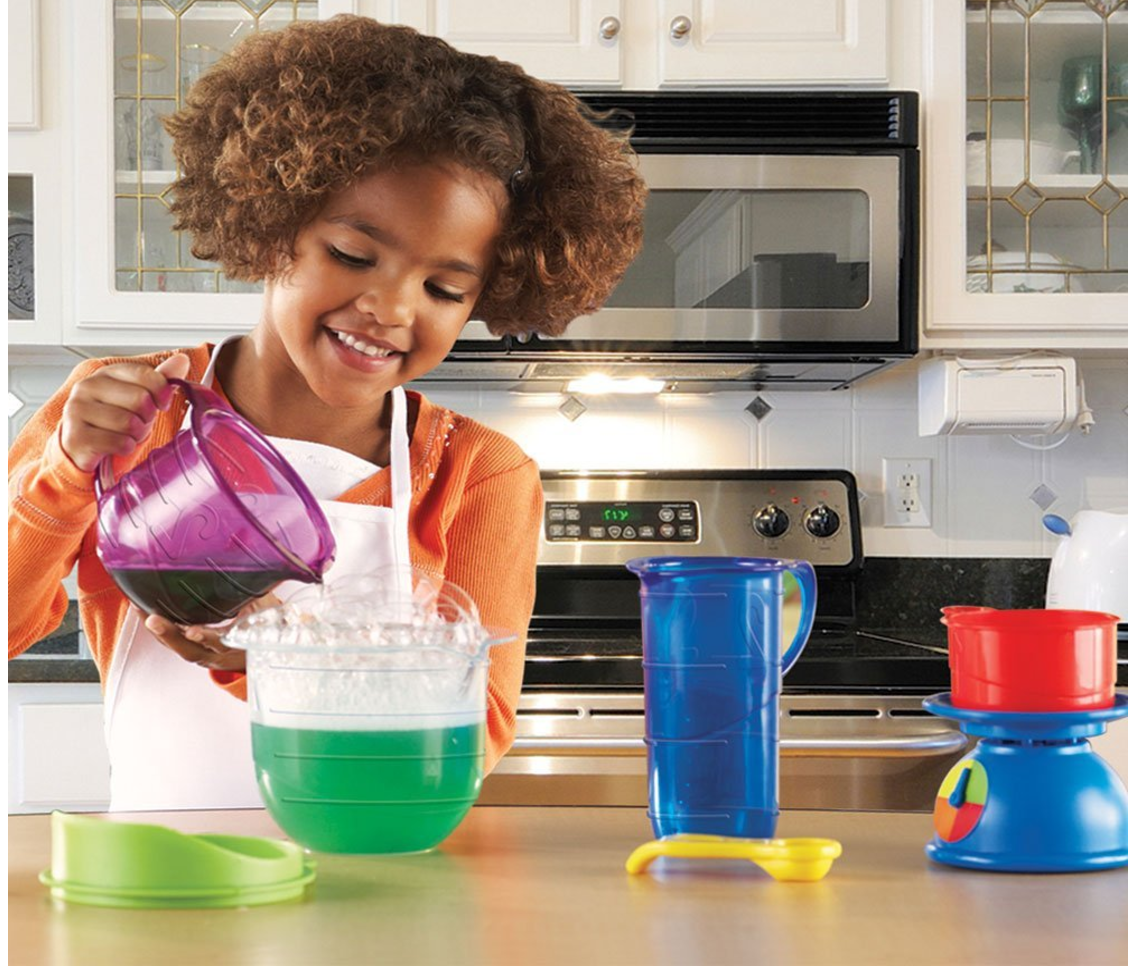 This set includes a scale, bowl, 3 self-standing spoons and 6 unique cup designs to help children visualize quantities as well as activity cards to guide children in making mystery goo, puffy paint, slime and more.
Because it allows those not quite ready to experiment to get in on the fun too, this is a great toy for siblings of different ages.
Older kids can partake in real concocting while their younger counterparts pour to their heart's contentment. This is a fabulous toy perfect for playing with at the sink, in the tub, or at the water table.
$15.99 (18 months – 8 years)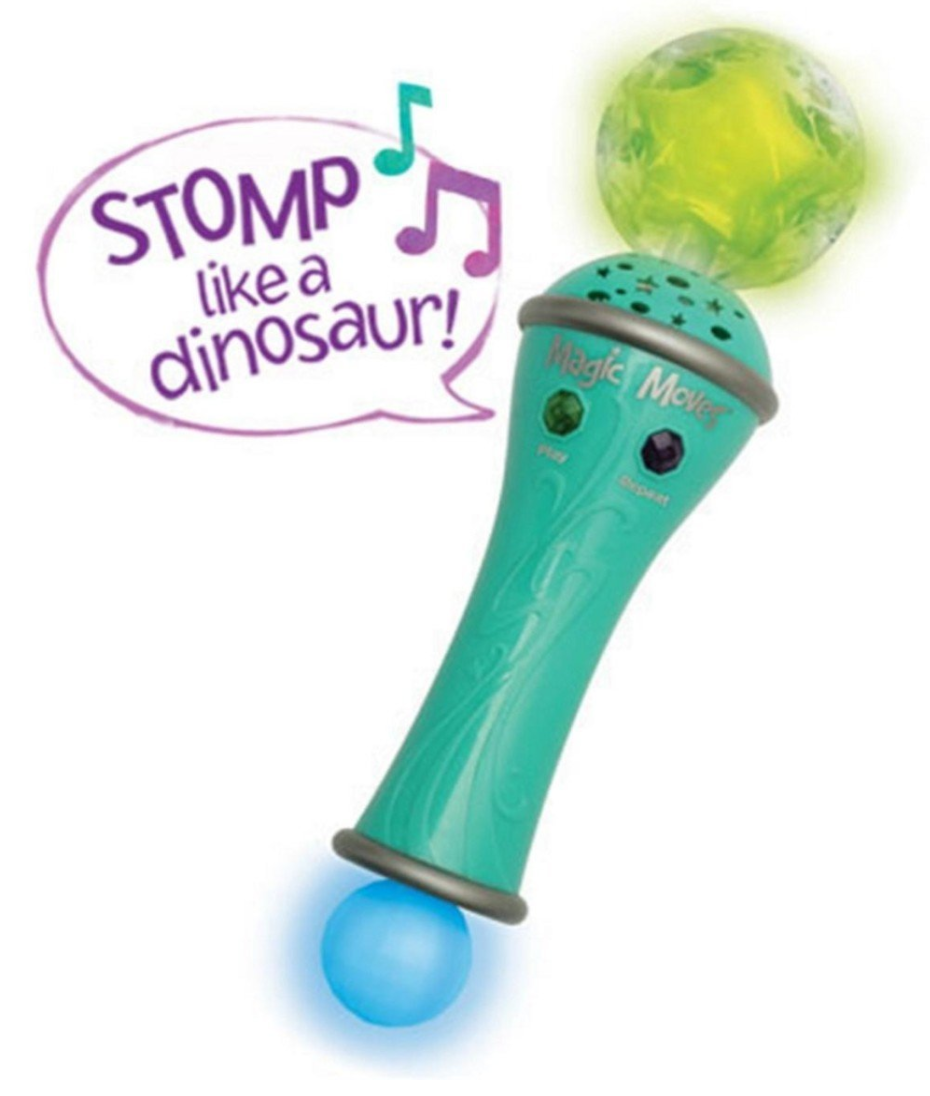 Normally I'm not big on electronic toys with lots of sounds and lights, but when said toy can help my kids get rid of all their pent-up energy inside on a stormy day, it becomes my new best friend.
This inexpensive magical wand uses 90 silly commands (sway, creep, stomp like a dinosaur, leap) and 26 songs, along with a light show to get kids moving.
This is one of those rare toys that's great for siblings of different ages to play with together (my kids have loved it at various ages ranging from 18-months-old to 7-years old).
It will keep the bigger kids interested (who doesn't like having the mic and being the star of the show?) while developing listening skills in the younger set along with enriching their vocabulary and ability to follow directions.
Note: If animals aren't your kids' thing, there's now also this gym version.
$23.99 (3 – 8 years)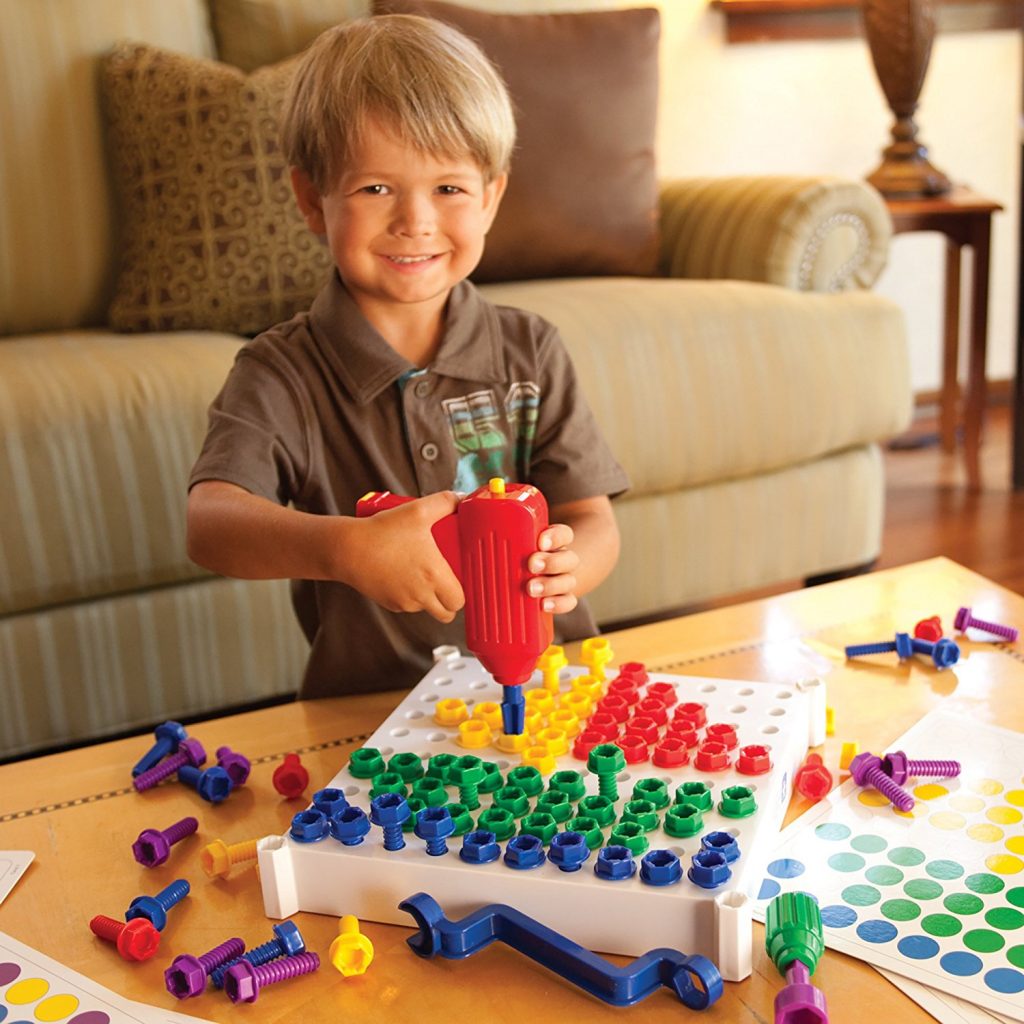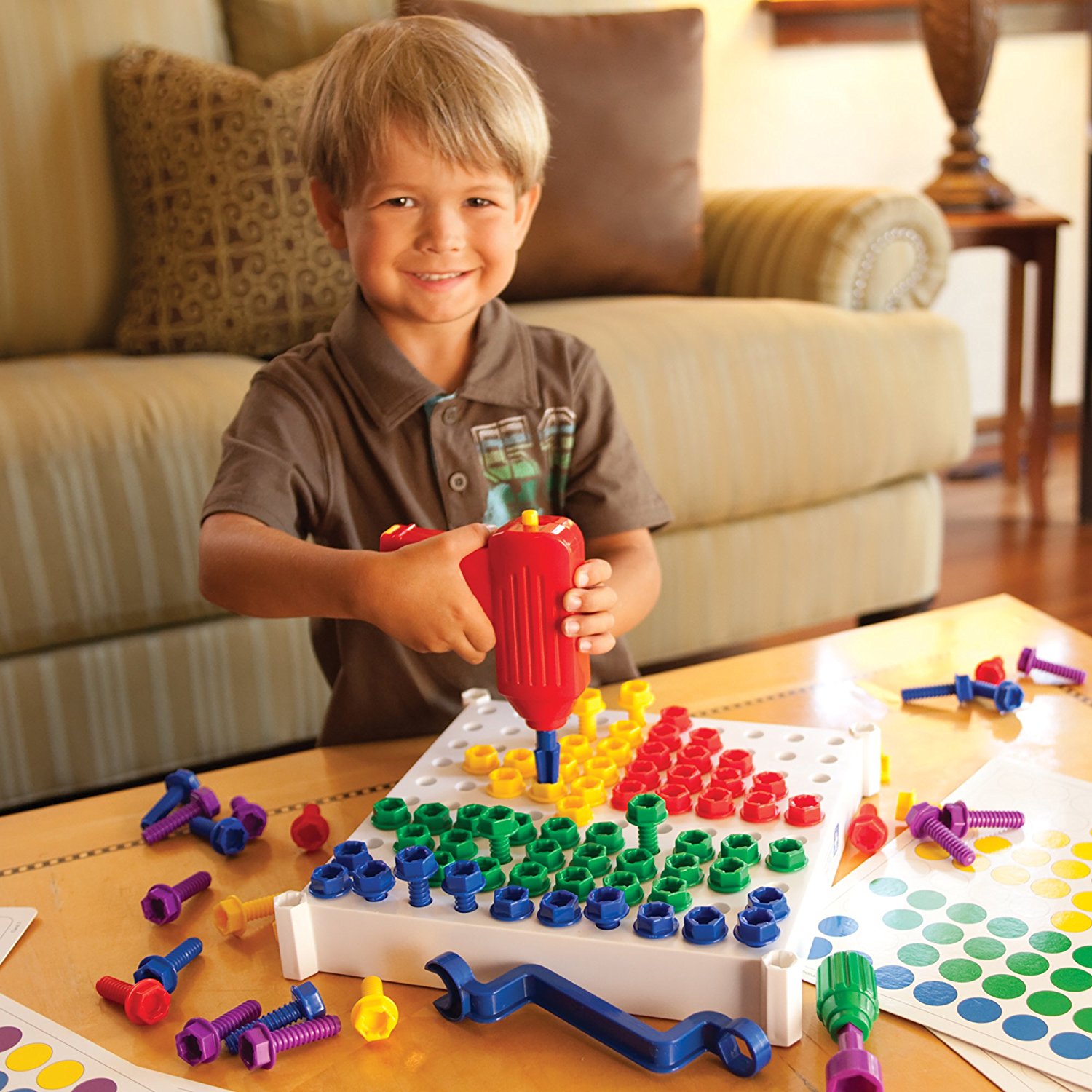 I particularly like how this particular toy combines fine motor skills with pattern recognition AND adds a great dramatic play element. We got it for our son when he was 4 and he played with it quite a bit until his little old sister took it over.
Our 1 1/2-year-old is started to getting in on the fun sorting and manipulating the pieces with his hands and was off and drilling around the time he turned 2. Now this is one of the first toys he goes to, again and again, when given a choice.
The popularity of this toy has also led to some cool variations, including the Design & Drill Flower Power Station and, my favorite, the Design & Drill BrightWorks– which is like if the Design & Drill had a baby with the classic Lite Brite from my childhood (in other words, the pieces light up and it's totally awesome).
$54.96 (2 – 12 years)
If I could buy my children only one toy, a large set of basic wood blocks like these would be it!
They are the ultimate creativity toy and this is a wonderful basic set at a great price. Enough said.
$19.99 (ages 3-12)
Along with Chow Crown and Flick' Chicken, Don't Step In It is one of my top picks this year for games guaranteed to supply family fun for all ages.
No matter how distasteful we may find it as adults, poop-themed toys and games are huge right now. The good news in this game is you can spend your turn wearing a blindfold and not looking at the fake poo!
Basically, players take turns blindly traversing the game mat barefoot and trying not to step on the soft and squishy poop. 
Like I said, hilarious fun for kids of all ages… and don't forget to check out the Unicorn poop version too!
$14.88 (2 – 12 years)
This super fun game has been a huge hit ever since it debuted. We got ours for my son's 8th birthday and had the best time playing with it.
Everyone from my 2-year-old son to the grandparents was rolling on the ground laughing.
The premise couldn't be more simple; spin a number, put your face in the holder, crank the number of times that you spun and see if you get a "pie face". Because kids love getting dirty and silly, this one is always a winner.
$29.95 (18 mos – 6 years)
I've been talking about the social and emotional learning benefits of dolls for boys for years in our Best Dolls for Girls and Boys Gift Guide, so I was super pumped about the release of this line of dolls designed specifically to meet those needs while staying in-tuned with boy culture.
Created by a therapist and mom, after her son came home from preschool one day and announced that 'boys aren't supposed to cry'. Frustrated by many of the messages boys were (and weren't) receiving and inspired by the way play influences child development, Wider created Wonder Crew to promote social and emotional learning, build confidence and imagination, and empower boys to see themselves as caring, creative and strong people. 
I'm totally on board and will definitely be getting both the superhero doll and the extra construction outfit for my son! I also love how each set comes with props for the child to wear too, so fun!
$11.99 (3+ years) 
$12.74 (5+ years)
$12.16 (4+ years)
Large floor puzzles are great to introduce around ages 3 or 4. We have all three of these and our kids have loved them from preschool through 2nd grade and counting.  It amazes me that they can construct the entire map of the US completely on their own!
It amazes me that they can construct the entire map of the US completely on their own!
(ages 4 – 10) starting at $61.99
Kids LOVE making forts and, I gotta say, I'm a big fan of anything that will buy me a solid hour or two of busy time.
What I'm not the biggest fan of? The beating my couch cushions take when my kids get into fort-building mode.
That's reason enough alone to love the Fortboard kits but there are quite a few other reasons too.
First is all the super cool kinds of forts you can build. After Fortboard sent us two boxes to review, my kids started with the instructions for making a house on their website company's website. Next up was the submarine.
After a little trial and error, they pretty quickly got the hang of it and, let me tell you, they were pleased as punch about their new fort– which they insisted stay up for a week. That was fine by me as it resulted in TONS of cooperative dramatic play.
Next up was the submarine and the castle, both of which were equally successful. By then, even my 3-year-old was able to build stuff with these on his own. His current favorite is to make cubes, which he calls "bombs" and use them to knock down stacks of even more cubes Angry Birds style.
Fast forward a few months and they're now building their own master creations like that 6-wheeler semi-truck pictured up top. It's become a thrilling game to challenge each other to see what they can build next.
The second thing to really love is the ingenious ways these boards can connect in different ways to create all sorts of angles, and even curves.
The secret is the connector arm that can be moved to join the boards in different ways (and teach your kids about angles in the process).
It's so innovative, in fact, that it's won multiple awards and even a Microsoft Small Business Contest.
The final thing I love about Fortboards is how compact they are when it's time to put them away. Unlike with their competitors' sets, there are no awkward polls to store (and no polls for kids to hit their siblings with). Everything tucks into a box and neatly stores under a bed or in a closet when playtime is done.
Like other fort sets, this one is spendy but if your kid is a builder it's worth the investment, especially if you're looking for something great for play dates or for siblings to play with together.
Ah, Peppa Pig- how I love thee. So bright and cheerful and inviting, so gender neutral and appealing to all kids, so fun and happy! And this new lights and sounds family home playset is no exception.
First and foremost, your kids are gonna be impressed by the size- it's big!
Which means your older kids will love it because it will be large enough to play with their friends during play dates (always a must) and your toddlers will be able to get their hands easily into all of the play spaces.
That makes this a really great toy for multiple siblings to share, which is something I'm always on the lookout for. It's so much easier on my budget to buy one big toy for everyone and also less clutter in my house!
Plus it encourages cooperative play, a skill we're always working on around here.
The last thing I really, really like about this stellar dollhouse is that it has some fun effects like lights and sounds, but they're not overwhelming. It's just one button to turn them all on or off and, while engaging, they don't seem to be the main event of this toy (that would be imaginative play all the way).
With its vivid colors and bigger proportions, this house looks like it came straight from the pages of a gorgeous picture book. Plus the 7 rooms each have plenty of fun accessories to keep your kids engaged in tons of dramatic play. Your kid will love it!
$99.95 (2+ years)
The aunties bought this for my kids several Christmases ago, when my oldest was 3.  I have to say, I had my reservations. My son, of course, thought an excavator that he could actually sit on, drive, and manipulate was just about the coolest thing ever but I was concerned about the space it would take up in our yard, especially with a non-rainy season of only about 3 months here in Seattle.
What I failed to realize was the versatility of this toy. Yes, it's awesome for digging in the sandbox or bark in the summer, but it's also great for picking up leaves in the fall and snow in the winter (see here).
This thing gets played on year-round and is often the one of the main things that lure my kids out to play on a rainy day (they put out buckets to collect the rain water and use the bucket shovel to scoop it out). This one's definitely a big ticket item but the return on investment is high.
$151.99 (2 – 8 years)
We bought our son a train table for his 2nd birthday and we always say it's one of the best purchases we've ever made.
For over four years both he and his sister played with it several times a week. At 4-years-old our oldest was able to completely construct the track by himself using the map and that added a whole new level of building play to this fantastic toy.
I think the model we bought has been discontinued but this one is the same brand and has all of the same key components: a bridge, waterfall mountain, helicopter landing pad, and the all-important drawers for storing all the little pieces.
If you're going to be putting your train table in a main living space, you may want to spring for the more expensive KidKraft Metropolis Train Set Table with Trundle Drawer. It's got a nicer "furniture" look (and that double-decker bridge is pretty cool too).
Note: Over the years we've amassed quite a collection of Thomas trains to go with this table and they work great.
$24.99 (walking – 6 years)
One of the most surprising things about having toddlers and preschoolers is seeing how much they absolutely LOVE to clean! We've had
We've had a broom and dust pan set for years and it's always been super popular. The kids really enjoy breaking it out to help with clean up when the opportunity arises or just using it to play pretend. Every toddler we know has this set and totally adores it and around 18-months-old our son started completely freaking out if he can't find it.
This year, though, I'm thinking of upgrading and totally eyeing this Melissa & Doug Cleaning Bundle- it comes with so much amazing stuff!!
You can also buy The Spray, Squirt, and Squeegee Set at a very reasonable price.
Not only will my toddler be able to sweep, mop, and dust to his heart's content- he will also get to spray, wipe, scrub, and even squeegee. Do you KNOW how much toddlers love, love, love to spray and wipe down windows, cabinets and anything else they can get their hands on?
$120.00 (12 mos – 6 years)
I know what you're thinking – a one-year-old is too little to enjoy a big dramatic play toy like this. Once upon a time, I would have agreed with you – but then my baby boy starting pulling up and I got to see first hand how much he LOVES opening and shutting the doors, turning the knobs, taking the sink in and out and putting food in and out of all the compartments.
Plus, I know he has years of enjoying it still ahead of him. The ideal time to buy this toy is around 18 months so your child gets the maximum amount of years out of it.
In case you are wondering, we bought this for our oldest kids when they were 1 and 3 and couldn't be happier with it six years later.
I really like the look of the thing and I think the vibrant red is nicely gender neutral. Despite a small footprint, this kitchen still has all the amenities a kid could want and both my kids enjoy regularly playing at it simultaneously.
(Side note: people sometimes ask if kids will get too big for this smaller kitchen – mine are 95% percentile in height and haven't had an issue). If you're looking for a big wow gift from Santa, this could very well be it!
Based on how much my 2-year-old (and all my other kids) love the play kitchen, I was so excited when I found the line of Hape Playfully Delicious kitchen tools!
Toddlers absolutely love mimicking what they see adults doing in the kitchen and these toys do such a great job of allowing them to do that. The toaster is my favorite but the bottom two are close runners up:
$15.99 (3 – 6 years)
Regardless of whether you go for a play kitchen, grocery cart, cash register or all of the above – you're gonna need some food to cook and/or buy.
We got this cutting food from Melissa & Doug before we ever got the kitchen and it was an excellent toy all on it's own, both for dramatic play and for building fine motor skills.
Our kids have been playing with these pieces for years and still found them very enticing on their own up to age 3 or so (after that they were good props for kitchen play).
$27.99 (4+ years)
A basic set of LEGOs is a must-have for any child, boy or girl. Start early with a basic duplo set or a set of Mega Bloks and transition around age 4 to a standard sized set. This is a good one to start with!
$19.99 (3 – 8 years)
I have heard great things about this cooperative, non-competitive game from multiple sources but was really convinced when a mom on one of my son's good friends was raving about it. Everything about this game is impressive, from the 6-foot-long game board to the amount of imagination and teamwork required.
In fact, the company behind this game, Wonder Forge, has won over 120 prestigious awards by creating good-for-you games that encourage teamwork, healthy competition, and get-up-and-go active play. This is the perfect game for children of multiple ages to play together and for when you hit that stage when kids pout a lot about losing or start to become ultra competitive as it focuses on teamwork instead of competition.
$44.91 (ages 2-7)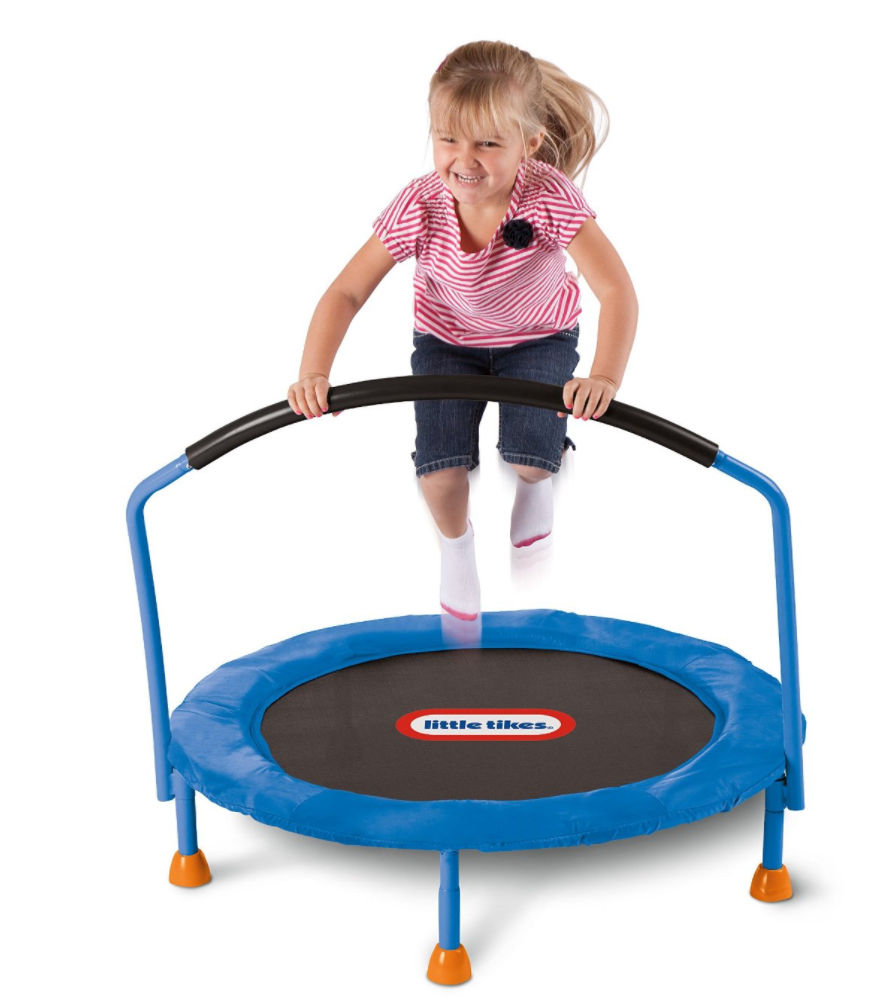 Every day around 4:30 PM, when things get real, I used to wonder why we haven't bought one of these yet. Such a great tool for getting kids' energy out!
Two of my kids' buddies had one and they each love to jump and jump and jump on it.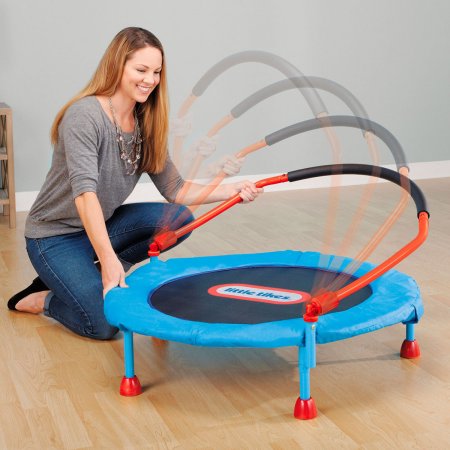 Last year I finally asked my parents to get our toddler an indoor trampoline and recommended this one due to the great reviews… It did not disappoint! It has really been invaluable for getting out pent up energy on cold and rainy days.
And now this year it is even better because this version has a handle that folds down!! That means the entire thing can be tucked away WAY more easily. If you've been on the fence about one of these, now is the time to finally get one!
(crawling – 8 years)
This is a new addition to this list this year (and somewhat of a "doh" moment for me). We've had several playhuts throughout the years – some cheap, some expensive but more durable – all extremely successful in keeping my kiddos of varying ages happy and busy.
Nevertheless, I still forgot them for this list until I polled my mom friends and they ALL brought up the power of the playhut. Because these guys can be so inexpensive, they're kind of a no-brainer for me if you have the space.
Currently my favorite are this Thomas version, this Beauty Boutique, and this Princess Castle with Glow-in-the-Dark Stars version.
Also, I LOVE playhuts with tunnels like this one (more than doubles the fun).
In fact, if you don't have the space to have a play hut set up all the time, I would definitely recommend a tunnel that you can tuck away when not in use.
Last but not least, if your toddler is a huge Paw Patrol fan like mine this Paw Patrol Fire Truck Hut with a ladder is going to blow his mind. This one is a big contender for a Santa present this year!
$29.99 (18 months – 4 years)
A few years ago when we had a 20-month-old and a brand new baby, we bought an indoor slide and put it in the upstairs landing between the kids' bedrooms and it was one of the best things we ever did.
A sturdy plastic slide used inside can be a life-saver when the weather is bad and the kiddos are restless.
This particular slide – highly rated for durability and usability for kiddos young and old – also serves double duty outside as an excellent safe place for toddlers to play while their big siblings scale taller play equipment.
Plus you gotta love how it folds away for easy storage when you're not using it!
$24.99 (2 – 10 years) 
$34.95 
Although not completely mess-free, Play-doh really is the ultimate quiet time art toy. It's unbelievably engaging to kids of all ages (it started becoming a huge hit with my youngest around 18-months-old) and, as long as you prep your space well with a tablecloth or large placemats, allows for quick and easy cleanup.
Of course, you can always make your own, but I like to also have a few tubs of the pre-made stuff on hand for when we don't have time.
I also highly recommend the clay center with storage case. It'll give your kids tons of tools to keep them occupied and you a handy place to store them all when they're done.
$19.99 and up (3 – 8 years)
If you've got a true vehicle lover at home then you know they can NEVER get enough construction vehicles to push around the floor (or around the sandbox).
The Brudler versions are each realistic, high-quality options that won't disappoint. They cost more but they hold up and both my sons (2 and 8) are seriously smitten with how well their crane truck works as well as the sheer size of it.
$4.24 (3 – 10 years)
My parents gave the kids a couple of these reusable sticker books a few years ago for Christmas and they've been a consistent standby for us ever since.  Each of the books contain a series of background pages and hundreds of various sticker clings that can be positioned over and over on them.  There are tons of book themes to choose from too.
They are surprisingly useful on long car rides (despite their large size) and we always grab them when heading to someone's house who doesn't have younger children and, therefore, is without toys to entertain younger children.
$94.99 (2 – 6 years)
Several indoor play centers and community centers around our town have these Step2 rollercoasters and my kids always flipped when they saw them. Easy for younger kids to get on and off on their own, I have seen first hand how they will get on it over and over and over.
A friend of mine bought one for her kids a few years ago and said it was an excellent toy in the driveway on sunny days and in the playroom on rainy days. And, of course, there's also a Thomas the Tank Engine version only makes it that much cooler!
One reviewer wrote, "The Thomas Roller Coaster Ride is absolutely amazing! I have two younger kids, a boy and girl who are two and three, and they can't get enough of it. They have been playing with it for hours at a time. All they have to do is climb up the small steps and take turns going for a downhill ride. Not only does it keep them entertained, it also teaches them about sharing and taking turns."
$19.99 (12 months – 5 years)
$21.99 (1 – 9 years)
Around the time they start walking all kids, girls and boys, ABSOLUTELY LOVE pushing around toy strollers. When my daughter was a toddler, she liked her dolls, but wasn't obsessed like some other little girls we knew.
Yet she has always adored piling them into her stroller and taking them for a stroll around the house over, and over, and over again. Then her stroller was straight-up commandeered by her 18-month-old brother who also couldn't get enough of pushing it around all day.
I promise you, if you a buy a toy stroller for your child, it will be one of the most-used toys you've ever purchased. Oh, and if you have a girl that does happen to be doll-obsessed, this 3-in-1 pram is a really fun and versatile option too!
Logic follows that if one baby to take care of is good, then twins is even better. And the facial expressions on these two are my favorite, so realistic!
Very similar to the Melissa & Doug Brianna Doll, these twins have soft bodies that allow for laying or sitting and hard arms and legs that easily wipe clean. Plus, there's two of them! (Basically for the price of one.)
They are also some of the most life-like dolls I've seen. These two are now on the top of my birthday gift list for the 1-year-old to 3-year-olds in my life.
$29.99 (2 – 9 years)
The best thing about these dinos are their jumbo size, making them easy to hold and fun to play with. This is a great find if you have a dino lover at home and want a starter set.
If you find your dinosaurs starting to accumulate, this storage box that unzips into a deluxe playmat is also extremely popular.
$29.95 (2 – 8 years)
A quality doctor kit is an excellent dramatic play toy for both boys and girls. Kids like being patients but really enjoy the power involved in getting to play care-taker (which can be really nice when you're tired because you can play with your child by basically laying still and playing "patient"). These kits are also nice for easing doctor visit anxiety.
This new kit from Kangaroo has an unprecedented amount of unique props that do some really cool things– too many to list here in fact!
This includes battery operated instruments such as the thermometer (press tip down and see the temp change), the stethoscope that plays a heartbeat, the x-ray machine, heart monitor, and blood pressure monitor that have actions and lights, the light up otoscope, spring-back syringe and so much more! It also includes some great imagination props like glasses, a clipboard and x-ray sheets.
You get a lot of bang for your buck with this toy and, accordingly, it gets a lot of rave reviews.
*Post contains affiliate links.
Still want more ideas? Don't forget to check out all 15 of the MPMK Gift Guides, organized by your child's age:
For the hottest toys of the year see:
Plus, the rest of our guides organized by interest:
Tens of thousands of parents use these lists every Christmas to find the perfect gift!
If you like these recommendations, I encourage you to pin or bookmark them for later when you're ready to start shopping.
I would also love it if you forwarded the list to your parenting friends or shared it on facebook – trust me, your friends will thank you for the help and you get to be the cool mom (or dad) with all the best resources. It's a win-win.
Also, don't forget for even more recommendations and alerts when we spot our gift guide items on sale:
Jell-O Playdough - Softest recipe ever!
Sign up for our newsletter and get the recipe in a handy PDF to print and take to the store or use in the kitchen while whipping up a batch with your kids!