Around this time last year I stumbled on the idea of making a Leprechaun Trap for St. Paddy's Day and mentally filed it away.  So when I started thinking of activities for the upcoming holiday, it was the first thing that popped into my head (which is somewhat of a miracle considering how long it was stowed away in there).  As with many of my projects, I wanted to add an interactive element and this DIY chalk version is what I came up with.
I like it because it allows me and the kids to sit around and think up all kinds of ideas for best trapping our leprechaun and to try them all out before deciding which one we think will do the trick.  My hope is that we'll play with this several times before St. Patrick's Day even arrives.
To begin, I dug up the chalkboard paint I bought for another (yet to be accomplished) project months ago.  I used it because I had it but if I were going to buy something,
this spray version
seems like it would work really well.  Then I went on a small hunt around the house for a good sized box.
We've been sick a lot lately so we have a wealth of kleenex boxes on hand and I thought the oval opening on the top would work out nicely.  (This is totally off-topic but have you seen these
cool touch
tissues?  They're actually cool on your sore nose – which is really nice/slightly weird.)  Anyway, click through for the rest of the details…
I used a small sponge brush from our
creativity center
to apply two thin coats to the box (allowing for drying time in-between).  Because of the slippery nature of the box, I didn't get full coverage the first time around but the second coat did a pretty good job of filling in the gaps.
I wasn't looking for perfection here, just the ability to actually be able to color and erase.  Once everything was dry, I primed the chalkboard surface by rubbing a new piece of chalk length-wise across all sides, rubbing it in with a cloth, and erasing.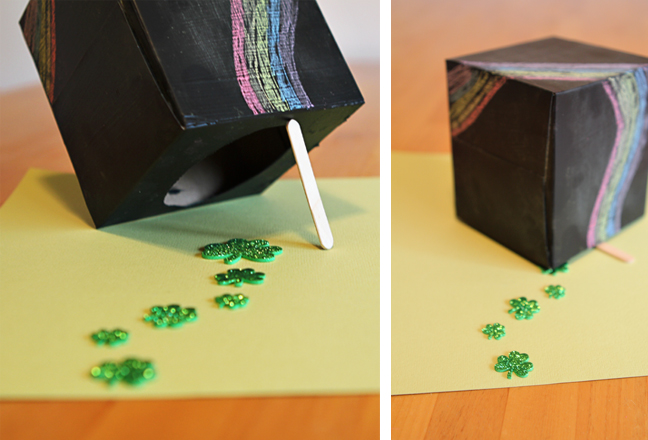 Then it was time to get to creating.  We started by wrapping a rainbow around the box, since all Leprechauns are known to be on an eternal search for the end of the rainbow.  All of the traps I've seen seem to try to bait the Leprechaun with some gold.  But I had told C the Leprechaun already has his gold, which is why we're trying to catch him, so we left that part out.
Above you can see version #1 – what I like to refer to as the "Road Runner Version" because it's so old school.  Just your run of the mill, "get 'em under the box and drop it on top of 'em" model.
After that we decided to flip everything on its head, literally, by enticing the Leprechaun to climb on top of the box and jump in.  We used some paper and sparkly stickers (which we added some magic stickiness to in order to keep the Leprechaun from escaping) and made an inviting landing pad.  On the side we added a ladder for the little guy to climb.
For version #3 we nixed the ladder and built a much more exciting diving board.  We also abandoned all hints of subtlety.
Finally, we once again turned the box on it's side and created a cozy retreat for the road-worn and weary traveling Leprechaun.
What do you think?  Will you try this or do you have something else planned for St. Paddy's Day with the kids this year?
Similar Stuff:
DIY Shamrock Tattoos & Stickers (with Free Printables)
DIY St. Paddy's Day Limerick Hunt