Recently, one of my neighbors sent out a group text asking if anyone had logs from cut-down trees for a friend who had some cool plans for her backyard. It immediately reminded me of the Natural Play Spaces series we did a few years ago and I sent it to her.

Looking over it, I remembered how wonderful it was and wanted to share it with you guys with summer being here. 

I hope it inspires you to look at your backyard in a whole new way this summer!
I've written before about how much I value outdoor time for kids but recently I've been thinking more specifically about the topic. Outdoor time of any type is great in my book, but time spent actively exploring nature is even better.
You may remember a few months back I told you guys I had the pleasure of attending an amazing talk on raising creative kids in a hurried world by Nancy Blakey.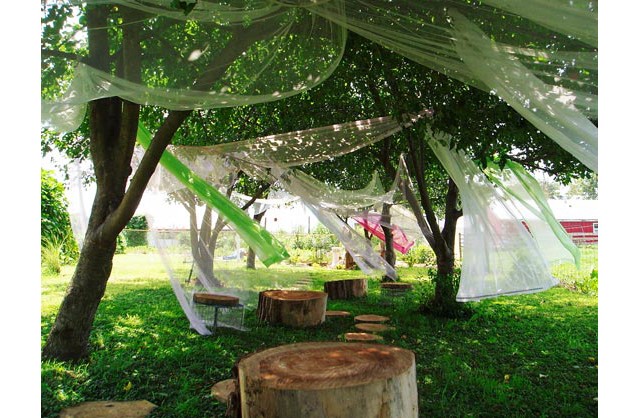 The entire presentation was fantastic but during the two hours or so of talking, she said two things that really stood out to me.
The first was a statement: 90% of our best childhood memories take place outdoors.
I'm not sure what type of science was involved in coming up with this conclusion but as I thought back on my own childhood it certainly seemed accurate.  Activities such as camping, hiking, boating, swimming and just laying in the grass were pervasive.
The second was a story. She talked about a young family who moved into her neighborhood and decided to install an expensive play structure in the back yard. Their hope was that it would lure all the neighborhood kids into wanting to congregate there.
In the process of getting the structure up, they had to do some extensive landscaping and a giant dirt pile was created.
This, of course, was what attracted all the kids in the neighborhood and what ultimately kept them coming back – even when the fancy new play structure was finally installed.
We've since rebuilt our demolished fence but there are still some dirt piles, chopped bits of tree trunks, loose landscaping rocks and even a brick pile remaining (courtesy of our smashed patio).
Until that night I saw these items as eyesores but since then I've come to see them as valuable tools for outdoor play.
I've encouraged the kids to dig in, climb on, and move around these objects as they see fit – they've had a great time.  I truly believe these types of activity are so important in helping them to develop confidence, curiosity and a sense of self.
So why am I telling you all this now? Because we're finally pulling things together in the backyard and we plan to have it finished in the near future.
Which means that I've been putting a lot of thought lately into how I want it to function for the kids.
Ultimately I've decided I want to set up as many interesting natural play spots as possible. So I did a little research and found there's a whole movement growing around creating natural play spaces for children.
One of my favorite ideas is that of incorporating natural loose parts like above.
I've already witnessed my 1 year old and 3 year old work together to do nothing more than haul a pile of rocks back and forth with a play dump truck for unheard of amounts of time.  I can only imagine what they'd do with an intentionally curated collection of loose natural parts.
I set out for this post to be a round up of natural play space ideas but it's already getting a little long and I haven't even scratched the surface yet.
I'm realizing as I type that this could be a stellar summer series.
More to come…
The Rest of the Natural Play Spaces Series:
Playgrounds Gone Natural: DIY Play Gardens
Natural Play Spaces: Kids' Veggie Gardens
✕
Get Your Free Printable
Subscribe to our newsletter today and get our free printable... No More, "Mom, I'm Bored!"