2020 has made me realize a few things…
First, in times of stress, having a home that's calm and well-run makes me feel better, especially when I'm feeling out of control.
So many things are changing, but things that ARE predictable are extremely comforting to me right now.
Maybe you're feeling this too.
Maybe you're also feeling like you can't even find 10 extra minutes in your day to get some calm. Don't worry, I completely understand. We've all been there, it comes with the mom territory.
But I can help.
For 5 days only, my most trusted tool for setting up routines, making budgets, and just creating more time to spend how I want is on a HUGE – 97% off – discount.
It's an entire personal library of fan-favorite resources to help you take care of your home, your family, and yourself.
If you're like most women, your plate is full – especially right now. Caring for your home and your family can be overwhelming in the best of times.
But just finding small tweaks you can make to your routines or parenting strategies can make a HUGE difference in your day-to-day life.
Imagine…
What if you knew what was for dinner by 11am most days?
What if your kids pitched in to help with household chores?
What if you had no-brainer systems that kept your home tidy, your bathrooms clean, and your laundry caught up?
What if you had a real plan with what to do with more time at home this summer?
Wouldn't that make you feel a little better given that there's so much you can't control right now?
When you buy The Ultimate Homemaking Bundle, you'll get access to:
14 eCourses & videos
9 eBooks
9 workbooks
8 planners
8 printable packs
3 membership sites & summits
The creators behind these resources are 50+ women who have struggled with the same things you do, but have learned (and will teach you) how to simplify homes, declutter & organize, put healthy meals on the table, and nurture strong family relationships.
Best of all, you can get the entire package…
Check out the Ultimate Homemaking Bundle right here.
Have you seen these kinds of bundles on pinterest or facebook before?
Basically they're a HUGE collection of lots of online courses, ebooks, printables, etc. marked down to one crazy low price (Like 97% off crazy) for an extremely limited time.
But here's the catch… They're not all created equal.
Ultimate Bundles are super exclusive and always packed with high quality stuff so I've been really honored to be included both as an author and affiliate over the years. Plus, they have a really helpful Quick Start Guide so you can dig in right away without getting overwhelmed.
Speaking of getting overwhelmed… you're probably wondering, will you really be able to use all of those resources?!
Here's the very important thing to understand, you don't have to consume all this good stuff at once (or even at all), nor should you!
Think of this purchase as acquiring a complete library of top notch e-books and e-courses to keep in your arsenal—a valuable knowledge base you'll use for many years to come – at an incredibly low price.
Instead of feeling overwhelmed and not really changing you home/schedule/life (as many of the tools WILL help you do), here's what I especially want you to focus on…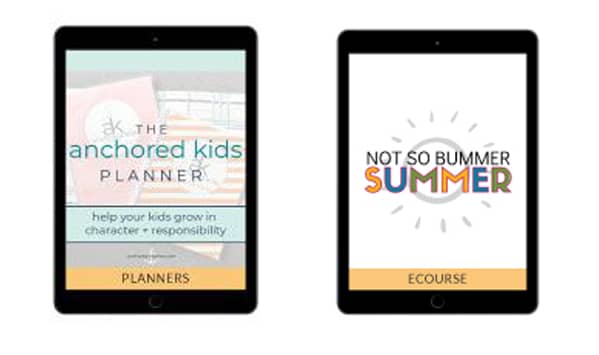 Reason #1
The Anchored Kids Planner ($24 value)
and The Not So Bummer Summer eCourse ($49 value)
These are the courses I'm personally most excited about diving into!
I really, REALLY believe that the most important things parents can do right now is to provide comfort in routines while continuing to teach responsibility.
We're with the kids so much right now, both kids and parents can benefit hugely from letting them spread their wings a bit and become more independent.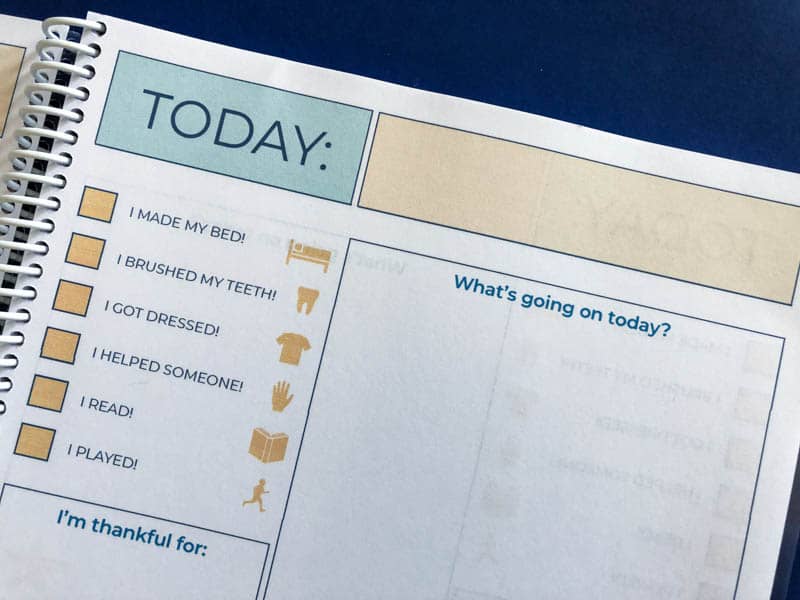 My favorite part of the first tool, The Anchored Kids Printable Planner, is that it doesn't just focus on chores.
Instead, it puts a lot of emphasis on organization but also setting goals, reading, reflecting on their feelings, playing, creativity and also character building stuff like focusing on gratitude and being a helper – it's so good!!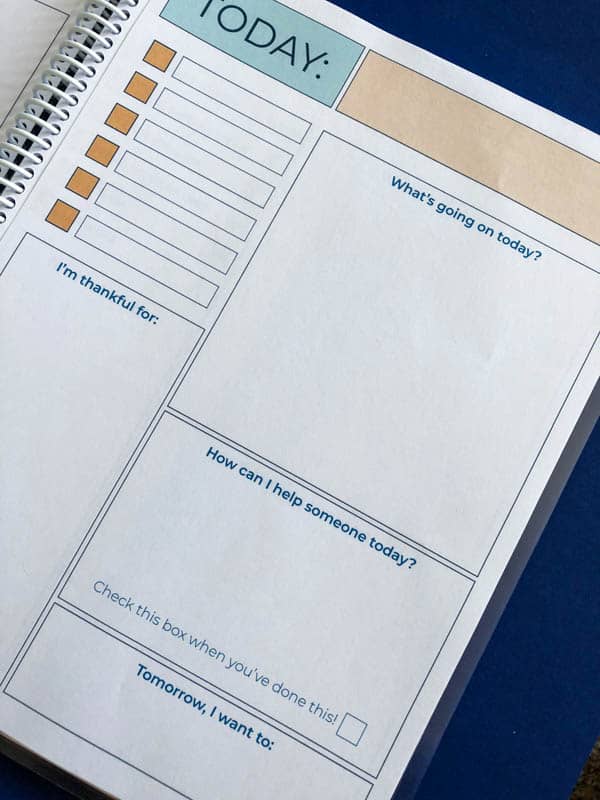 Also, and this is huge, you get access to all three planners; the beginner planner (ages 4-7), the intermediate planner (ages 8-10), advanced planner (ages 11+).
For me personally, that means I'll have a just-right planner for my 1st grader, 4th grader and brand new middle schooler.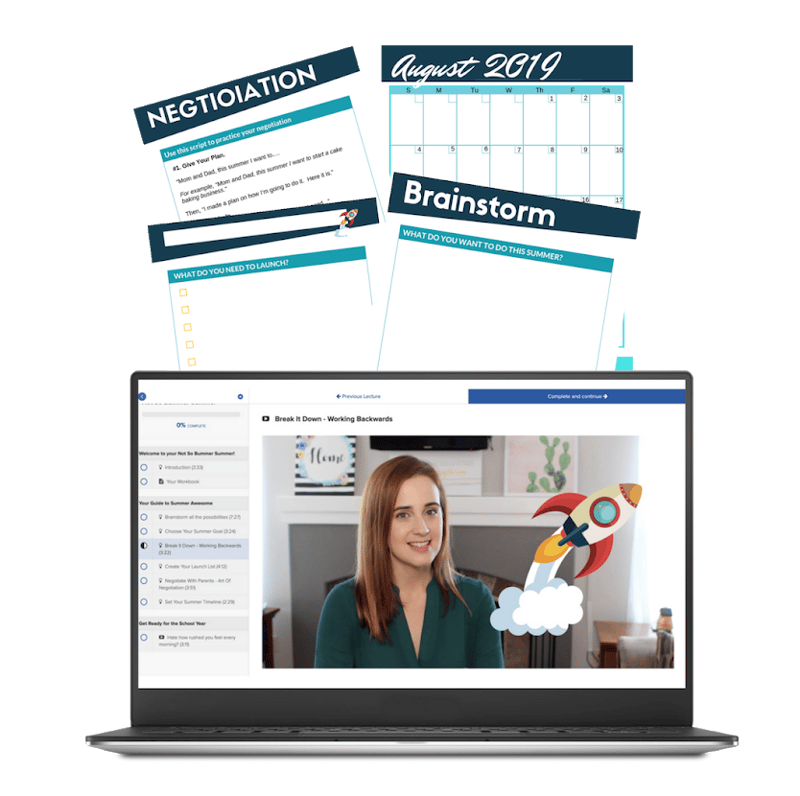 The second tool I'm using to keep the kids on track this summer is the Not So Bummer Summer eCourse.
This isn't a course for me (hallelujah!), it's produced for my kids to follow along with on their own! In fact, the whole point is to help them find a project that they're passionate about, to plan it all out, and then to sort of present it to parents as a road map for their goals.
How amazing is that?!?
No more whining about being bored and they'll be building incredibly useful life skills as they learn to plan, innovate, and execute on their ideas.
I can't wait to see what they come up with!
Psst – Did you catch the normal cost of this one course is $49?… That means that buying the bundle for just this course is still an amazing deal at only $29.99!
That's right, you'll get the above course at 40% off, PLUS 13 more eCourses, 9 eBooks, 16 planners & printables, 9 workbooks, 2 membership sites and a summit.


Reason #2
50 Days to Frugal ($19 value)
Nothing piles on the stress like money worries- and right now we all have them. This step-by-step 50 day course will teach you more than just how to save money, it will show you how to naturally start living more frugally.
How much better would you sleep at night just knowing that you're taking positive steps towards being better with money?
Instead of trying to make a bunch of huge changes all at once (I'm looking at you envelope system), these simple lesson are all about making small changes that will have a lasting impact.
I've already started and I can't tell you how good it feels to be taking charge or my money during this uncertain time.
Take the first step with this course today and start feeling a little lighter too.
Reason #3
How to Communicate Your Way to a Better Marriage ($29 Value)
We've covered the kids… we've covered money worries… so what's the one other thing likely suffering right now? Your marriage.
We've all heard the jokes about Covid leading to more babies… and more divorces. While I hope that's nowhere near your experience, humor comes from kernels of truth. And the truth is that a lot of couples are experiencing communication breakdowns during this tough time.
Here's what I loved about the Communicate Your Way to a Better Marriage course
It was short! Only one quick seminar to watch together (and then some additional free ebooks to go deeper if you want)
It hit the nail on the head! Communicating clearly and empathetically is exactly what my husband and I have been struggling with lately
We'll always have it! That means if we need a refresh, we don't have to go anywhere or see anyone- it's as easy as hitting play.
If you think it will feel good to finally start taking care of your money, just wait until your start communicating better in your marriage! Grab your bundle now.
Still More to Love
This is already getting pretty long! Sorry guys- there's just so much good stuff that I want to share in the 2020 Ultimate Homemaking Bundle.
On top of the amazing resources above (which are valued over $120 just on their own), you'll also get a whole lot more.
My Top 4 Honorable Mentions:
Uncomplicated Kitchen: 3 Step System for Simpler Weeknight Cooking (eCourse) by Ruthy Kirwin ($64.00 value)
A proven 3-step system that will help you streamline your weeknight kitchen, and free up your time making dinner in the evenings.
The Peaceful Preschool Garden Guide (Workbook) by Jennifer Pepito ($12 value)
Includes four weeks of hands-on learning prompts, printables, and recipes for your preschool and kindergarten students
Art Camp: Everything You Need to Run Three Weeks of Exciting Lessons (Workbooks) by Cathy James ($9.99 value)
Everything you need to run three weeks of exciting art camp lessons.
Making Your Life Perfect Right Where You Are (eCourse) by Jennifer Roskamp ($99.00 value)
A self-paced course that will give you the tools to manage the parts of life that bring overwhelm so you can find peace and joy in your daily life, your home, your relationships, and with your emotions.
Bonuses
Yes, there's still more!
On top of my 4 honorable mentions (worth another $185), the bundles also comes with $300 worth of FREE bonus offers.
Musik at Home
My favorite is definitely the three month membership to Musik at Home, which offers unlimited access to over 400 musical activities, singing games, imaginative musical stories and more.
Just the thing if you've got a toddler or preschooler this summer!
My 5-Day Email Course: Plan Your Summer Like a Boss
And, as an added bonus, I'm offering my 5 day mini course, Plan Your Summer Like a Boss, for FREE to anyone who signs up through this link.
In a nutshell, the challenge is a simple way to ensure that we're making the most out of those 18 summers we have with our kids!
Early Bird Bonus!
AND, If you get your bundle by the end of tomorrow, you'll also receive the Outfit Formulas®, the #1 capsule wardrobe planning tool in the world, for free.
You can choose between these three challenges:
Bust Out of the Makeup Rut (a $29 value) – get out of your makeup comfort zone with step-by-step tutorials–and receive printable shopping lists so you know exactly what to look for when you head to the store!
Kickstart & Workout Capsule Wardrobe Builder (a $39 value) – It's four weeks of mix and match outfit ideas including a shopping list of where to get pieces that flatter every body type! These outfits work for everything from running errands to lunch with girlfriends and date night. Plus you'll get the BONUS ten piece/ten day activewear capsule.
Closet Staples Capsule Wardrobe Builder (a $39 value) – This is the ultimate capsule wardrobe builder covering all four seasons. When you sign up, you get your closet staples shopping list plus 64 days of mix and match outfit ideas created from pieces on the list. You'll never walk into your closet and wonder what to wear again.
But you don't have much longer- the early bird bonus ends tomorrow tonight.

Grab yours before it's too late and rest easy knowing that you can return it for any reason within 30 days thanks to their happiness guarantee!
Claim you early bird bonus here.
P.S. Just in case you're still on the fence despite the 97% discount, I want to reassure you that this is an absolutely risk-free purchase.
I've partnered with Ultimate Bundles for years and they ALWAYS honor their happiness guarantee. If you decide for any reason that you're not happy within 30 days, you'll get a full refund with no questions asked.
You really have nothing to lose! So don't miss your chance. Start making the positive changes you deserve and grab your bundle now.
Got a new or picky eater?
Sign up for our newsletter to get a handy stick-it-your-fridge list of our favorite healthy recipes for toddlers and a link to all of the recipes!