Today I'm excited to give you a sneak peek of a big project I've been dilligently working on for quite a while. "Which toys should I spend my money on?," is probably the question I get asked most often by you guys, especially right around now.  So this year, MPMK is doing the gift guide thing bigger, bolder and just plain better!
I considered laying out our picks by age, or gender, or even benefit – but then I got to thinking about how I shop for my own kids.  Ultimately, it's what my littles are into that most motivates my purchases.
If they're going through a constructing stage, then I want the goods on the most stimulating building toys out there.  If their creativity is blooming, I'm looking for info. on the highest quality and longest lasting art supplies.  And if they can't get enough of role playing, that means I'm on the search for toys that do a superb job in supporting dramatic play.
So that's how I've organized this year's picks.  Over the next few weeks I'll be highlighting the best toys and products on the market for: builders/innovators, dramatic play, little explorers, art & creativity, kids on the move, and more.  And here's the best part, even though I'll only be highlighting one gift guide at a time, you can see them all right away – no waiting.  Starting next week that is, today's just a glimpse because I couldn't wait one more day to share some of these stellar finds!
I chose to kick-off our gift guides with finds perfect for little builders/innovators because that's exactly what my kids are these days and I couldn't be more thrilled about it.  I just keep hearing over and over how important cultivating innovation is in our kids' future success.  So watching both my son and daughter excitedly engage with open-ended toys to build, construct, and explore fills my heart with joy. I'm on a mission this year to find the absolute best toys to keep the innovations coming!
Below you'll find my top 19 finds, including the item we'll be splurging on this Christmas.  And, because I know you're busy, here's a sneak peek at my top 3 recommendation from the list:
Magna-Tiles $113 (*this link is for the solid tiles, there's also a "classroom value pack 100 pieces" available for $122 if you want translucent.  Both at a MUCH better price than you'll find anywhere else.)
Snap Circuits $31.83
LEGO Ultimate Building Set $24.59
Read on for my reasons as well as the full list. Also, if you're feeling in the mood to DIY, head to the hardware store – pick up some nuts and bolts, a pegboard, and rubberbands – and make your littles a geoboard.  They're a great toy for little innovators.
1) CAT Digger $98.99 – The aunties bought this for my then 3 year old son last Christmas and, I have to say, I had my reservations. C of course thought an excavator that he could actually sit on, drive, and manipulate was just about the coolest thing ever but I was concerned about the space it would take up in our yard, especially with a non-rainy season of only about 3 months here in Seattle.
What I failed to realize was the versatility of this toy.  Yes, it's awesome for digging in the sandbox or bark in the summer, but it's also great for picking up leaves in the fall and snow in the winter (see here).  This thing gets played on year-round and is often the only thing that lures my kids out to play on a rainy day (they put out buckets to collect the rain water and use the bucket shovel to scoop it out).  This one's definitely a big ticket item but return on investment is high.
2) Manhattan Toy Airplane Vehicle $19.93 – the car versions of these, automoblox, have been a favorite at our house for over a year now.  Part racing toy, part building toy, they're pretty much irresistible to both my son and daughter. I recommended them for stocking stuffers last year and this year I'm recommending these flying machine counterparts as another way to extend the fun beyond the cars.
3) Colorframes $54.99 – I'm warning you now, you're going to see lots of blocks on this list.  When people ask me my #1 choice for creativity toys I think they expect a recommendation for art supplies, but I always say blocks.  I just love the hands-on creativity they foster and we have several varieties in our home (I think everyone should!).  I dig these colorframe blocks because they're gorgeous and also teach kids who are more interested in building (and maybe less interested in art) the concepts of hue, value, and intensity.
4) Designed by You Doll House with Furniture $98.17 – Whenever I make a big toy purchase for my kiddos, I obsess about it a bit.  I research (a lot) to find the train table, play kitchen, etc. that's not only going to hold up the best, but will also offer up the most beneficial play experience.  When my daughter indicated that she wanted a doll house for her birthday last year, my research led us to purchase this one and we've been really, really pleased with it.
The rooms are easy to access and it came with a bizillion pieces of furniture that both my son and daughter use for lots of dramatic play.  What I love most about it, though, is that instead of one permanent structure, the house is modular and can be reconfigured a bunch of different ways.  This really extends the kids' engagement.  I would recommend this for both boys and girls (if hubby gawfs at buying your boy something pink, just paint over those two walls with chalkboard paint to add to the fun).
5) Clump-O-Lump $26.99 – These large scale mix-n-match stuffed animals are so unique.  Their bodies zip apart into segments, making the creature creation possibilities limitless.  It would be fun to get one of these for each sibling and see what characters they can work together to create.
6) Primary Science Set $24.57- This kit of real science tools is perfectly sized for little hands. It comes with 10 double sided activity cards, beaker, magnifying glass, funnel, eyedropper, flask, tweezers, googles, large 6″ test tube and stand, and 2 small test tubes.  The authenticity of these items will have your little scientists dying to experiment.
7) Gears! Gears! Gears! $34.99 – This is another great set for those kids who love to tinker and figure out how things work. This one has won numerous toy awards and it's not hard to see why. Kids can put their mechanical engineering skills to the test to build a myriad of working 3D structures.
8) Tobbles $23.95 – Because babies can be engineers too.  These weighted spheres are fun to stack, tilt, spin, and wobble.
9) Superstructs BIG Builder $34.97 – My son got these for his 4th birthday and loves them.  The set, which kind of resembles tinker-toys with a few more bells and whistles, comes with instructions on how to create several working vehicles.  So far C's favorites are the forklift and tow truck.  He's amazed at the working parts of his finished creations and I'm blown away that he can follow the visual directions and put most of it together all on his own.
10) Melissa & Doug 60 Piece Standard Unit Blocks $48.02- I told you there would be more blocks on this list.  If I could buy my children only one toy, a large set of basic wood blocks like these would be it!
11) Snap Circuits $31.83 – This clever kit is another multi-award-winner that takes advantage of kids' natural interest in building toys like LEGOs to teach the principals of electricity.  The components aren't intimidating, snap together simply, and can be used to create a bunch of cool projects.
This set comes with over 60 pieces to create over 300 different electronic projects. The pieces include snap wires, slide switches, an alarm circuit, a music integrated circuit, and a speaker and are numbered and color-coded to make identifying them easy. These components combine to create working circuit boards just like the ones found inside televisions, radios, and other electronic devices.
For bigger kids, you'll definitely want to check out Snap Circuits Lights.  Just connect any MP3 player and be amazed as your music creates a mesmerizing light display. No two songs will ever produce the same light show. Includes prepunched patterns for motor, strobe light, and color-changing LED, lighted and glow-in-the-dark fans, strobe integrated circuit, color organ controlled by MP3 player, voice, or finger. Builds over 175 experiments.
12) LEGO Ultimate Building Set $24.59, LEGO City Kit $35.15 & LEGO Friends Adventure Camper $29.97 – Let me start by saying that a basic set of LEGOs is a must-have for any child, boy or girl. Around age 4 is a good time to transition from a basic duplo set to a standard sized set.
As for the kits, I used to think those were more for school-aged kids.  Until my son received a few for his 4th birthday, that is.  I was absolutely astounded to witness him sit down with the LEGO City Kit and spend about an hour put it together COMPLETELY BY HIMSELF.  Seriously, these kits come with like 50 steps and ridiculously small pieces but that didn't phase him one bit. I foresee us curating quite the collection of these kits in the next few years.
Now, when I first heard LEGO was coming out with LEGO friends (a dramatic play themed version of LEGOs for girls) I was a bit torn.  On the one hand, girls can – and do – play with regular LEGOS, they don't need to be pink and purple!  On the other, it's not such a bad thing that toy manufacturers are developing products aimed specifically at girls that build STEM (science, technology, engineering, and math) skills.  In the end, I decided I'm for it just as long as no LEGO stilettos or hair extensions enter the picture.
13) Educational Insights Design & Drill Activity Center $28.38 – I like how this particular toy combines fine motor skills with pattern recognition AND adds a great dramatic play element.  We're getting it for C this Christmas and I'm pretty sure he's gonna go nuts over the interchangeable drill heads.
14) Learning Resources Pretend & Play Tape Measure $7.84 – Kids love tape measures and they're fabulous for teaching beginning math skills. I like that you don't have to worry about any accidental pinching with this over-sized version.
15) Green Toys Tool Set $21.30- A tool set is another "must-have" toy in my book.  They're fantastic for dramatic play (my kids love finding new things to "fix") all by themselves.  Add in some working nuts and bolts and you've got some fine motor practice to boot.  We bought a wood tool set for C and have been happy with everything except the durability, so far we've had a wrench and pliers snap.  I think this set from green toys would be a lot more durable (there are sets available in blue, yellow, and green or brown, red, and blue as well).
16) Magna-Tiles $113- I just recently discovered magna-tiles and I am so, SO excited to give them to my kids.  They're definitely more of an investment, and will be our "big" toy of the year, but I think it will be really worth it.  Plus I found them at an awesome price! (Read the amazing reviews on Amazon, then get them for almost 50% less at the link above.  Also, please note this link is for the solid tiles, there's also a "classroom value pack 100 pieces" available for $122 if you want translucent.)
Teachers absolutely rave about these blocks and the play possibilites seem endless.  Because they join together using magnets, kids can create elaborate structures (often taller than they are) without becoming frustrated by crashes.
They're also great for use with other toys. They can be used along with blocks and LEGOs to make elaborate structures, with marbles and cars to make tunnels, bridges, and marble runs, or even with dolls to create doll houses.  We're spluring for the 100 piece set and banking on hours of rainy day fun with these.  The ultimate plan is probably to one day get a personal light table to use them with too.  The translucent pieces would look fantastic lit up from underneath.
17) Bristle Block 85 Piece Set $32- The "fingers" of these blocks make them easy to join together and the perfect starter block for younger kids.  My 2 year old daughter especially loves them.  We have the basic set but there's a spinaroo set at her toddler group that she beelines to every time we go. These are also great in the car or on a plane.
18) WEDGiTS Deluxe Set $29.50- I put these in our gift guide last year and had to return them again for 2012. I once talked to the owner of a local toy store about them for over 30 minutes. He couldn't stop raving about what great, open-ended building toys they are and he totally sold me on them.  If you have younger kids around, get the Wee WEDGITS – they're softer and don't hurt when stepped on. For bigger kids, be sure to spring for the design cards to help extend the quiet time play even more!
19) Letter Construction Activity Set $30.38 – Instead of using flashcards (blech), I like to sneak in letter learning wherever I can – on blocks, through stamps, foam letters in the bath, etc.  I think these large-scale construction letters would be perfect for my little builders.  I've seen magnet toys using these same curve and line shapes but I think my kids would prefer the satisfaction of physically snapping the pieces together.
So that's my list.  If you have a mini-engineer in your family, I guarantee there's something above they'll love.  If not, don't forget, you can click on the graphic below to check out all of our other gift guides (for builders/innovators, kids on the go, little explorers, the creative & crafty, and etc).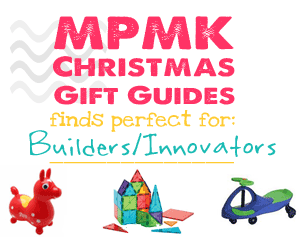 *Post contains affiliate links