Welcome to the famous MPMK Gift Guides and congrats on finding        
the most comprehensive and easy-to-use toy gift guide on the internet –

already viewed over 7,000,000 times!
(If you're
not familiar with our famous lists, learn all about them here
)… With all the talk I've been doing on the blog about
the importance of fostering STEM (Science, Technology, Engineering and Math) skills
, I felt I absolutely had to include a STEM-themed gift guide. I just keep hearing over and over
how important cultivating innovation is to our kids' future success
. So watching both my sons and daughter excitedly engage with open-ended toys to construct, engineer, explore and experiment fills my heart with joy. I'm on
a continued mission to find the absolute best toys to keep the innovations coming!
Also,
I do my best throughout the year to keep our readers up-to-date on any sales I see on our gift guide items
. To be in the loop, be sure to:
Once again this year, I'm heading up each list with my favorites from all the picks.
Scroll down for sub-categories
of this list including:

TOP 20 STEM TOYS OF THE YEAR

$19.95 (1 – 10 years)
This deceptively simple toy is so much more than it appears and falls into the "engineering" part of STEM.
Parents and teachers rave about the hours and hours their kids spend shooting things through this heavy duty tunnel.
This is also a great toy to get kids hypothesizing about, "what will happen when I… (put something heavier in, tilt it higher, put more than one thing in it, etc…)
When my friend first introduced me to the Tot Tube, I really liked the idea but wondered if it was worth the money- couldn't we essentially do the same thing with a cardboard wrapping paper tube?).
What I like about this, though, is that it's a lot more durable than a cardboard tube, it's wider shape accommodates bigger sized cars and balls, it can break apart for easy storage or you can attach more than one for a super long tunnel, and the kids can see through it- making it so much more engaging. Read the reviews on this one and I think you'll be sold.
Read the reviews on this one and I think you'll be sold.
$12.88 (4 – 7 years)
When my son was in kindergarten, he really started getting into math and began asking for story problems at night before bed, so
imagine my excitement when I saw this book
, which contains just that! From the publisher, "Inside this book, families will find fun, mischief-making math problems to tackle—
math that isn't just kid-friendly, but actually kid-appealing
. With
over 100 math riddles on topics from jalapeños and submarines to roller coasters and flamingos
, this book bursts with math that looks nothing like school. And with
three different levels of challenge (wee ones, little kids, and big kids)
, there's something for everyone." This is
a great way to change up story time at night and encourage math skills
in kids that are excited about the subject as well as those who need some help getting excited.
Psst
– We're now on
the second and third books in the series.
Was $199.99, Now $159.99 (10 years and up)
This was given to me for review and 
I loved it so much it's gonna be the big present under the tree for my 5th grade son
 this year. Quite frankly, I think 
it's gonna make his head explode. 
He has no idea 
a huge range of awesome historical sets like this from Cobi
 even exist, but 
he's both a LEGO fiend and into history games
 like 
Memoir 44
. Add to that his love for the h
istorically accurate computer game World of Warships, which this set has a bonus code for
 and it's basically the perfect storm of a present. There are a few things that put this set heads and shoulders above the rest. The first is the sheer size of it – not only is the finished product pretty massive, 
there are 2,400 pieces! 
(The number of pieces is the first thing my son looks at to judge the awesomeness of a set.) It's also 
a faithful 1:300 reproduction of the actual USS Missouri
 and 
comes with all kinds of interesting information about it;
 such as the fact that It was on board this ship, on September 2, 1945, that the act of surrender by the empire of Japan was signed, officially ending world War II. Last but not least are that the 
set is "compatible with other construction blocks" (wink, wink)
, has lots of super cool moving parts, and 
even a special exhibition stand with the name of the ship printed on a block plate​
. I can't wait to see my son's face when he opens this one Christmas morning!
$34.99 (5 – 12 years)
One of my good friend's recently texted me this about these,
"My son just got this toy for his birthday and it's a HUGE HIT."
So I checked it out for this guide and the reviewers agree. These are a super fun and inexpensive introduction to the world of drones and robotics.
They're super easy to control with just your hands and can be played with alone or in a group.
One of the major "it" toys of the year
… If you want a gift that's sure to impress, this is it.
$20.99 (5+ years)
$45.99 (8 – 15 years)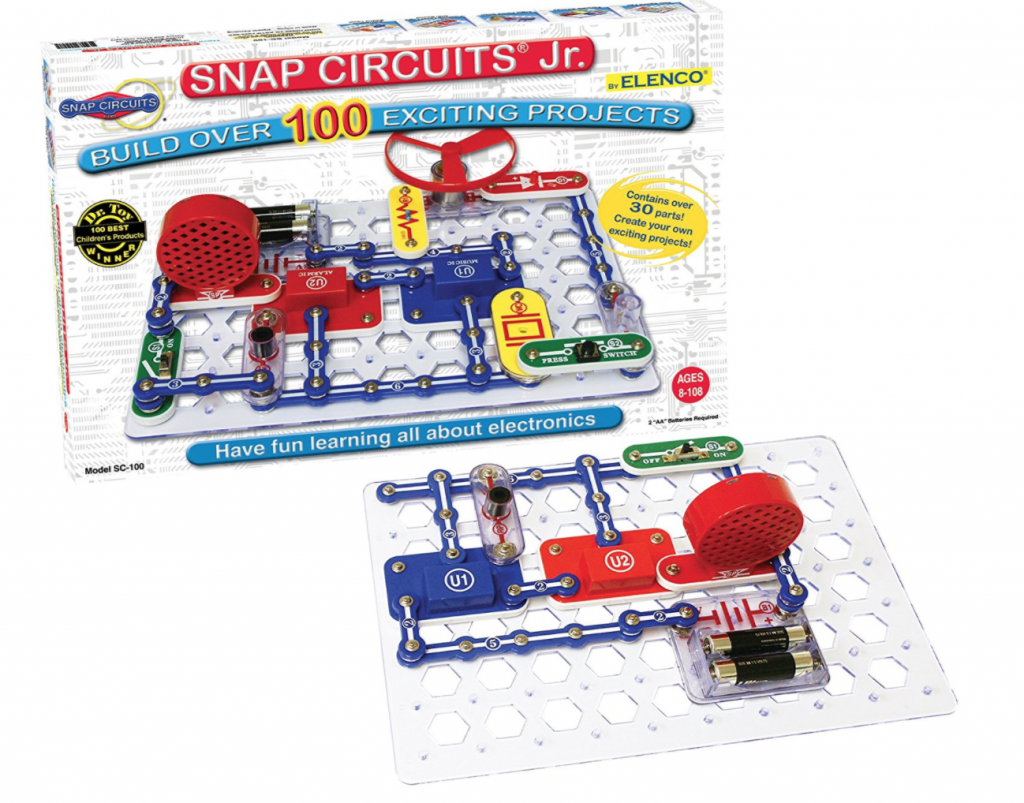 This clever kit is
the all-time-best-seller on our gift guides
and another
multi-award-winner that takes advantage of kids' natural interest in building toys (like LEGOs) to teach the principles of electricity
. The components aren't intimidating, snap together simply, and can be used to create a bunch of cool projects. The
standard set
comes with
60+ pieces to create over 300 different electronic projects
. The pieces include snap wires, slide switches, an alarm circuit, a music integrated circuit, and a speaker and are numbered and color-coded to make identifying them easy. The latest and hottest iterations include:
components in Snap Circuits combine to create working circuit boards just like the ones found inside televisions, radios, and other electronic devices.
(Note: there is
a conversion set
that turns
Snap Circuits Jr
into this bigger set when your kids are ready to move up.)
The HUGE popularity of these sets means there are now lots of options to choose from, check out this video for the run down:
For bigger kids, you'll definitely want to check out the reduced priced
Snap Circuits Student Electronics Training Program
down this year from $199.99 to $127.45
as well as the
Alternative Green Energy Kit.
$14.99 (5+ years)
When my kindergartner came home from school one day asking me to teach him to play chess, I had mixed feelings.
On the one hand, I was excited
because, despite spending a lot of our time together on sports-related activities,
I have great memories of playing chess with my dad
growing up.
On the other hand, I was afraid he was a little young for it and might get frustrated and give up on the game altogether
. Enter "No Stress Chess".
This genius game uses cards to teach young kids how to play in stages.
The cards tell you which piece to move, so even
children (and adults) who have never played the game can jump right in
. The moves for each piece are on the cards as well as on the game board and
the first stage makes the game about chance, not skill
– you simply draw a card and do what it says, perfect for learning how the pieces work. Once that is mastered, you can draw 3 cards at a time and decide which one you want to go with to introduce some strategy to the game. Finally,
when you're ready to play chess for real, just get rid of the cards and flip the board over to a traditional chess board.
$18.65 (7 – 15 years)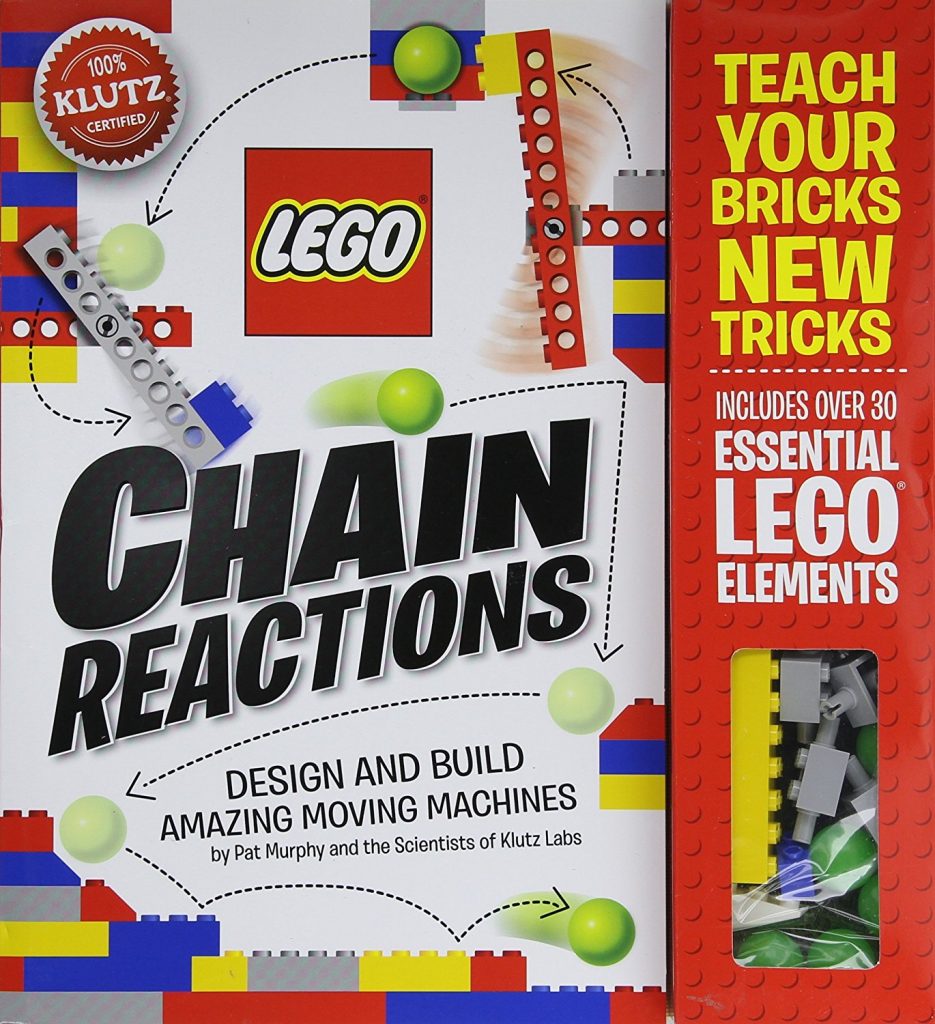 The first thing I thought when I saw this book was that it was a combo of two of my son's favorite things: LEGOs and the game Mouse Trap.
I talk a lot in this gift guide about the value of open-ended toys and I think this book could really get a kid's mind spinning in regards to what new contraptions they can invent…
From the manufacturer, "LEGO Chain Reactions is packed full of ideas, instructions, and inspiration for 10 LEGO machines that spin, swing, pivot, roll, lift, and drop.
Each machine alone is awesome, but put them together and you get incredible chain reactions. Then, combine the machines in any order you like to create your own chain reactions. Our team of experts worked with educators and 11-year-olds to invent the machines, then wrote a book that teaches the skills (and some of the physics behind the fun) kids need to create their own amazing chain reaction machines."
The kit comes with 78 page book, 33 LEGO elements, 6 LEGO balls, 6 feet of string, 8 paper ramps, 2 paper pop-up signs, 1 paper funnel ramp, 1 paper flag, 1 paper bucket, 1 platform and the makers assure that you don't need to worry that you won't have the right bricks as they made sure you'll need only the most common bricks, and that there are plenty of substitutes.
And while we're on the topic of LEGO build books, The LEGO Ideas Book and LEGO Play Book are also well worth looking into.
$19.95 (5+ years)
One of the
best-sellers ever amongst all 350 toys on our gift guides
. My son got this
strategic domino and scrabble-like game
for his 5th birthday and, since then, has asked to play it during our one-on-one time over and over. Although we altered the rules and points system a bit to adjust for his age, this
Parents' Choice Gold Award and Mensa National Competition winner
is still
fantastic for working on shape and color recognition as well as pattern perception and spatial and critical thinking skills
. Not long after we brought the game home, my 4-year-old daughter got in on the fun too. I can tell this is one that our family is sure to be playing for years to come.
$34.99 (ages 3 – 12)
A few years ago tutorials for making your own electric play dough were popping up all over Pinterest. I would excitedly click on them with the intention of whipping up a batch for my kiddos, quickly get defeated by ingredients I didn't know how to get, and give up.
I was so excited when I was sent some samples of Squishy Circuits- the answer to my prayers! I'm so excited about the possibilities for
teaching the kids about circuits in such a fun new way!
It's got so much that kids love, i.e. play dough and and things that light up, and 
there's a Squishy Circuits app with easy, step-by-step instructional slides and videos for all of your project
This one is 
a multi-award winner and sure to be a big crowd pleaser!
$99.99 (6+ years)
There are so many STEM toys on the market now that they can all kind of blend together. This Harry Potter Coding Kit from Kano, though, is a definite stand-out.
I love how it uses the magic of Harry Potter and the step-by-step building of a physical wand to encourage kids to learn coding.
This super innovative kit allows kids to build a wand that responds to their movements and then l
earn to code with 70+ step-by-step creative challenges. They can make feathers fly, goblets multiply, fire flow, pumpkins grow, and more.
My daughter is a huge HP fan and I could see her absolutely eating this toy up. And, of course, any toy that sneakily teaches coding skills while the kids are having fun is a big, big plus for me.
The tagline for this unique set says it all; Build a Wand. Learn to Code. Make Magic.
$8.49 (8+ years)
This is
kind of like Mr. Wizard in a book
. Written by a high school science and math teacher, this guide will help school-aged kids explore scientific topics with
themed chapters broken down into accessible experiments of varying difficulty levels
. Fun for them to do on their own or along with you – this one is a great value!
$24.99 (18 months – 6 years)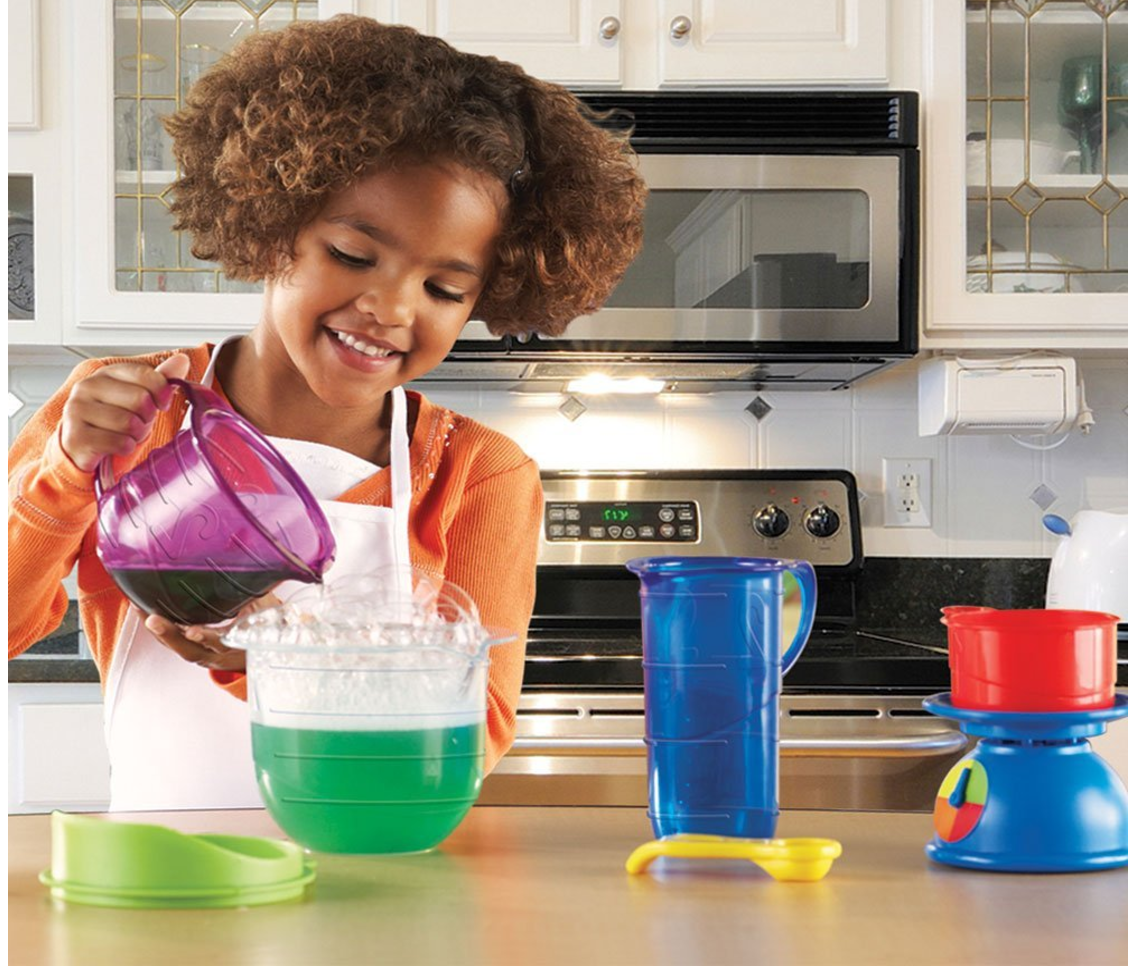 This set includes a scale, bowl, 3 self-standing spoons and 6 unique cup designs to help children visualize quantities as well as activity cards to guide children in making mystery goo, puffy paint, slime and more.
Because it allows those not quite ready to experiment to get in on the fun too, this is a great toy for siblings of different ages.
Older kids can partake in real concocting while their younger counterparts pour to their heart's contentment. This is a fabulous toy perfect for playing with at the sink, in the tub, or at the water table.
$119.99 (ages 6 – 14 years)
Yep- that's right- the 2017 version. While this
isn't the newest Kano "make your own computer" kit, it's still a REALLY good one
and, bonus,
now you can get it at a pretty great price!
There are lots of toys out there to help kids learn the basics of coding- but this isn't a toy, it's 
an honest-to-God actual computer
 that kids can not only build themselves but also learn to teach themselves to code! The creator of the Kano says the kit was 
inspired by his 6-year-old cousin who wanted to build his own 
computer,
 but didn't want "anyone to teach him."
 It also had to be as simple and fun "as Lego"… so that's exactly what he made. Kids open the box and pull out the bits, button and board. 
They follow the story page-by-page, just like Lego, all the while looking inside to see how it all works.
According to the manufacturer, "Simple, fun and for everyone. No technical wizardry required." But that's just the beginning. 
What I'm most excited about isn't the building, it's the coding.
Again, the kids are 100% in the driver seat. 
They learn on their own through play (the BEST way to learn)
.  Through step-by-step challenges, kids can learn to code art, games, music, and even hack Minecraft. Kano introduces kids to basic programming languages. Through 
fun challenges that use simple code blocks, typed code and Linux commands.
 Other programs include 
Python, great for web development, Javascript for creating websites, games and apps
 and Terminal commands to control computers faster.
One reviewer wrote:
I am a systems engineer by trade and have been building computers/servers for 20 years…. The whole idea behind Kano is for your child to be a part of the process, and feel like they can do it all. The packaging is very well laid out, and they have a great little book that tells you how to put it all together, while explaining in terms that a young child can understand, what all this stuff does. Once it's built and powered up, it doesn't just dump you into a dashboard and expect you to read and figure things out. It comes up with a Matrix inspired shell and asks you a few questions. This is how it starts. Without even knowing that they are doing it, your kids are telling the computer what to do. The apps are very well written. Lot's of helpers along the way so that your child doesn't get frustrated and lose interest. My son loved the code quest app, and is more proficient on the shell than a lot of sysadmins I know! They regularly update the apps, and there's always new stuff in Kano World.
If you're serious about giving your kiddo a leg up in our Tech-obsessed world, check out the video and you'll be as sold as I am.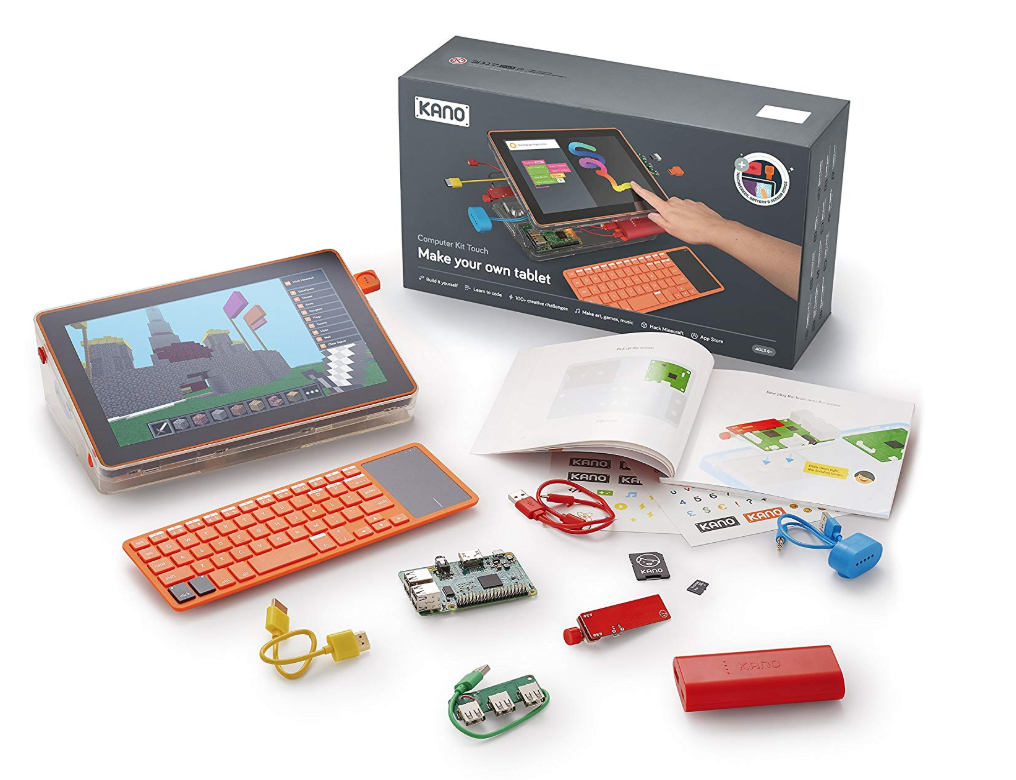 And if you're ready to go all in on Kano, you'll definitely want to check out
their kit for making your own touchscreen computer
– brand new this Christmas!
$24.50 (3 – 8 years)
The
entire line of single player puzzle games
from
SmartGames
gets
such stellar reviews
that
it was hard not to recommend all of them!
The bold colors of these two 3-D wooden castle puzzles especially caught my eye.
I bought it for my daughter a couple of years ago and it was an absolute winner.
Assemble the wooden blocks and towers to match the challenges included in the booklet.
With simple challenges for inexperienced builders to complex puzzles that will challenge skilled architects, these puzzles serve to develop logical thinking skills and spatial reasoning abilities.
$119.99 (2 – 10 years)
I discovered Magna-tiles when my oldest son was 3-years-old via his preschool and they were the big present under the tree for the kids that Christmas. They're definitely
more of an investment but have been COMPLETELY WORTH IT.
Teachers absolutely rave about these blocks and the play possibilities are endless
. Because they join together using magnets, kids can create elaborate structures (often taller than they are)
without becoming frustrated by crashes
. They're also great for use with other toys. They can be
used along with blocks and LEGOs to make elaborate structures, with marbles and cars to make tunnels, bridges, and marble runs, or even with dolls to create dollhouses
. All of
my kids, ages 2 to 8, still play with them multiple days a week.
Currently, my 6-year-old loves making elaborate pet stores with ramps and rooms for each of her
Disney Princess Palace Pets
while my 2-year-old always asks for these first to take to build in his room during "Quiet Time" We splurged for the 100 piece set and got hours of rainy day fun with these- the higher price was completely worth it.
Note:
For an extra $10,
these magnetic train bases take the play possibilities to a whole new level
and make a great stocking stuffer.
Until now, if you wanted to parlay your kids' love of all things LEGO into an interest in programming, your only real option was the very expensive LEGO Mindstorm kits, which are geared more towards older LEGO builders and come with a hefty price tag.
At a cost of $200 less than the Mindstorm kits, the new LEGO Boost still has everything you need to get your kids building, programming and coding and – frankly – I think the builds are more fun and approachable, especially to kids who aren't hardcore coders.
Like all building and programming toys, this one works with a free app that you download on your tablet or phone and what I really love is that the kit builds not one, but five different models.
This toy does SO MUCH, I predict hours and hours of educational play with this one!
$399 (7 years and up)
Ever since hearing
Wired
editor and bestselling author,
Chris Anderson
, speak on the new industrial revolution that's underway – and
what it's going to take to raise the next generation of innovators – 
I've had
the idea of buying my kids a 3D printer percolating in the back of my head
. Despite the purchase being a significant investment at the time,
Anderson quite convincingly argued that buying our children a 3D printer is tantamount to our own parents buying us our first computer
. Why? Because with this one device anything our kids can imagine, they can literally create. That is a very powerful message to send our kids!
Anderson effectively convinced me that this thing could open up a whole new world of innovation and possibilities for my children.
So
when I began seeing a new crop of more affordable, kid-friendly 3D printers I knew I had to add them to this guide.
 This one gets stellar ratings and has an amazing price point for what you get!
$149.99 (8 – 14 years)
These friendly little robots have been 
one of the hottest programming toys out there for elementary age kids
 for the last few years, so I couldn't say no when I was offered a pair to review last year. My favorite part is how hands-on they are –
this is your child learning coding with real-life robots, not glued to a screen
. I've been
thrilled with how they've excited both my 8-year-old son and my 6-year-old daughter about robotics and programming
.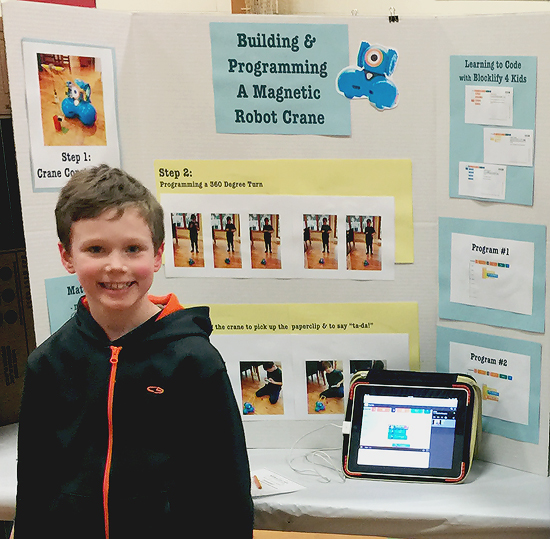 Last year my son even centered his science fair project around Dash by using 
this cool accessory piece
that
lets you build LEGO blocks right onto the robot.
The fun and approachable look and sound of these real-life robots for kids (
again think Wall-E
) makes them appealing to both boys and girls of various ages. 
Programmable by a multitude of free apps you can download on your apple or android tablets or smart phones
, these guys can be made to respond to your voice, navigate objects to complete an obstacle course, dance, sing and a lot more. Probably the best part is that
unlike most coding and programming toys, you don't have to spend a ton of time learning how to use them in order to help your kids
. Dash and Dot's programming
apps feature built-in challenge tutorials that teach kids how to program on their own from the very beginning
of each program. I had my doubts about how hands-off this would really be but
I had the phone for all of 30 seconds before my 2nd grader was clamoring to take over
… and then I never got it back. I also love that the
apps ladder up in skill level with the child
and that different Dash and Dot apps serve different interests.
My 8-year-old son is all about the Wonder App, which looks and plays a lot like a video game
on the screen but takes it into the real world where, in order
to complete various "Scroll Quests", he has to program Dash or Dot to do things in real life in our living room.
My kindergarten daughter
is still a little young for that but that didn't stop her from engaging with these robots through the
apps "Path" and "Go" which let her use the phone like a remote to drive them, program them to light up in all sorts of different colors, and program them to say anything she could think of
by using her own voice. She was even able to figure out
how to write a program to make Dash take multi-step actions; go forward, say something she programmed, go in a circle, turn purple, go backwards and then stop.
I see Dash and Dot (you can buy them separately,
together
, or in
a combo pack with accessories
) as
a toy that will grow with us for many years
.
$149.99
If your kids like hot wheels, they are going to
lose their minds over this next generation high-tech racing toy
. Players use smartphones to steer the cars on the extra large track which can be constructed into 8 different "battlefields". That's all great, but
here's what's ridiculously cool… The A.I. cars actually race on their own, meaning your kids can race against them and don't need a friend to play with!
If this doesn't get your kids excited about tech, nothing will… You can also upgrade later on with
track extensions
,
new cars
and the new
supertrucks
. From the manufacturer, "Open the box and build your battle track. The Anki OVERDRIVE app automatically handles everything else, from getting you connected, to teaching you gameplay, so you can start playing immediately. It's effortless by design… Duel friends or artificially intelligent opponents. 25+ different A.I. personalities know your every move and make split-second tactical decisions based on their environment and objectives. The more you play, the more upgrades and items you gain, and the better you fight back…
These aren't just cars. They're robots programmed for battle. Control them with your smart device and take down opponents with an array of weapons, from plasma cannons to flamethrowers.
It's pulse-pounding play, made possible through state-of-the-art tech and it's an experience unlike anything else."

Read on for the full list of 40+ of my top Learning Toys for Fostering STEM Skills…

Special Note: In an effort to help you out as much as possible this year, I've included both prices and age recommendations for each item. Please take the age ranges as just that – recommendations – you know you're child best after all!
Also, this time of year prices can fluctuate quite dramatically. So if you see something a little outside of your price range, it might not be a bad idea to click over and check it out anyway – you may get lucky and catch a sale.
Ready for the big list? Here we go…

SINGLE PLAYER LOGIC GAMES

Psst – I stole all of the picks in this section from parts of our Best Learning Toys for Quiet Time and our Best Picks for Family Game Night guides – check both of them out for even more options.
Educational Insights Design & Drill Activity Center $30.99 (3 – 8 years)
I particularly like how this particular toy
combines fine motor skills with pattern recognition AND adds a great dramatic play element
. We got it for our son when he was 4 and he played with it quite a bit until his little old sister took it over.
Now our 1 1/2 year old is starting to get in on the fun
(mostly sorting and manipulating the pieces with his hands for now but I anticipate him picking up the drill pretty soon). The popularity of this toy has also led to some cool variations, including the
Design & Drill Flower Power Station
and, my favorite, the
Design & Drill BrightWorks
– which is like if the Design & Drill had a baby with the classic
Lite Brite
from my childhood (in other words,
the pieces light up and it's totally awesome
).
IQ Twist $9.99 (6+ years)
This
compact, award-winning multi-level logic game contains 100 challenges suitable for all ages
. It would be
ideal for car rides
and perfect to slip in someone's stocking this year.
Perplexus Rookie $23.99 (6 – 8 years) for younger kids
Perplexus Maze Game $29.99 (6 – 12 years)
Perplexus Epic $27.99 (6-12 years) for experienced players
Perplexus looks like
one of those games that you just can't help but pick up and play
when it's sitting on a table in front of you and, judging by the
massive amounts of positive reviews
, it is. This one is great for developing fine-motor skills and hand-eye coordination. Plus
I love that it's battery-free
and completely self-contained within the sphere so there
aren't any pieces to get lost
.
Thinkfun Gravity Maze $23.99 (7+ years)
Kids absolutely love marble runs (see above), which is why
it is so smart that the goal of this single player logic game is to create a working 3D marble run
. Thinkfun is going to be sending this one to us this year and I know my 6-year-old son, who is unusually drawn to spatial planning activities, is going to be thrilled to receive it. UPDATE:
He does love it!
From the manufacturer, "This
gravity powered logic maze
is sure to put your visual perception and reasoning skills to the test. The
colorful, translucent towers can be arranged in a plethora of visually stimulating structures
but, for each challenge, you'll have to think carefully to build a path that will successfully carry your marble to its target. 60 challenges, ranging in difficulty, will give you plenty of creative building time while you maneuver the maze in your mind!"
Chocolate Fix $19.87 (6+ years)
Similar to Soduku but
made much for fun with the addition of yummy looking chocolate pieces
, this single player logic game challenges players (or teams of players) to figure out where to place all of the chocolates on the board according to visual cues. The game gets
amazingly high reviews
and I love that the chocolate pieces are extremely enticing to both boys and girls. It was
one of the first single-player logic games, other than Castle Logix, to really grab the attention of my daughter and keep it
.
Solitaire Chess $15.99 (8 – 12 years)
This single player game goes beautifully with
No Stress Chess
(a two person game that's fabulous at teaching kids Chess in stages) and takes it to the next level by
using chess moves to solve single-player logic puzzles
. It's the perfect thing for practicing emerging chess skills when there's no one available to play with, as one reviewer wrote,
"WOW! What a fantastic way to learn the rules of chess!
Early challenges help new players get used to the various moves each chess token can make, and there's a handy reference provided just in case…
Great brain exercise in strategy and planning
… I would recommend this game to any game lover, whether a chess newbie or someone who has been playing for years – it is a blast, and
the packaging design allows it to pack all together and travel easily
."
Laser Maze Logic Game $28.95 (8 – 15 years)
This one
uses a real-life laser
. Players will build sequential reasoning and planning skills while working on reflecting and splitting the laser beam using mirrors and targets on a puzzle grid to reach their goal.
Your kids (and your husband) will think it's pretty rad.
Laser Chess $39.99 (ages 8+)
Plenty of Thinkfun games have been huge hits both on these gift guides and in my own house, including both No Stress Chess and Laser Maze.
So this new game, which is essentially a combo of the two, was kinda a no-brainer and it was no big surprise to see how much my kids loved it.
A strategy game (chess) using lasers? Yeah, they can't get enough.

ENGINEERING

This section was a little tough to narrow down. There are lots of different types of engineering; electrical, mechanical, etc. Furthermore, to me the best way to get kids interested in engineering down the road, is to encourage a lot of open-ended building early on.
So I've included some of my favorite picks from the Best Blocks & Construction Toys Gift Guide as well (see that guide for our full list of favorite blocks and construction toys).
Bugs in the Kitchen by Ravensburger $23.15 (2 – 9 years)
Put out by Ravensburger,
a time-honored producer of wonderfully stimulating games
, Bugs in the Kitchen is
one of the most interesting new games I've seen in a while!
If you already
have a hex bug lover in your house, then this one is a no-brainer.
If not, this is a great way to introduce the awesome little robot bugs. But even if hex bugs aren't your kiddo's thing, there is still a lot to love about this engaging and straight-forward game. Big on fun, action, and building critical thinking skills,
kids will absolutely love playing with while flexing their thinking ahead and strategy skills.
I've also noticed that
my 2 1/2-year-old likes to play with some of his big siblings games all on his own during quiet time and I think this one will be a hit with him for that reason as well
. If you have multiple kids in the house and they're all past the mouthing stage,
this one could be a winner with them all (which is always worth the money in my book!)
MegaBloks American Girl Building Sets starting at $9.34 (4 – 12 years)
I'm so impressed with this line of LEGO-like building sets for girls. First of all, i
t's American Girl brand, so that's guaranteed to attract a lot of girls,
even those who don't gravitate towards building. Second,
each set has a lot to it for girls to not only build, but also use as props during imaginary play- something girls are known to love to engage in.
There are a large variety of sets to chose from. I'm loving
the Horse Stables Construction Set
as well as
Saige's Art Studio
and
the American Girl figurines make great add-ons to any of the sets or stocking stuffers!
LEGO Friends Amusement Park Roller Coaster Building Set $79.76 (7 – 12 years)
The LEGO Friends collection is marketed primarily to girls but
both boys and girls will be impressed with all that this big set can do
. The mechanical stuff is very cool,
a moving roller coaster with lights that turn on when a person sits down and a large ferris wheel that spins
. Beyond that there are also a lot of little touches that kids will love in their dramatic play; working turn styles, refreshment stands, park maps and etc.
LEGO is no dope, they know studies show that girls like to use story-telling in their play and that incorporating dramatic play is a great way to get them interested in engineering toys.
Parents say that got it right and this one packs a lot of playtime punch.
WEDGiTS $32.99 (3 – 7 years)
I once talked to the owner of a local toy store about these for over 30 minutes
. He couldn't stop raving about what
great, open-ended building toys
they are and he totally sold me on them. If you have younger kids around, get the
Wee WEDGITS
(1+ years) – they're
softer and don't hurt when stepped on
. For bigger kids, be sure to spring for
the design cards
to help extend the quiet time play even more!
Gears! Gears! Gears! $34.99 (3- 9 years)
This is another great set for those kids who love to tinker and figure out how things work. This one
has won numerous toy awards and it's not hard to see why
. Kids can
put their mechanical engineering skills to the test
to build a myriad of spinning 3D structures.
Note: Although the motorized version looks fancy, we found the motor to be kinda "meh" and actually prefer the highly-rated
original set
.
Marble Run – 103 pieces $34.95 (3 – 10 years)
This one is a classic for a reason.
Kids have always loved (and will always love) building cool structures and watching marbles spin and drop down them
. This is a perfect game to play alone or with others so it
can be used for quiet time or play dates
plus it's great developmentally for
fine motor skills, critical thinking skills, spatial awareness
and more. My only caution is to be careful of small marbles that can be a choking hazard to young kids who still like to put things in their mouths, including younger siblings who may be nearby.
Erector Super Construction Set $113.00 (6 – 14 years)
The age range on this set is actually 8 – 14 years but our son got his first Erector set at age 4 and loves building these creations with his dad. This
highly-rated and comprehensive set comes with a 6V battery-operated motor as well as 640+ parts and a handy carrying case
. It can be used to
create 25 different models
.
LEGO Architecture Studio $159.99 (12+ years)
More architecture than engineering, I still had to include this fabulously open-ended LEGO set
. Described by some as "not really a toy, more a beautiful design set",
reviewers rave about the 270 page "Create your own architecture" book that accompanies the 1200+ LEGO pieces
. A well laid out introduction to architecture, as well as a guide for getting starting with building things with the LEGOs. It
includes lots of pictures and lots of drawings as well as a number techniques, features, and intuitive hands-on exercises endorsed by leading architects
. Tips include things like getting different effects using some of the special pieces in the set, i.e. making windows look inset into a wall. Much like the LEGO Master Builder kits above, what it is NOT is an instruction manual for constructing specific buildings – instead
the point of this entire kit is to teach about architecture and then inspire users to take apply what they've learned to make their own creations
. I love the endless possibilities for innovation grounded in solid architectural principals here.

ROBOTICS & TECHNOLOGY

LittleBits Rule Your Room Kit $79.99 (12+ years/ younger with help)
The LittleBits bundle sets are kind of revolutionary. I highly recommend you
watch the video here
to get the full idea, but basically, the starter kit will
let your child operate any real-world thing using the internet
(one of my favorite examples was a balloon with the word "ego" that inflated a little more every time an instagram account was liked). This is
an amazingly open-ended tech toy and the possibilities for older kids are quite literally endless.
This "Rule Your Room Kit" is my favorite one yet!
My daughter is going through a serious "keep out" phase with her bedroom
and I just know she'd be super excited about all the boobytraps she could rig up with this kit- it might just be the perfect way to introduce her, and lots of girls like her, to electronics and programming!
Star Wars Droid Inventor Kit $99.95 (ages 7 – 12)
I've featured
littleBits sets
on our STEM Gift Guide before but this year they've shot straight to the top with this Star Wars Droid Inventor Kit. Obviously, if your kid is a Star Wars fan, that alone will have them squealing with joy over this set- but
there's A LOT for all kids (and their parents!) to love here
too. First, this isn't a set you have to "do together" (
i.e. start together and then finish on your own when your kid gets bored or frustrated
). Instead, here's what the manufacturer says:
No grown-ups necessary: Kids can put together easily with step-by-step, in-app instructions, then challenge themselves to level-up their inventor skills by building new custom Droids.
And here's what one reviewer said:
Little Bits Star Wars R2D2 Droid is both fun and educational. The assembly process requires the use of an app – either, Google Play for Android or Apple App store for iOS. From there simply follow the instructions and it is virtually fail-safe. I started the app and the recognizable John William Star Wars IV theme music began to play as assembly steps appeared on the screen. After connecting the cable and battery (included) to the first bitsnap (proprietary part) I then moved the switch to on, and using the magnetic connector, attached it to the speaker unit. It then automatically connected to the app and 22 keys appeared on the screen representing different R2 sound effects. I received the Mission Accomplished message and was encouraged to keep building. Instructions contain drawings and animation providing clear steps which can be replayed repeatedly…
I also love that this is an open-ended toy that can be built in lots of different ways, not just the one way the app guides you through…
How? Each color-coded and easily identified electronic block has a different function (motor, sensor, speaker, etc.), enabling kids to rebuild their Droid in new ways, transforming their original R2 Unit into any Droid they can dream up.
This is
key for growing creativity and innovation in our kids
and something I always look for! Finally, the play is only getting started with designing the droid. Kids will also have tons of fun programming him. Like other toys on this list,
there are lots of programming options
that kids can explore but
my favorite is definitely "the force" which lets them control the droid with their hand, but without touching it!
When I first saw this guy, I thought he was just another robot/coding toy. But, upon further inspection, I realized he's actually a very kid-friendly remote control toy that will entertain them in all sorts of cool ways. (And hey, if it makes them interest in learning about coding down the rode- then all the better!)
MiBRO can dance by himself, make sound effects, allow kids to talk in funny voices or become a listening device. That part is key… kids love playing spy with MiBro by sending him to another room and eavesdropping with him.
But this can go both ways, kids can also send him to the kitchen and talk through him to mom or dad while they're making dinner (they can also change their voice and make themselves sound hilarious while doing so.)
Also, there's an explanatory picture on each action button (rather than words) to help identify what they do—for instance, a musical note is on the dance button- which makes this toy easy for younger kids to have fun with too.
There's also a tray that slides on the top if you want him to carry/deliver a small item or you can take the tray off and use it for a soccer goal. And last, but not least, there's a foam hand and a blaster (gun) accessory.
One reviewer wrote:
"The remote control is where all the action is at. My kids love talking to me (kind of like a walkie-talkie) from the remote by planting the robot next to me in the other room."

Another said, "

The robot also has three modes – sports (I'm number one!), Blaster (shooting noises), and Gross Mode (Yes, it burps and farts). Again, my kiddos think this is HILARIOUS. He's a sassy robot that was designed to entertain little ones for sure and appeal to their funny bone."
Makey Makey $49.95 (9+ years/ younger with help)
Invented by a couple of MIT students
, the Makey Makey
can turn virtually anything into a remote/game controller for your computer
. Again, the video explains it best but think using your entire staircase to play a piano program or playing a video game with a controller you made of paper and play dough. Just use the alligator clips and the Makey Makey to connect whatever you can think of to your computer and go!
OWI Robotic Arm Edge $45.50 (10+ years, younger with adult supervision)
For the kid who is starting to get serious about robotics, this is a great staple kit and a really good price
. It's also a great project for kids and parents to do together.
LEGO Mindstorms EV3 $349.95 (10+ years)
This set is beyond my kids' ages right now but it won an
Oppenheim Platinum Toy Award
and I found their review compelling so I'm going to quote it here, "LEGO is rolling out
a completely revamped version of the robotics kit for a new generation of kids
. Knowing how essential smartphones have become, the new design
enables them to operate their robots via their phones
. The set comes with
17 suggested builds with three different levels of programming
. Comes with a hefty price tag – but i
f you think of this as an after-school program in robotics, it seems more approachable
." If your school doesn't have a robotics program and your have interested kids in robotics and programming, I like the idea of getting together with a few like-minded parents and buying this as a joint gift for your child and a few of their friends to share.
LEGO Dimensions Starter Pack(6 years and up)
Deciding when to let your kids start to play video games is a very personal parenting decision.
When you do take the plunge, though, this is a fantastic way to start
. LEGO Dimensions is a kid-friendly video game that
encourages creativity as well as gameplay by incorporating LEGO building into the process.
I love that! I also love that
one of the three characters in the starter pack is a girl, Wyldstyle from The LEGO Movie.
Once kids have the starter pack, they put together the three minifigures (Batman, Wyldstyle and Gandalf from Lord of the Rings), then
the game guides them on how to use the LEGOs included to build the "LEGO gateway" on top of the toy pad
. Once that is done, kids can
place the 3 included figurines and batmobile onto the gateway and they'll actually show up in the game. So cool!
After that,
there are all kinds of expansion packs kids can buy, build, and add into the game
to create something
completely unique like Harry Potter, Ghost Busters, and Batman all playing side by side
. As video games go, this one is
incredibly hands-on and creative and I love that the price of the expansion packs makes them the perfect thing for kids to do chores and save up for!
We are taking the plunge and getting this and the
Xbox One S Minecraft Bundle
for our 8-year-old this Christmas (and I'm sure the 6-year-old will get in on some of the fun too.)
Robot Turtles Game $22.97 (4 – 10 years)
As
one of the only products out there with the real ability to get preschoolers and kindergartners interested in programming
, this was the new toy/game I was
most excited about adding to the gift guide last year!
The
most backed board game in Kickstarter history
, it sneakily teaches preschoolers the
fundamentals of programming, from coding to functions, while making silly turtle noises
. Takes seconds to learn, minutes to play and provides endless learning opportunities. This game has been
featured by NPR, Bloomberg, Make: Magazine, Boing boing, TechCrunch, Reddit, Geekmom, Geekdad
and essentially lets kids write programs with playing cards. One reviewer wrote, "There are
no winners/losers
. (You could make a competition out of it with several kids, seeing who can make the shortest program/have the fewest bugs/etc., but it's not set up that way.) But it does teach kids the basics of how computers think…
Once he got the hang of it, we just let our son go nuts with it
. He
makes up his own boards and then "writes" a program to solve it
. Finally, something he can play by himself that doesn't have a ton of annoying noises/beeps/music!"
Code Master Programming Logic Game $19.99 (8+ years)
This is one of the rare picks on the list I didn't buy because I asked
my favorite game manufacturer,
Thinkfun
, to send it to me (and they gladly obliged since their other games like
Laser Maze
,
Rush Hour
, and
Robot Turtles
have been such huge hits on the gift guides in years past). Like many of Thinkfun's games, this one seems to do
a very good job of incorporating an educational concept
(in this case,
the basics of coding
) into
an incredibly engaging game
. Perfect for this list, it's an offline game in which kids use "action tokens" to create a program for their avatars. The goal is to progress through 60 levels, collecting crystals along the way. The game
builds planning, sequential reasoning, and problem-solving skills
along with
more complex coding concepts such as loops and conditional branching
. I am really intrigued to see what my son will do with it after he opens it up Christmas morning!
Robot Claw $9.99 (3+ years)
I picked this up on impulse while birthday shopping for my son a few years ago.
So glad I did – it was a HUGE hit.
I'm not sure why I included it on this list exactly, except that the kids love it and it
seems like a natural gateway toy to wanting to explore robotics.

CHEMISTRY, BIOLOGY & LIFE SCIENCES

Experimenting with the kids at home is a great way to sneak a little learning into your bonding time and kids absolutely love it. This section is packed with books and lists to get you on your way.
DK First Reference Series starting at $11.29 (4 – 12 years)
This is
an amazing series of books full of interesting facts and close-up pictures that kids will find fascinating.
There's one for virtually any topic your child is interested; animals, atlases, space and more. Get the
First Human Body Encyclopedia
to use all on its own or as a companion to the squishy human body kit above.
Squishy Human Body $22.49 (8 – 12 years, younger with adult supervision)
This
3D, interactive model of the body
comes with
all sorts of squishy organs for kids to take out and examine
. It's a great toy for kids to see how the human body works and
the slightly gross factor will make them all the more enthralled.
Backyard Safari Field Scope/Insecto-Scope $10.05 (4 – 12 years)
This scope's large, easy-to-handle design is perfect for little hands.
Kids can trap whatever they want under it, then use the light and knob for 6x magnification
. It's just the thing for
encouraging scientific observation as well as getting outside to play.
AntWorks
$35.99 (4 – 8 years)
And speaking of insects,
how cool is this space-age version of the ant farm?!
I love that it's
based on a 2003 NASA Space Shuttle experiment
to test how ants build tunnels in microgravity and that
the nutritional gel makes it easy to see the ants at work
. In fact, kids can see the ants build intricate tunnel systems within the gel with no other source of nourishment. The kit also includes a magnifying glass, stick and an instruction booklet.
Magic School Bus DVD Collection
$34.99 (4+ years)
An
8-DVD set containing all 52 episodes (22 hours)
of the
classic Emmy Award-winning animated science-adventure series
. It's a great value (my 5 and 7 year old love it!) and
also comes with a 24 page kids activity guide as well as a Parents' Guide that will help you orchestrate lessons with your kids
to go along with the episodes. And for some hands-on science fun,
your kids love of the show will quickly translate to
a love of the
Magic School Bus Labs science kits.
Crystal Mining Kit
$10.99 (6 – 8 years)
A
wonderful option for introducing your child to geology
is this fun excavating kit. My
daughter has been so into crystals and "discovering treasure"
for the past year that I could see her truly loving this. From the manufacturer, "
Excavate 8 natural crystals
embedded in a plaster block. Carefully
dig them out just like a real excavation and add them to your rock collection
. Kit includes
plaster block with crystals, a specially designed digging tool, brush, magnifying glass, display case with cover
and base card, pouch bag,
detailed instructions and fun facts.
"
Thames & Kosmos Crystal Growing Kit $29.99 (10+ years/younger with parent help)
The crystals your kids can grow from this kit are absolutely gorgeous and I know more than one little girl (and boy) who would be totally captivated by the experience of making them. From the manufacturer, "Grow dozens of dazzling crystals and conduct 15 illuminating experiments using the full-color, 32-page experiment manual guides.
Mold fun plaster shapes, including stars, lightning bolts, dolphins, and pyramids, and grow layers of crystals on them. Use dyes to form colored crystals, and mix the dyes to grow a rainbow of custom colored crystals. Display your crystal creations in a clear treasure chest with a locking lid. Mold your own geode a hollow rock with crystals growing inside and create a beautiful crystal cavern inside."
P.S. I would recommend also purchasing the book, National Geographic Kids Everything Rocks and Minerals: Dazzling gems of photos and info that will rock your world.
Mind-Blowing Science Kit $23.99 (4+ years w/ adult supervision)
Performing some basic science experiments at home is a great way to inject a little learning into your quality time with the kids. This set gets good reviews from parents and comes with step-by-step instructions for each experiment. There's also
a detailed science guide that provides adults with "mind blowing science secrets" that help to answer questions about what's happening in each experiment
.
SmartLab Toys Secret Formula Lab $32.57 (8+ years)
This is
the science kit you always wanted as a kit, but didn't really exist- a kid-friendly chemistry set that actually looks legit.
The big fun here is in the apparatus. The
beakers and test tubes are connected to each other via tubes and a plunger that make it possible to pump chemicals from one to the next and create lots of cool concoctions.
Check out the video to see how it works.
I'm seriously considering this one as for my 8-year-old this year
as I know it's something he'll have a lot of fun with on his own or with me. I also love that the kit comes with the chemicals required for the "40 epic experiments" and only requires the addition of basic kitchen ingredients, so
we can play with it right out of the box.
This one looks like
the rare STEM toy that will get kids excited about science in a way that involves something other than programming and technology.
That gets a big gold star from me!
Learning Resources Primary Science Lab Set $22.99 (4+ years)
This kit of real science tools is
perfectly sized for little hands
. It comes with
10 double sided activity cards, beaker, magnifying glass, funnel, eyedropper, flask, tweezers, googles, large 6″ test tube and stand, and 2 small test tubes.
The
authenticity of these items
will have your little scientists dying to
experiment and
they'll serve great double duty for
dramatic play too
.
Learning Resources Primary Science Plant and Grow Set $20.00 (3 – 8 years)
Can you tell I'm a fan of the Learning Resources kits?
This is a
12-piece kit with see through rooting trays, pots, observation jar with vented lid, watering can, trowel, plant markers and a series of 10 activity cards
that invite kids to grow a variety of plants.
Perfect for the burgeoning botanist
, the activities encourage kids to use found materials like pineapple tops as well as traditional seeds in their miniature garden. The round observation jar with a lid can even become a small terrarium. Check out this company's
primary science magnetic kit
as well.
National Geographic First Big Books $11.48 (4 – 12 years) and Smithsonian: The Animal Book: A Visual Encyclopedia of Life on Earth (3rd – 7th grade)
I'm a big fan of leaving books all over the house for the kids to discover pretty much from birth
. My pre-readers and emerging-reader will spend up to an hour perusing engaging picture books trying to glean information from them on their own or making up their own narratives.
I love these beautiful books for school-aged children as well as toddlers and preschoolers.
*Post contains affiliate links.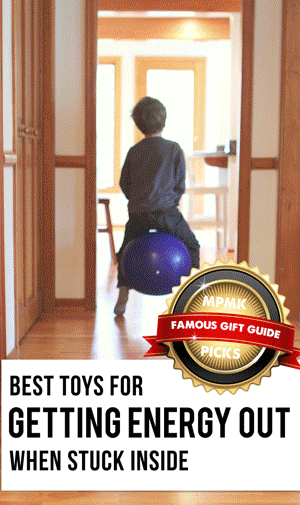 Still want more ideas? Don't forget to check out
all 15 of the MPMK Gift Guides,
organized
by your child's age
:
hottest toys of the year
see:
organized by interest
:
If you like these recommendations, I encourage you to pin or bookmark them for later when you're ready to start shopping.
I would also love it if you forwarded the list to your parenting friends or shared it on facebook – trust me, your friends will thank you for the help and you get to be the cool mom (or dad) with all the best resources. It's a win-win.
Also, don't forget for even more recommendations and alerts when we spot our gift guide items on sale:
✕
Get Your Free Printable
Subscribe to our newsletter today and get our free printable... No More, "Mom, I'm Bored!"