I'm so excited to have our resident graphic designer, MJ, back today with an ENTIRE FREE PRINTABLE PACK that I just know you're going to love!

The idea of these printables are to use them to start a new 1st day of school photo tradition that allows you to document not only the kiddos' super cute new outfits and excited grins, but also their changing dreams and aspirations. Great idea, right?!

You could do some really interesting things with these photos – a coffee table book, a hallway wall display, a calendar, or even a Brady Bunch grid style T-shirt for the grandparents (do it – I bet they totally wear it).

Here's MJ…
My favorite time of year on social media has returned: the back to school photo sharing. The adorable assemblies of siblings with fresh haircuts and new duds!
To amplify the joy of this awesome time of year I've created something special just for MPMK readers:
Whether you have children going into preschool or 12th grade, there's a printable for you (in both color and black/white).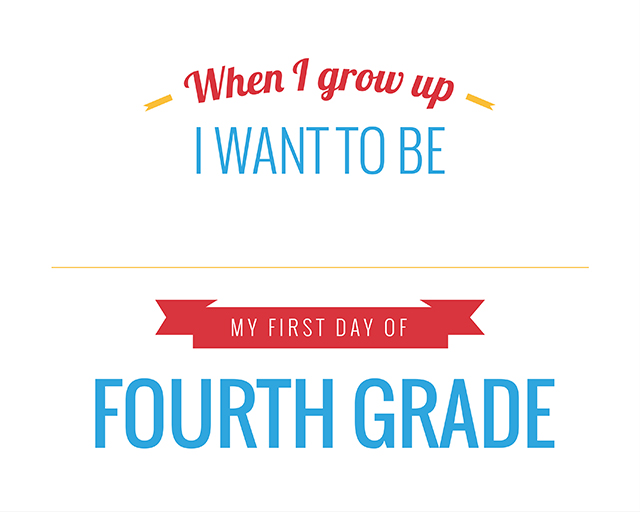 These signs can be framed or handheld in a photo to show off, not only the grade your child is entering, but also the answer to the classic question, "What do you want to be when you grow up?"
I love hearing my children's answer to this week by week, and year by year.
Do you remember what you wanted to be at age 6? I wanted to be a ballerina; I'd taken a total of four ballet classes, and I was convinced it was my calling. I took only six ballet classes so that dream didn't come true, but that doesn't make it any less magical.
The dreams of childhood are worth capturing as much as the passage of time and we're making it easy.
Use this free printable pack to document how your child changes AND how their aspirations change year after year!
This year I have a fourth grader, second grader, and preschooler excited to see their friends, anxious to find out their teachers, and happy to return to a school they love.
I'll be taking their first day photographs in our traditional location right outside of our front door, with backpacks and lunch boxes in hand.
Here's to a wonderful start of school and adorable school photos.
More Back-to-School Posts from MPMK
6 Things Teachers Would Like to Tell Parents
A Full Month of Nut-Free Packed Lunch Ideas
Round Up: Teacher Recommended Back-to-School Hacks
Get Your Free Printable
Subscribe to our newsletter today and get our free printable... No More, "Mom, I'm Bored!"
The following two tabs change content below.
MJ is a graphic designer and social media specialist by day (and night) with three active children and a generous husband. She shares projects, designs, and parenting fun over on her blog, Pars Caeli, a piece of heaven.
Latest posts by MJ at Pars Caeli (see all)