Thanksgiving is next week and I'm giving my thanks to all of you for being such loyal and wonderful readers with this FREE 24 page PDF download.  Put together by our friends at Relish!, it contains everything you need to make Thanksgiving fabulous this year including:
A full Thanksgiving menu complete with mouth-watering recipes
A complete grocery shopping list
How-to sections on defrosting, brining, carving and making the perfect gravy
Recommendations and descriptions of 6 "perfect for Thanksgiving" wines
An hour-by-hour prep and cooking guide so you'll be on schedule all day long
Get it all with one click, right here: Thanksgiving Menu Planner. That's it! No contests to enter, pages to like, or newsletters to subscribe to – it's our gift to you. Enjoy!!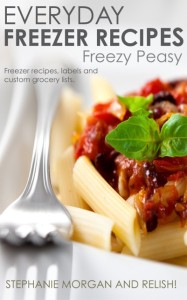 P.S. If you like this guide, check out another collaboration from MPMK and Relish!
Our Everyday Freezer Recipes ebook is packed with 50 freezer recipes you prepare ahead of time so your family can quickly heat and eat on busy weeknights –  plus 10 full weekly menus, printable freezer labels and shopping lists.
Go here to purchase in PDF, ibooks, kindle, and nook formats for only$6.99.
Get Your Free Printable
Subscribe to our newsletter today and get our free printable... No More, "Mom, I'm Bored!"