Don't worry – this is not another book about ridding your life of all excess items.
Rather, Cleaning House: A Mom's 12 Month Experiment to Rid Her Home of Youth Entitlement is a parenting book I first read about three years ago and continue to think about with regularity.
As I was reflecting on what I wanted to do with my kids this summer, the book again came to mind as I was thinking about what kitchen skills we really need to start practicing more.
Kay Wills Wyma is a mother of five ranging at the time she wrote the book from age three to fourteen.  After she is regularly hit with how much she does for her children and how many expectations they have for people to serve them, she embarks on a twelve-month experiment to teach her children about various areas of caring for themselves, a home, and others.
Among the twelve are keeping your space clean, planning and cooking meals, fixing things around the house, finding ways to serve others, laundry, and hospitality.
I loved Wyma's approach in that she chose one area per month to focus on.  I think as parents it is so common for us to reach our threshold with our children and then determine that we're going to change everything all at once, which, of course, is a recipe for failure.
Instead, choosing a more narrow focus for each month is more do-able for both kids and parents.  I also really appreciated that Wyma discusses in each chapter what types of things she had to teach her children in each area.
I remember being a kid and my parents deciding my sister and I needed to start cleaning the bathroom ourselves, but not teaching us how.
I was in tears as the hot water I was using to rinse the tub was just making more and more suds! Teaching our children skills in the kitchen, how to make their bed properly, and how to welcome people into your home is important, but we can't expect them to know how to do these things without showing them how.
While there were many things that got me thinking in this book, the biggest take away for me is the repeated mantra that our children are capable of working.  Not only that, but they NEED to work at meaningful tasks in order to really understand that they are capable and valuable.
As Wyma says:
"We shower them with accolades proclaiming how wonderful they are – yet we rarely give them the opportunity to confirm the substance of that praise. All our efforts send the clear, though unspoken and unintended, message 'I'll do it for you because you can't' or 'No sense in you trying because I can do it better and faster.' ….

I decided my message needed to be something more along these lines: 'I love you.  I believe in you. I know what you're capable of. So I'm going to make you work.'"
This idea is reiterated often throughout and I found it to be such a powerful reminder for me.
While there are a few things in the book that I wouldn't feel comfortable with my kids doing (ex: sending a 10 year old into the grocery store on their own), for the most part, I enjoyed the premise and found myself making notes of several things my kids are already doing that I'm proud of, but also making a list of things we need to focus on.
In keeping with Wyma's point though, it's imperative to make sure that work is meaningful and not just for the sake of having chores, but rather to develop responsibility and contribute to the family.
One last note, Cleaning House: A Mom's 12 Month Experiment to Rid Her Home of Youth Entitlement is written from a Christian perspective and there are a few references to Bible verses and serving people in a religious manner but, overall, the book is not a religious book.
*Post contains affiliate link.
More from MPMK
Top 10 Parenting Books for Raising Boys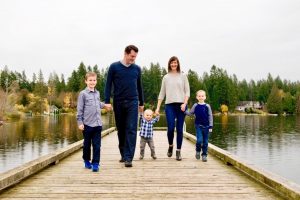 Teresa Ward is stay-at-home mom and former elementary teacher who is currently ignoring her singing baby in his crib because she isn't ready for him to be awake!
Get Your Free Printable
Subscribe to our newsletter today and get our free printable... No More, "Mom, I'm Bored!"