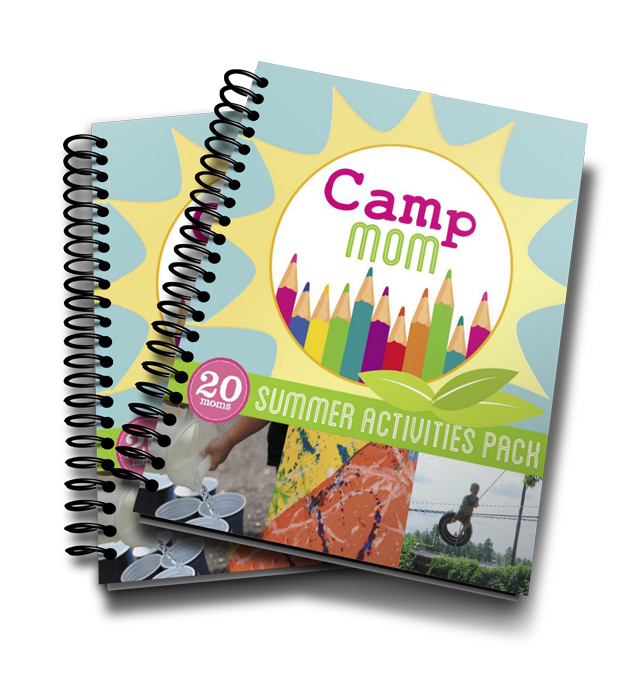 What's on your spring break and summer vacation bucket lists this year? How about the simple goal of entertaining the kids with some good 'ol fashion at-home fun? Sounds like a good plan, right?
But scouring the web to find activities to fill the days just takes way too long. If you're like me, you need simple ideas that will be successful for all of the kids – and lots of them.
Activities that will allow for bonding time, but also independent play, and that will keep the kids happy and their brains stimulated all spring and summer long.
That's where the Camp Mom: Summer Activities Pack comes in. It's an 86 page PDF I cooked up with a group of the best playtime bloggers around.
Basically, it's the best early education minds I know, all putting together our best stuff to provide you with all the tools you'll need to guarantee a great spring and summer:
Printable planning pages (art supply prep list, Summer Bucket List template, etc.)
Four themes with over 45 Simple and FUN activity ideas that are open-ended and perfect for kids aged 2 – 9 plus tons of bonus ideas.
Adventure ideas and tips – you can have adventures without leaving your backyard or use the ideas to get out and explore your community.
Tips for success: managing sibling conflict, what to do with the toddler, how to enjoy a museum with your kids, and etc.
Reading  recommendations to go with each of the 4 themes.
It's really going to help you make the most of the precious time you have this spring and summer. Plus, the activities are open-ended so they're great for a wide range of ages.
Here's a peek inside:
Included in your 86 page Summer Activities Pack, you'll find:
3 Comprehensive Theme Weeks
Each including playtime activities, ideas for getting out of the house, and reading lists:
Water: Splash and Play
Art: The Earth Without art is just "Eh"
Nature: Explorers in Your Own Back Yard
Planning Printables
Bucket List – Make sure you don't miss something you REALLY want to do.
Summer Routine Sheet – Combine your tasks and the kids activities.
Theme Adventure and Activity Planner – You won't forget what supplies you need.
Summer Survival Sheet – Keep your most important data in one spot.
PLUS – Sensory Play Any Day theme with a printable list of ideas you can refer to any time you need an activity QUICK that will engage the kids and keep everyone happy. The Sensory Play section also includes links to loads of sensory activities that rank as favorites with our kids.

In total the pack contains 45 detailed play activities as well as TONS of bonus ideas and resources.
Along with the planning printables, activity instructions, adventure ideas, and reading lists – we've also included bonus sections to ensure your summer runs smoothly.  Topics include:
How to Plan for a Mindful Summer
How to Keep the Peace Between Siblings
How to Put Together a Basic Summer Art Kit (Plus 20 more art ideas using just those basics)
How to Get the Most Out of Museum Field Trips and How to Discuss Art with Kids
Kitchen Sensory Fun
And more!
It's basically what you'd get if you asked all of your favorite teachers, babysitters, and supermoms to make a summer curriculum just for you…
Don't wait, order your pack today and be all set for spring and summer.