My middle son is just finishing kindergarten and the fire for reading has been lit!
He's an eager reader and growing in his abilities at a rapid pace, but there are still many, many books that are out of reach for him, which can be especially hard given that he has an older brother who is reading so many fascinating books.
It's a tricky time for finding books that are engaging, but readable. We sat down together and made a list of books that he wants to read this summer.
Most fall in the I, J, K reading levels for those of you who are familiar with Fountas and Pinnell (Many elementary schools use this leveling system right now and knowing your chid's reading level (A-Z) can be helpful in finding appropriate books for them in the summer.  Even if you aren't familiar, your child might be.
The books I refer to here are all part of a series. Reading series are so appealing to early readers because they can really gain understanding about characters without having to be introduced to new ones each and every time they read.
It gives them a feeling of connection before even opening a new books a new bookes, which can be just enough of a motivation to get them reading more.
A few favorites from our list, include…
You guys, my son cannot get enough of these books!  He loves slightly cranky old Mr. Putter and his sweet, lively neighbor.  They find all sorts of adventures to go on and mix in some dialog as well, which is a new reading skill for many kids ages 5-7.
In addition, these are technically chapter books, which make early readers feel so great!
These are by the same author as the Mr. Putter books, Cynthia Rylant, and are almost as lovable. Poppleton the pig is a fun character and the readability is perfect for kids reading level J books. (Cynthia Rylant has a plethora of books in the I and J levels.)
This one is a bit higher level than the other books mentioned here (about K/L), but I'm hoping my son will be ready for them by late summer.  They are enticing reads about a boy who gets super powers and uses them for good.  The characters are fun and the plot is easy to follow and get into.  These are a great transition from very simple chapter books into slightly harder ones.
These are introductory graphic novels that happen to be about one of my son's favorite Lego characters.  It's nice to find graphic novels at an easier level.
Note: There are a few types of Chima books – some are chapter books at a bit higher level so check carefully.
Something I love right now is how they are making what were older kid chapter books into easier early readers. We just discovered a few My Weird School books that are 'I Can Read' books and they are perfect for my kindergartner!
'My Weird School Goes to the Museum' is on his list of books to read this summer and he's so thrilled that they are similar to books his big brother was OBSESSED with last year!  It looks like there are only three titles so far, but I'm guessing they'll be adding to this collection rapidly.
Another fun read for early elementary-aged kids are the Dragon Tales books.  'A Friend For Dragon' is first in the series about a dragon who isn't the sharpest tool in the shed.  It gets kids laughing so hard at the things that he can't quite figure out.
Maybe my kids are unusual, but they still love Curious George so we were happy to find that there are some early readers about the lovable character now.  They are more sophisticated than his usual board books, but not so overwhelming as some of the longer stories I used to read my boys aloud.
And of course, we can't forget a few early chapter books! Three of our favorite series are:
Many libraries have sections devoted to early readers so ask your librarian for help finding those.  It's so important to keep these new readers going in the summer so they can continue to make gains and become confident readers!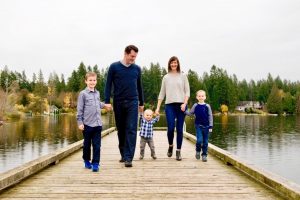 Teresa Ward is stay-at-home mom and former elementary teacher who is currently ignoring her singing baby in his crib because she isn't ready for him to be awake!
*Post contains affiliate links.
P.S. Want more help? Don't miss TWO OF OUR MOST POPULAR FREE SUMMER PRINTABLES…
Get the FREE Single Page Summer Planner Printable Now!
FREE Kids' Reading Scavenger Hunt Printable
Get Your Free Printable
Subscribe to our newsletter today and get our free printable... No More, "Mom, I'm Bored!"