We've got a new contributor joining our MPMK team (yay!).  Wendy of the bento-fabulous blog Wendolonia is going to start stopping by periodically to share some seasonal and healthy lunch ideas for the kids – because who can't  use more of those?

I'm curious, do any of you bento it when it comes to packing lunches?  I admit, the time involved in achieving a pretty presentation is a bit overwhelming to me but I do appreciate the variety of healthy foods and food groups that are the foundation of the bento philosophy.  I also love the idea of taking the time to whip up a special lunch every once in a while, just because.  What a great way to make your child's day!
Now that the kids are back in school, families are settling into regular routines and in some parts of the country there is already a little nip of autumn in the air. Celebrate the changing of the seasons by packing a fun fall-themed lunch for your child.
I used cues from the world outside — acorns, changing leave and crisp apples — to gather inspiration for this lunch. Here's how you can create one like it:
Begin by making a sandwich that looks like an acorn. Cut two circles from one or two slices of bread. You can use a round cookie or biscuit cutter for this, or if you don't have one, just use a drinking glass like I did here.
You will probably have some bread leftover after you cut the circles. I don't ever throw these away. I save them for another use. If they're big enough, I'll use them to make a special Egg-in-the-Hole breakfast for my kids or toast them and eat them with my own breakfast. If they're scraps, I put them in a bag in the freezer and use them to make bread crumbs or croutons later.
Once you have your two circles, use your cutter to trim off a sliver of the bread to give the acorn it's distinctive pointed end. I stacked my two circles on top of each other before I cut them so that the bread shapes would match up when it was time to build the sandwich.
Next, I made the acorn's top. To do this, I grabbed that same helpful drinking glass and cut a semi-circle from the heel of a loaf of bread. You can use the shape as-is, or if you want it to be a little more acorn-y, you can use a knife to round the ends a little.
Now it's time to fill the sandwich. I used apple butter here, but pumpkin butter would also be nice if you can find some. If your kids are a little more adventurous you could add a slice of cheddar cheese or peanut butter with the apple butter. If they are less adventurous choose whatever they would normally enjoy in their sandwich.
While you're adding the apple butter to the inside of the sandwich, spread a little on the back of the acorn top. This will help "glue" it to the bread.
Assemble the sandwich by topping the apple butter slice with the plain cut-out. Then add the acorn top piece on top of that. After I took this photo, I decided my acorn needed a stem, so I cut a little rectangle of bread and tucked one end under the acorn top too.
For the vegetable, I cut a large slice from a yellow bell pepper and then used small leaf cutters to cut shapes from it. You could also use red or orange bell peppers for this, or any combination of the three.
Finally, I added all the different elements to the bento box. First the acorn sandwich went in. Then I added a chunk of apple with an apple shape cut out of the skin. Next I added the bell pepper scraps and topped them with the pieces I cut into leaves. The last bit of space in the lunch box was filled with a few crunchy whole grain pita chips.
Here are a few more ideas for including autumnal elements in your kids' lunches:
Question of the Day
Do you like to add seasonal touches to your kids's lunches?  What are your favorite ingredients for doing so?
*Post contains affiliate links.
P.S. If you're really looking to have the holidays in the bag this year, we've got two ways to help. First get the holiday shopping out of the way with all 10 of our 2013 Gift Guides here…
Second, check out our new eBook, Hands-On Holidays, packed with low-prep and low-stress ideas for make memories crafting, cooking, reading and adventuring with the kids!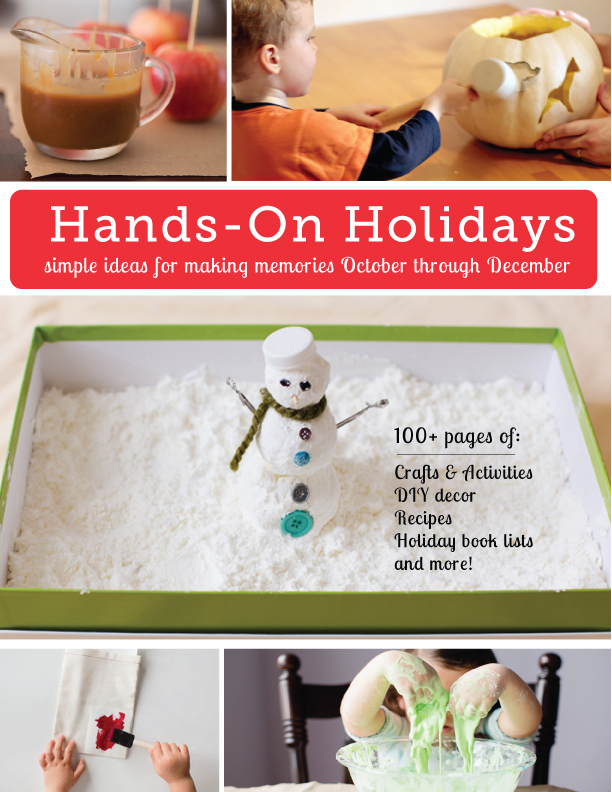 Get Your Free Printable
Subscribe to our newsletter today and get our free printable... No More, "Mom, I'm Bored!"
The following two tabs change content below.
Wendy Copley writes about cooking, crafts, parenting and her obsession with lunch boxes at Wendolonia.com. Her first book, Everyday Bento: 50 Cute and Yummy Lunches to Go will be published in February 2014. She lives in the San Francisco Bay Area with her husband and two young sons.