What to Wear this Fall (& Winter)
Lately I have found myself somewhat obsessed with the concept of a capsule wardrobe. Have you guys heard of, or do you even subscribe to, this practice? 

Basically you buy a certain number of items (37 seems to be the number I come across most), and mix-and-match them over and over to create an entire wardrobe. The idea being that you get only pieces you love and then don't have to think too much about what to wear in the morning once you're capsule is complete.

Whether you think this sounds like brilliance or utter madness, a couple of key items seem to show up in fall capsule wardrobes over and over so we thought we'd highlight them today.

Use them to build your own capsule wardrobe or keep it simple and just pick them up for staple pieces this fall and winter.

To help us explain the allure of each item, we're welcoming back Audrey today (yay!). She's already wowed us with How to Put Together a Re-mixable Wardrobe and How to Style a White Tee.

Today she's sharing her must-haves for fall…
With October in full swing, it's time to talk fall clothing. I believe having a solid foundation of good fall pieces will serve you up well to be able to build a great winter wardrobe.
I'm typically against "must have" lists because I think your wardrobe essentials really depend on your lifestyle and taste. So, while I wouldn't want to suggest that every woman needs certain pieces, I would like to share my personal favorite fall items that I wear to death each fall.
They are my closet work-horses in the fall, and I've found them to be great pieces for looking cozy and cute while still being able to run errands all day long.
Here are my personal favorite items:
Plaid Shirts
I currently have four of these because my favorite go-to fall outfit is a plaid shirt with skinny jeans and riding boots.
They can be layered under a sweater, blazer, vest, or a chunky cardigan– like the one featured today.  You can also wear them tucked into or knotted over a skirt. They're so versatile!
Cozy Cardigans
I have a couple of thicker sweater cardigans that I cannot stop wearing.  I wear them over plaid shirts, or with my denim button up, striped shirts, and dresses.  Such a cozy layering piece!
steal / steal / mid-Price without buttons / mid-price with buttons/ high end


Stripe Tee
I've worked my short-sleeved striped tee to death, and for this fall I stocked up on a few long-sleeved versions for cooler weather.
There are so many ways to accessorize a plain striped tee even just with necklaces and scarves.  Or, you can layer them under cardigans, blazers, and vests.


Denim Button-up
I used to think these were pointless, but it was because I only ever wore regular old blue jeans and denim button-ups don't always go well with blue jeans.
Once I started to wear colored bottoms and skirts, I couldn't get enough of my denim button up.  It works fabulously paired with any colored bottom or tied over a skirt!

Sweaters
This should be an obvious one for fall.  Sweaters are great to wear by themselves or to layer over button-up shirts like chambray or plaid.  
However, I've been against sweaters because I always thought they were boring. Then I realized that they don't have to be plain, even if they are just a solid color.  Try a sweater with some great texture to liven things up!
steal / mid-price / mid-price/ high end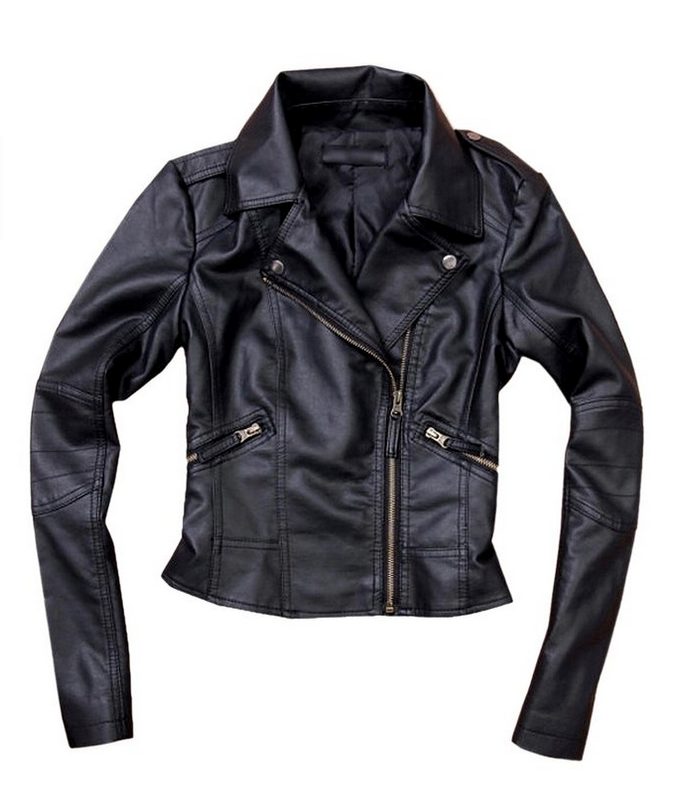 Bomber / Moto Jacket
I absolutely love my faux leather moto jacket.  I can throw it over any type of shirt (my favorite is simply over a t-shirt) and it instantly makes the outfit casual-chic.
Cognac Riding Boots
These are my favorite fall item, ever.  They instantly make any outfit more stylish!  I think boots are one of the main reasons I love fall fashion!
Ankle Boots
These are a great alternative to riding boots.  They look great paired with skinny jeans that are rolled up and they work well with skirts/dresses and tights.

Scarves
There are too many awesome scarves out there to show pictures and provide links to everything. Whether it's a chunky knit one for fall and winter or a light, printed one, they are an easy way to bring pattern and color to an otherwise plain outfit.
They are my replacements for necklaces when the weather cools!
*post contains affiliate links.