Build Dramatic Play and Fine Motor Skills with a Wooden Workbench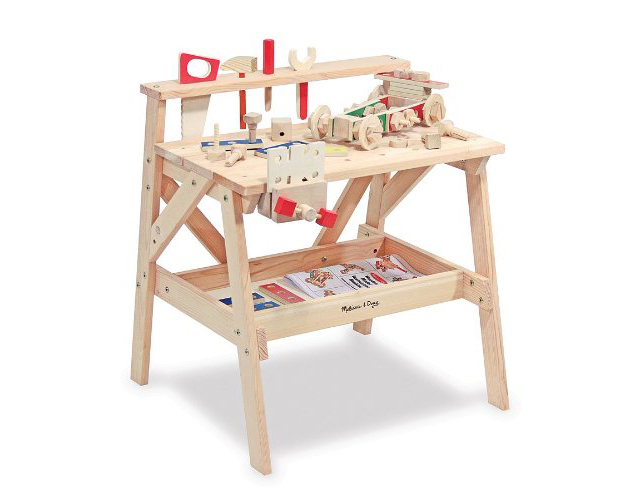 We've recently undergone yet another toy cleanse at home.  As a result there's currently enough space for a larger scale toy in the play room.  Having a girl and a boy, I've been waffling between purchasing a play kitchen or a play workbench.  The solution may be to put the hubby and grandpas to work creating some type of double-sided hybrid.  
Regardless of whether I end up buying or convincing the menfolk to build – I need to know what I want.  To that end, I've been doing lots of research and today I'm giving you the goods on wooden play workbenches (don't be surprised if a kitchen round up pops up soon too).
First up is the Wooden Project Work Bench from
Melissa & Doug
.  I'm a big fan of Melissa & Doug products in general and this one is no exception.  It's natural finish looks fairly substantial with good storage.  Also, it comes with lots of parts and a booklet filled with building projects.  My only concern is that it may be a big advanced for my two year old.  But then again it might be good to have some room to grow.
Modern Parents Messy Kids
The
Kids' Imaginary Play: Kids Toy Workbench & Tools
from Land of Nod is another attractive option.  The building activities associated with this set also seem a little more open ended and suited to toddlers.
Modern Parents Messy Kids
At $49.99, the Deluxe Workbench and Toolbox from
Back to Basics
is a relatively economical choice but it doesn't appear that you sacrifice much for the bargain price.  I'm especially diggin' the included toolbox.
Last up is the Eco-Friendly Wonder Work Bench by
Wonderworld
.  It looks like this one is missing a good storage option but it does boast environmentally friendly rubberwood, non-toxic water-based paints and biodegradable fabrics.
One final note,
IKEA
also has their own workbench – the DUKTIG.  When I first saw it I was especially excited that it had space for a large TROFAST storage bin.  But as far as I can tell, IKEA doesn't sell any tools to use with this workbench online.  That seems unbelievably frustrating so someone fill me in if I'm missing something.  Also, I haven't actually tried out any of these finds so please let me now if you have experience with any of them (or any other options)!