Homemade playdough – If ever there was a quintessential DIY this is it!  Parents and children have been happily cooking up this stuff at home for decades.  Today our newest contributor Kaley is sharing her favorite play dough recipe using another kid classic: Jell-O (because it just wouldn't be an MPMK post without some sort of twist). 
I think you're going to love this recipe.  Kaley promises it comes out silky smooth and I could practically smell the fruity scents wafting form my computer as I read her post.
P.S. Don't forget to also get your free printable of the recipe to use while buying supplies or cooking up a batch with the kids!
Jell-O Playdough Recipe: Get the Free Printable Here!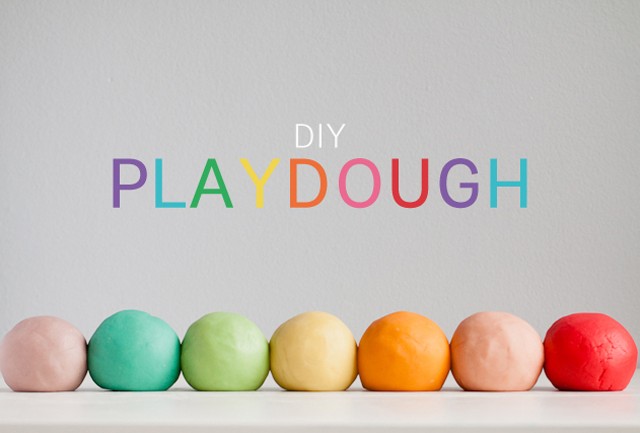 What kid doesn't love play dough?  Squishy, cool, bright, and so fun to play with. Even better, it helps develop fine motor skills and imagination (check out lots more on
the benefits of play dough here
).  Instead of going out and buying commercial Play Doh, try making it at home!
It's super easy, inexpensive, and a perfect project for the kids to help with. We love making our own play dough, and after trying a handful of different recipes we finally found a winner.  This play dough comes out in beautiful, soft shades, smells delicious, and feels the closest to store bought Play Doh of all the recipes we've tried.
You will need:
white flour – 1 cup
warm water – 1 cup
salt – 2 tbsp
cream of tartar – 2 tbsp
cooking oil – 2 tbsp
Jello – 1 3oz pack
Even though it makes for a longer process and a lot more clean up, let the little ones do the measuring and mixing.  They learn so much from helping in the kitchen, and it's really fun for them. Keep mixing until most of the lumps are gone.
Cook over medium heat, stirring continuously until it thickens into a ball of dough.  This step does take a little while.  Just keep stirring, you'll know it's ready when won't be able to stir anymore.
Once it has finished cooking, place the dough onto a
silpat mat
or floured cutting board and wait for it to cool.
Once it is cool (at least 20-30 minutes) let the little ones knead it, adding in flour until it is no longer sticky (about 1/2 cup).  At this point, you can add in extra food coloring to make the colors more vibrant, or even add glitter.  I like to keep things simple, so this is how it looks with just the Jello.
This recipe makes a lot of play dough.  You could easily half the recipe, and there would still be plenty to play with.
Now let their little imaginations run wild.  My little one will literally spend hours playing with her play dough.  I love seeing what games she comes up with, and what tools she picks out to use with it. We don't have special play dough tools, I let her rummage through the kitchen and use whatever plastic container or other child safe object she finds.
When you are finished playing, store in the refrigerator in an airtight container.  It will keep for at least a few weeks in the refrigerator, with daily use.  If at any time it starts to be a little sticky, just add more flour.
Oh, and if you're looking for some good tools to use while playing with your dough – this set is our favorite!
Want some more sensory play ideas?  Check out…

Jell-O Playdough Recipe: Get the Free Printable Here!
The following two tabs change content below.