It's Almost December, Do You Have an Advent Calendar Yet?
December seems to sneak up on me every year, which wouldn't be too worrisome except it means that I never seem to have my advent calendar ready in time.  Actually, to be fair, last year was the first year we decide to do an advent calendar.  But I was late then and I can already sense a pattern forming.  The solution to this problem is a simple one – man up and either buy or make a calendar substantial enough to be used year after year (sadly last year's version just doesn't fit the bill).  Then it would just be a matter of digging it out of storage in time.
There's still ample time to make but, I'll admit, I'm leaning towards breaking out the Visa and doing a little online purchasing.  Whichever route you chose, I've got a find for you.  Below are 20 lovely (and often handmade) options.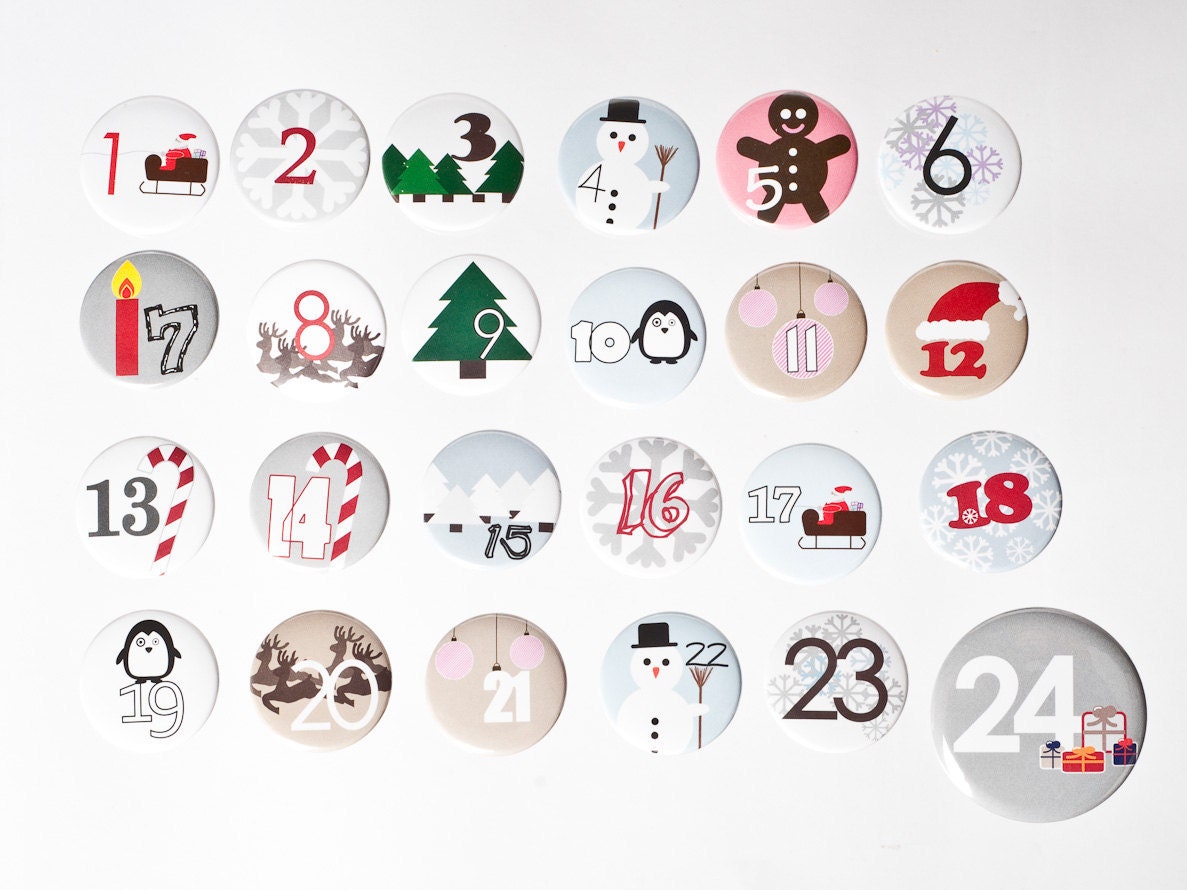 Part of the reason I haven't wanted to commit to a permanent advent calendar was that I didn't want to be limited in what I could fill it with. Last year we did stickers, this year maybe books or dollar store trinkets. There aren't many calendar's that can accommodate all the possibilities.
Which is why I was so excited to find these
Advent calendar buttons
on Etsy. I love that you can pin them on all sorts of things (favor bags, envelopes, large packages, etc.) and have a different-but-still-the-same Advent calendar every year.
This Crafty Advent Calendar
is one the kids can help make – so you know I love it.  The kit comes with 150 pre-cut felt shapes ready to peel and stick.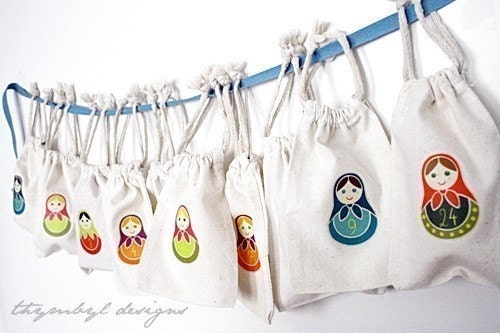 A Matryoshka Advent Calendar – need I say more?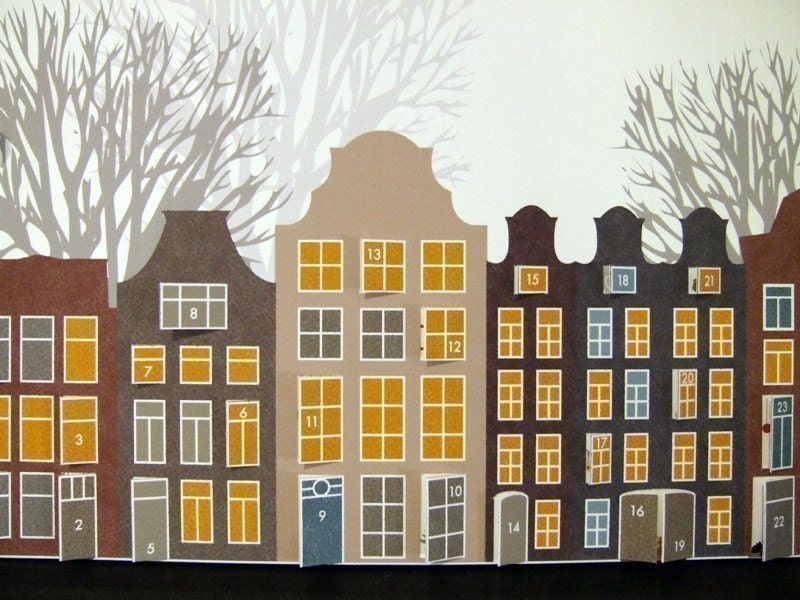 This simple and stylish Amsterdam Advent Calendar is a perfect fit for the Christmas purest.
If you want to take a stab at making your own calendar but aren't sure where to start, this Christmas Advent Calender Kit found on Etsy could come in very handy (and it's only $23!).
The Kids' Felt Appliqued Christmas Advent Calendar
from The Land of Nod is also very cheerful.  Plus it comes with a friendly mini Santa to move from square to square.  Perfect if the kids need help keeping track or if you don't want to come up with an activity or gift for each day.
And speaking of Calendars used solely for counting down and not gifting.  Here's a happy and modern version (comes in 12 possible colors)…
….here's a funky salvage art version…
…and here's a large scale interactive wall decor version.  There are 4 tree shapes to choose from and you get to customize the colors of the tree, star, and ornaments used to cover each passing day.
I love the elegant style of this shimmery linen Advent Calendar, which also comes with a sweet bear for marking the date.
This one won't hold up to years of use but the look is definitely on point.
How sweet is this baby sock Advent calendar DIY via Martha?
Here's a non-DIY Mini-Felt- Stockings-Calendar from Garnet Hill.
And a similar Etsy version of 24 knit mini mittens.
This spectacular large scale Etsy creation was made using felt and a canvas shoe rack.  Unfortunately it's sold but you could always convo the seller and beg her to make another or, if you're feeling brave, have a go at making one of your own.
Here's another handmade Etsy find.  It's not cheap but the details are impressive.
Infuse some numbered envelopes with your own signature style using this Crafter's Pack Advent Calendar Kit.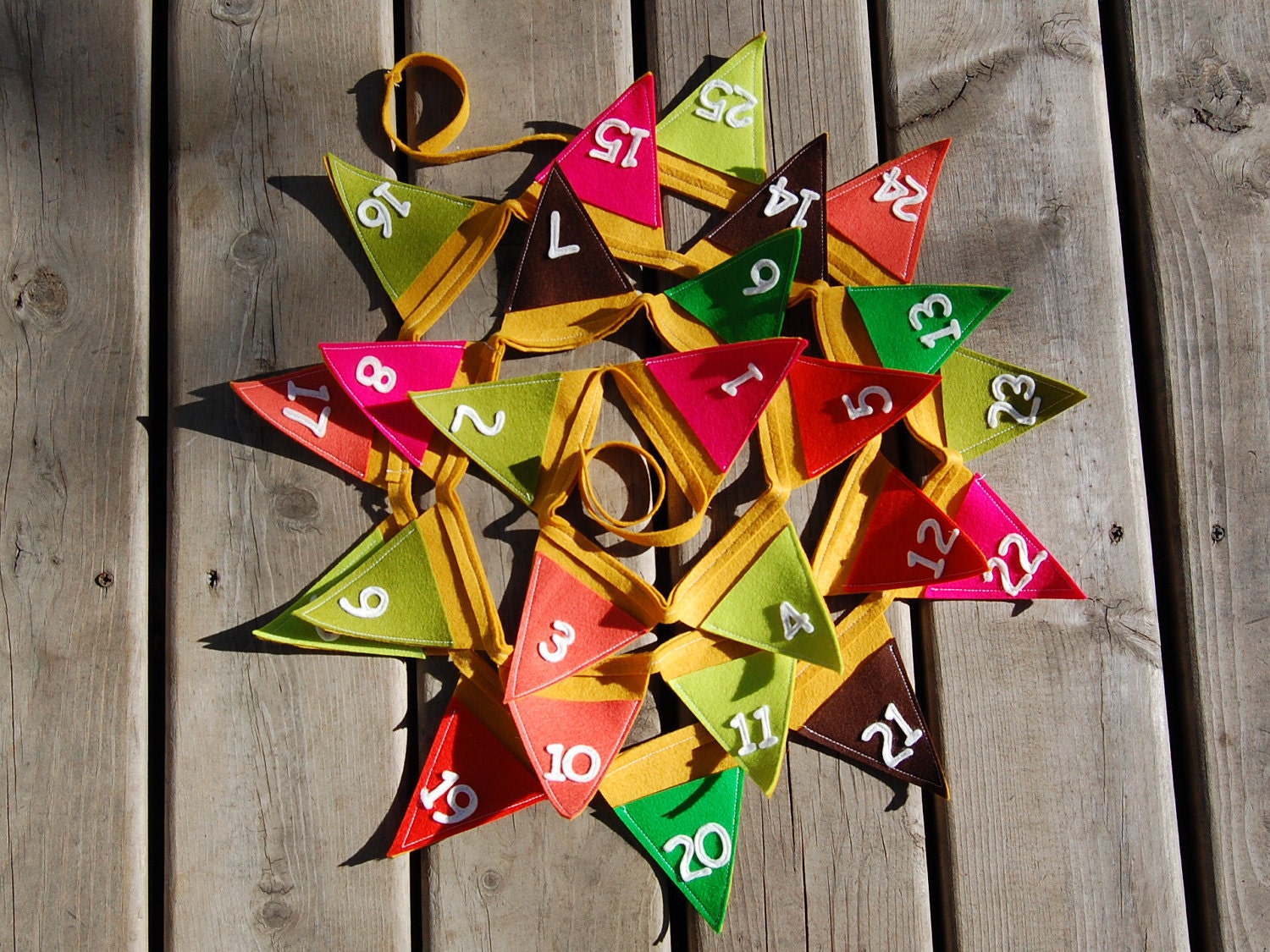 And finally, I'm always a sucker for some pretty bunting. 
This one
includes pockets to hold all your Advent treasures.
That's it, which is your favorite?  Also, I'd love to know what you fill your advent calendar with?  Treats, winter activity ideas, Christmas books?
Still Christmas shopping? Don't forget to check out all of MPMK's 2012 Christmas Gift Guides (for builders/innovators, dramatic play, kids on the go, little explorers, the creative & crafty, and etc).  Just click below: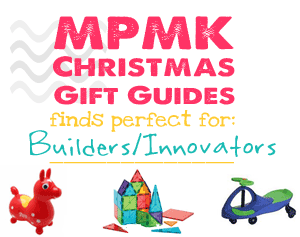 *Post contains affiliate links