Halloween Traditions & What to do with All that Candy
Happy Halloween everyone!  We've been talking about it for so long I'm sort of wondering what to do with myself tomorrow.  For one more look at all of MPMK's Handmade Halloween posts, see
here
.
I've also been wondering what to do with all the candy once Halloween's over.  Last year C was young enough that I just had to hide it and he forgot about it.  This year I know it's not going to work that way.  Luckily, I've been reading up on some of my favorite blogger's Halloween traditions.  (I think C will be the perfect age to start
this one
next October and
this
is a whole list of great ideas.)  One of my favorite finds was an idea which sounds tantamount to
the Halloween version of the tooth fairy
.
In a nut shell – on Halloween night the kids leave whatever candy they don't eat out for the fairy and she comes and replaces it with a small toy, book, etc.  How clever is that?  A way to deny the kids candy without feeling like you're denying them the fun of Halloween – hooray!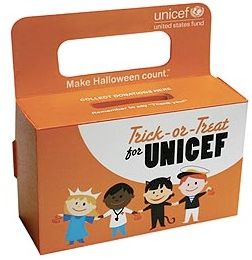 Before I wrap up, here are two more customs to consider making your own.  The first is the age old tradition of trick-or-treating for UNICEF, a great way to incorporate a little altruism into a rather glutenous holiday.  If you never did this as a kid, check out all the details via Cool Mom Picks
here
.